The Product Vision Board
Use this product vision board template to describe your product vision and strategy. Capture details about your target group, user needs, and business goals.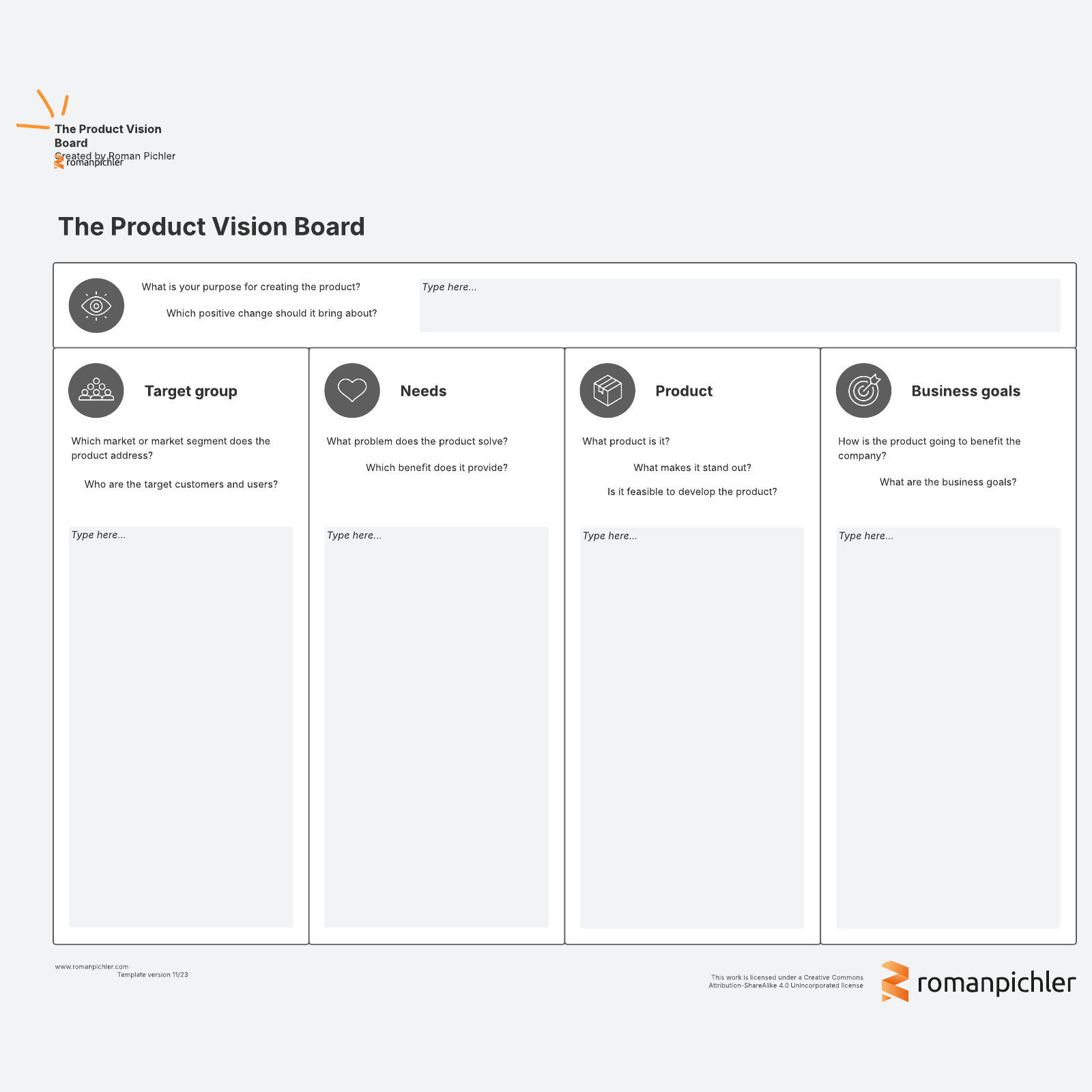 What is a Product Vision Board?
A Product Vision Board helps a team plan early product development. This tool was created by Roman Pichler, an expert in Agile and Scrum and author of Agile Product Management with Scrum: Creating Products that Customers Love. We had the opportunity to collaborate with Roman and bring this tool to Lucidspark with this template.
In an Agile framework, your team has to start working on a product quickly without nailing down every detail first—but that doesn't mean you shouldn't plan ahead and make your decisions with care. A Product Vision Board helps you figure out the direction of your product while keeping the end-users in mind.
For more information, check out our blog post on Agile product management tools from Roman Pichler.
How to use this tool in Lucidspark
You'll add information to five categories in the template: vision, target group, needs, product, and business goals. The Product Vision Board template includes guiding questions for each category to help you think through what to include.
Add your notes to each section, starting with Vision at the top, then moving to Target Group and right to Business Goals. You'll get the best results if you work on this with the rest of your team and not on your own—more perspectives will make your decisions better informed. Use the collaborative tools available in Lucidspark, like color-coded cursors, reaction emojis to other people's ideas, and freehand drawing to connect ideas.
Agile is iterative, so plan on coming back to the Product Vision Board often to refresh, refine and add to your ideas. Feel free to use Presentation Mode to walk stakeholders through your work in this template when you're ready.
When you're ready to take the next step, use the insights from this template to begin work on the GO Product Roadmap template, also from Roman Pichler, and you'll be well on your way toward a workable, user-friendly product.

Roman Pichler
Roman Pichler is a leading product management expert specialized in digital products and agile practices. He teaches product managers and product owners, advises product leaders, and helps companies create successful product management organizations.
Roman is the author of three books on product management and one on Scrum. He writes a popular blog, hosts his own product management podcast, and offers a range of free product management tools. Check out Roman's site to learn more about his work.