The ecosystem entity-role portrait
Use the ecosystem entity-role portrait template from Platform Design Toolkit to bring context to entities and their roles while further understanding what kind of experience gains they are looking for.
What is the ecosystem entity-role portrait and how can it benefit you?
The best products, services, or software out there are those that meet the distinct needs of their users. You can make your platform design deliberate with the help of step two in the Platform Design Toolkit: the ecosystem entity-role portrait.
This template allows you and your design team to create a deeper picture of each entity's—or subset of potential users'—role as they engage with your platform. You'll be able to examine what context they come from, what they'll want to achieve with your platform, how and with whom they'll want to connect, and what potential they can express with your platform's help.
This portrait will then help you and your team understand what kind of experience, or "experience gains," your user subsets will be looking for, which will then enable you to provide those gains with your platform design.
For example, an entity might be "healthcare professionals" or "graphic designers." Examining potential users as a group rather than as individual users will help you and your team capture a broad-yet-specific set of needs that come from a variety of contexts. You can then craft a narrative for your entity that will help you determine the prospective value or value propositions that your platform will need to offer them.
As you step into the entity's shoes, their matching value propositions will then become the driving ideas behind your design. This will allow you to design platform features that address a variety of needs at the same time.
How to use Lucidspark's ecosystem entity-role portrait template
As you tackle your entity-role portrait, you can use Lucidspark to brainstorm with your team in real time. Simply share the template with the group and use it to direct your meeting.
Start by determining which entity-role would be the best fit for your current platform design project, and then stick close to their perspective as you fill out the rest of the template. Determine the goals the entity will have as they use your platform, as well as what performance pressures they face that could potentially be alleviated by your platform. You may consider using Lucidspark's Breakout Boards for small group brainstorming at this stage.
As you proceed to identify the potential gains this entity could experience by using your platform, you'll notice that the template is divided up into three categories. These are as follows:
Convenience gains: Will your platform offer faster, easier, or cheaper ways to reach your entity's goals?
Access and reach gains: Who or what will your entity be trying to reach when they use your platform?
Value gains: What kind of profit (monetary or otherwise) will your platform provide your entity?
As you identify the gains that an entity could potentially enjoy when they use your platform, you'll be that much more informed during the rest of the design process and will be able to deliver a product that truly meets your client's needs.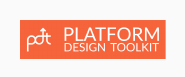 Platform Design Toolkit
Platform Design Toolkit is a design framework that one can use to envision, develop and roll out platform strategies that mobilize ecosystems.