Matrix template
Organize your ideas according to feasibility and user value using this matrix template. Modify this template to identify the most important problems your organization faces.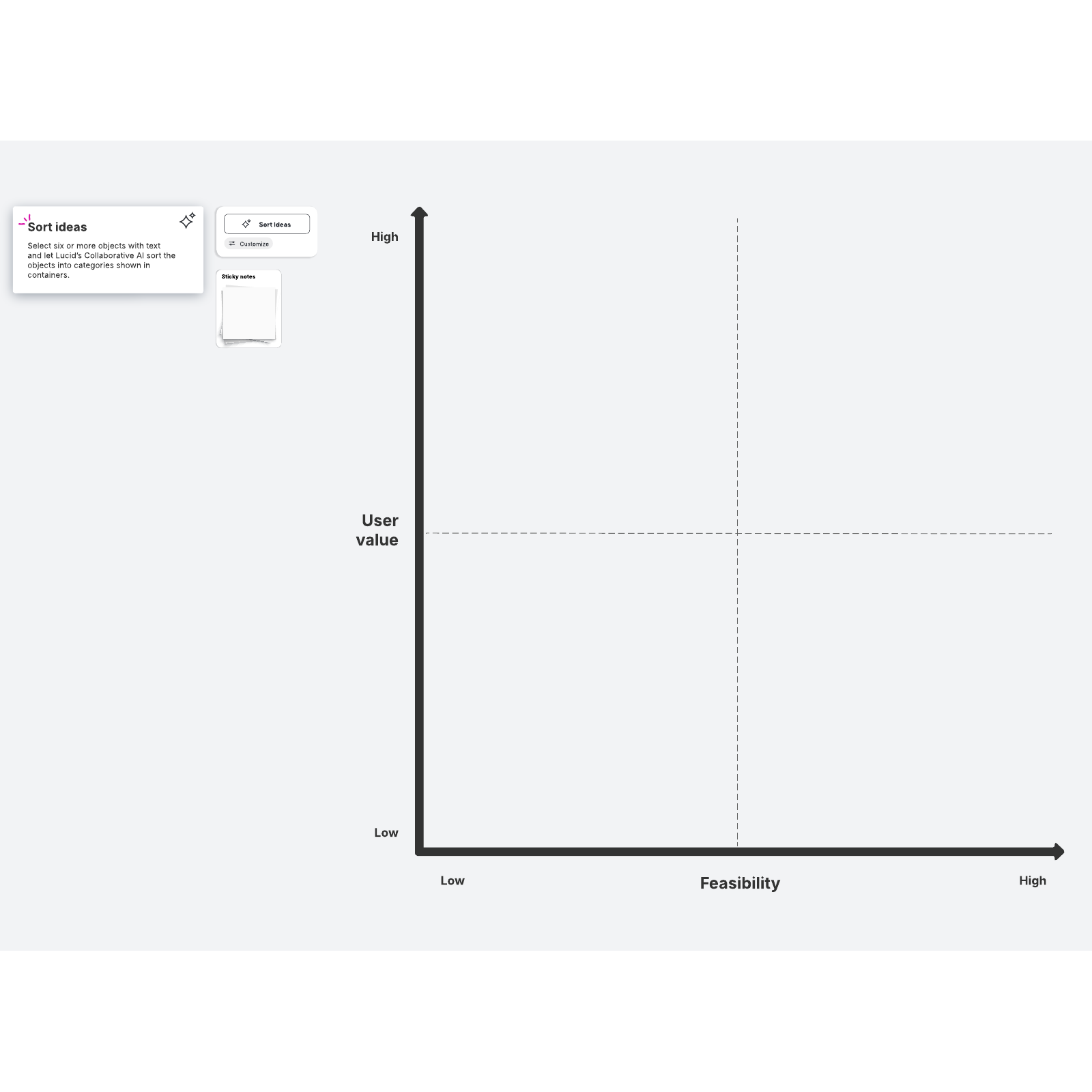 What is a 2x2 matrix outline?
If you have a lot of ideas, you need to pare them down. Your time and resources are limited, so use them wisely. Matrix templates can help you decide what to work on first.
This resource matrix template has four sections organized by how valuable the idea or feature is to the user and how feasible the idea is to complete. By sorting your ideas into this chart, you can visualize a matrix mockup to show what things are most worth your time and energy, and resources.
Benefits of using a 2x2 template matrix
Simplicity. 2x2 matrix templates are simple, but helpful. You can learn to use it easily, so you'll get started on sorting your thoughts quickly.
Flexibility. Additionally, the chart is customizable. While we've included user value and feasibility as the ranking criteria, you can swap those out if you need to rate your ideas on other factors. For example, some people use this kind of 2x2 matrix chart to figure out the best uses of their time—in this case, they use urgency and importance as the two axes.
You'll also see charts with cost and value, time and money, and effort and impact as the deciding factors. If user value and feasibility aren't relevant to the ideas you're prioritizing, feel free to swap those labels for better criteria.
Clarity. Our matrix diagram maker online helps you visualize your ideas so you can clearly see your top priorities.
How to use our free 2x2 grid template in Lucidspark
Enter your ideas into sticky notes, then sort them on the matrix mockup template. Move them around as needed as you collaborate with your team—someone else may know more about how valuable or feasible an idea is than you, and you'll need other perspectives to be accurate.
As you brainstorm, you can also use lines to draw connections between sticky notes, or use shapes to contain sticky notes that belong as a group.
Once you've sorted your sticky notes, choose the ideas that are highest on both the user value and feasibility scales, and turn those sticky notes into action items. You're ready to get moving.