Icebreaker using GIFs
Interact with your team and have some fun by using GIF's to answer questions.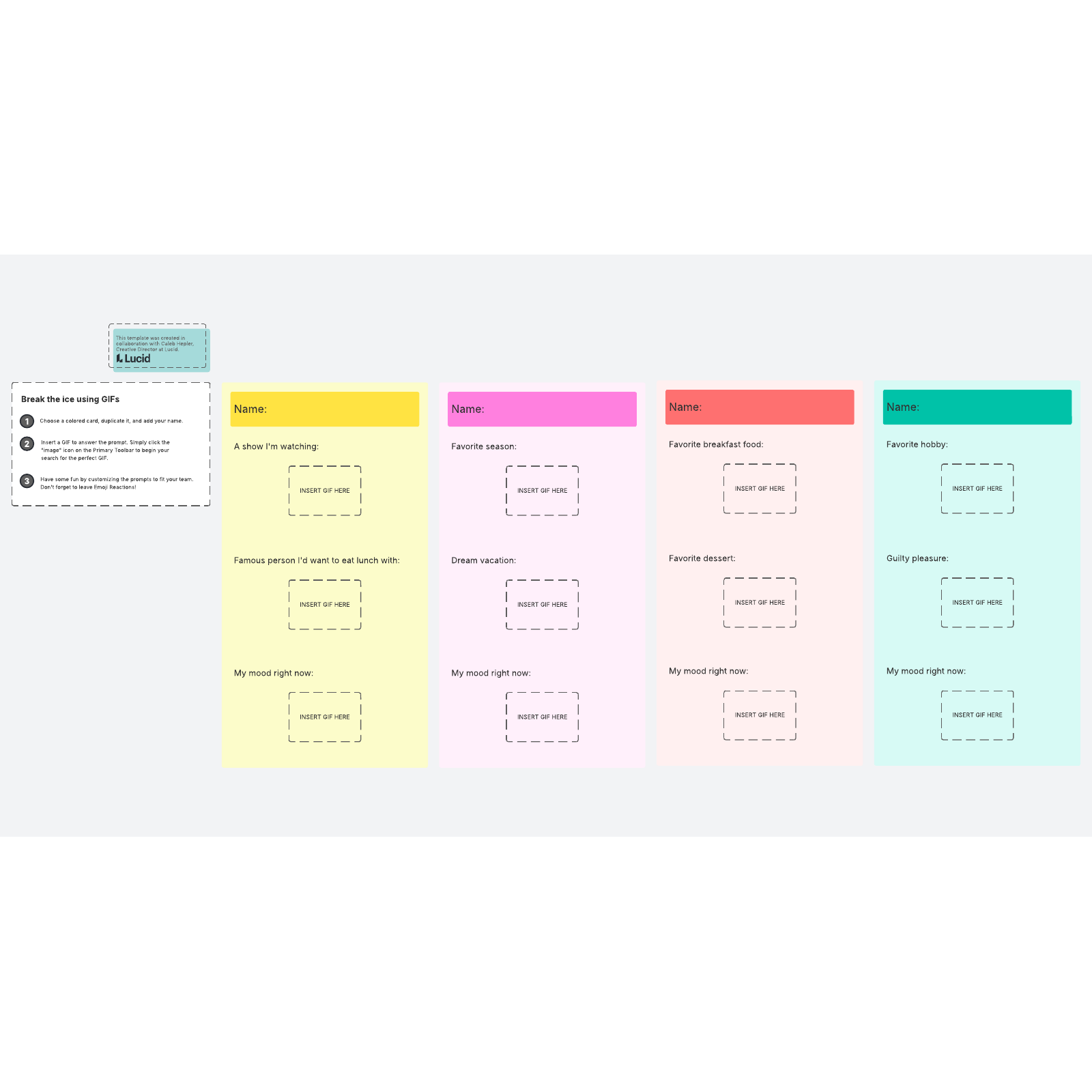 How is the icebreaker with GIFs template used?
This template's game is meant as an icebreaker or team-building game, which helps your meeting participants have fun and get comfortable with each other. This is an especially helpful icebreaker for remote teams that don't meet in person often and may not feel as connected with each other.
Icebreakers like this one can make meetings more lively and help participants get to know each other better. Use it at the beginning of your meeting to help the rest of the agenda go smoothly.
Benefits of this icebreaker template
When you start your meeting, your team members may be stressed or distracted by the work they just put to the side to attend. In order for them to feel at ease, creative, and ready to focus on your agenda, start with this icebreaker.
The game gives players a break from their usual work to relax and have fun, and it helps them bond with their teammates on a deeper level than you get from just collaborating on projects. You learn more about each other's preferences and sense of humor. You also get the chance to show your team members that you care about them for more than just the work they do, which helps them trust you.
All in all, this icebreaker benefits your team members' wellbeing, helps them have fun, and sparks their creativity.
How to use the icebreaker using GIFs template in Lucidspark
To play, have each participant choose a card with questions that they feel comfortable answering. Have the players duplicate their cards of choice and write their name on the top of their card. Next, the players will insert a GIF to answer each question on their card.
After the players have answered their questions, give the group time to view everyone else's responses. Leave emoji reactions to other people's GIFs, and use the chat feature to discuss. Use the time to connect with your team and get to know them, and everyone will feel more relaxed as you jump into the work of your meeting afterwards.
Caleb Hepler
Creative Director, Lucid
With a career centered around creatively using video to captivate potential customers, Caleb Hepler's experiences in the advertising industry have been the base of Caleb's success as Creative Director at Lucid. Caleb manages all aspects of video marketing for Lucid.