Feedback wall
Encourage participants to use sticky notes to give feedback to your meeting facilitator with this feedback wall template.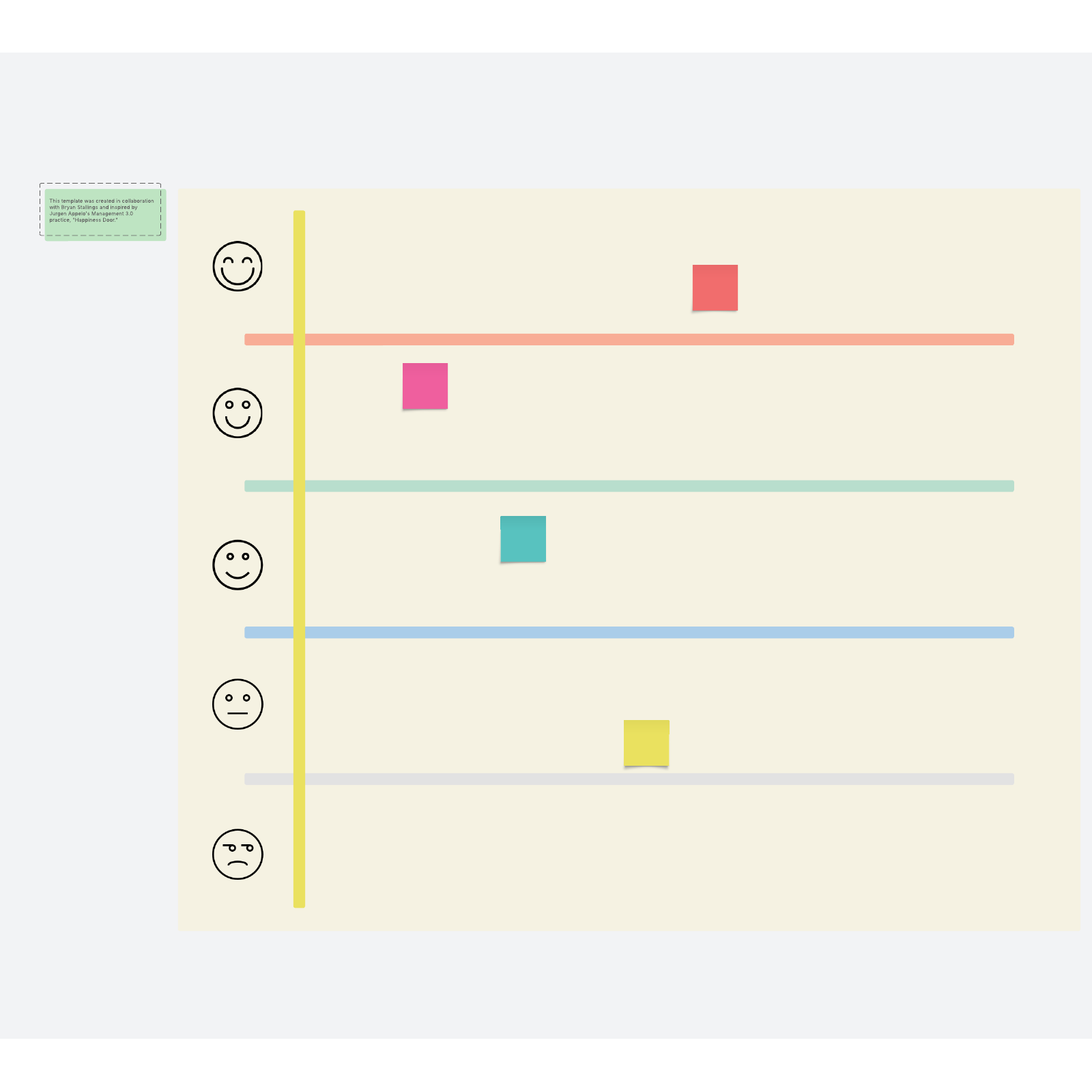 Improve your meeting facilitation with a feedback wall
If you're looking for tips on how to improve your next meeting, it might be best to approach the meeting participants directly. One way to do this is with the help of a virtual feedback wall. A feedback wall is an Agile practice that allows you to collect the thoughts of meeting participants on your facilitator's performance while a meeting is in progress.
A feedback wall can be used for internal meetings with your team or for external meetings with project stakeholders and is especially useful for longer meetings that require breaks between sessions. During these breaks, you can look at the accumulated feedback on the feedback wall and use it to adjust your meeting strategy. As a result, you'll be able to continuously improve the level of engagement and the effectiveness of the meeting.
Incorporate the feedback wall template into any Lucidspark workshop
Lucidspark makes it easy to include a feedback wall during any virtual or in-person meeting. Simply insert Lucidspark's feedback wall template into any existing board you're using for a workshop, and encourage participants to leave anonymous feedback throughout the proceedings. Tell meeting participants to:
Place sticky notes on the face that describes their experience at any point in the happiness spectrum. They can leave a sticky note with no words or include a little note.
React to each other's sticky notes with emojis.
As your meeting or workshop progresses, check the feedback wall regularly so you can get a sense of the overall meeting experience. As you incorporate the feedback of meeting participants into your presentation and facilitation, you'll create a better experience for everyone involved and show stakeholders and employees that you care about their thoughts.
Don't wait to improve your meeting facilitation strategy after the fact; get instantaneous, anonymous feedback from participants and adjust your meeting strategy accordingly as the meeting progresses. You can also use the feedback wall to prepare for your next meeting and facilitate a cycle of continuous improvement.
Bryan Stallings
Chief Evangelist, Lucid
As Chief Evangelist at Lucid Software and Certified Scrum Trainer, Bryan Stallings has coached thousands of individuals and teams in Agile and Scrum techniques.