Facilitators guide
Lucidspark's facilitators guide template helps clarify how teams will get from point A to point B on a project while providing flexibility to make changes.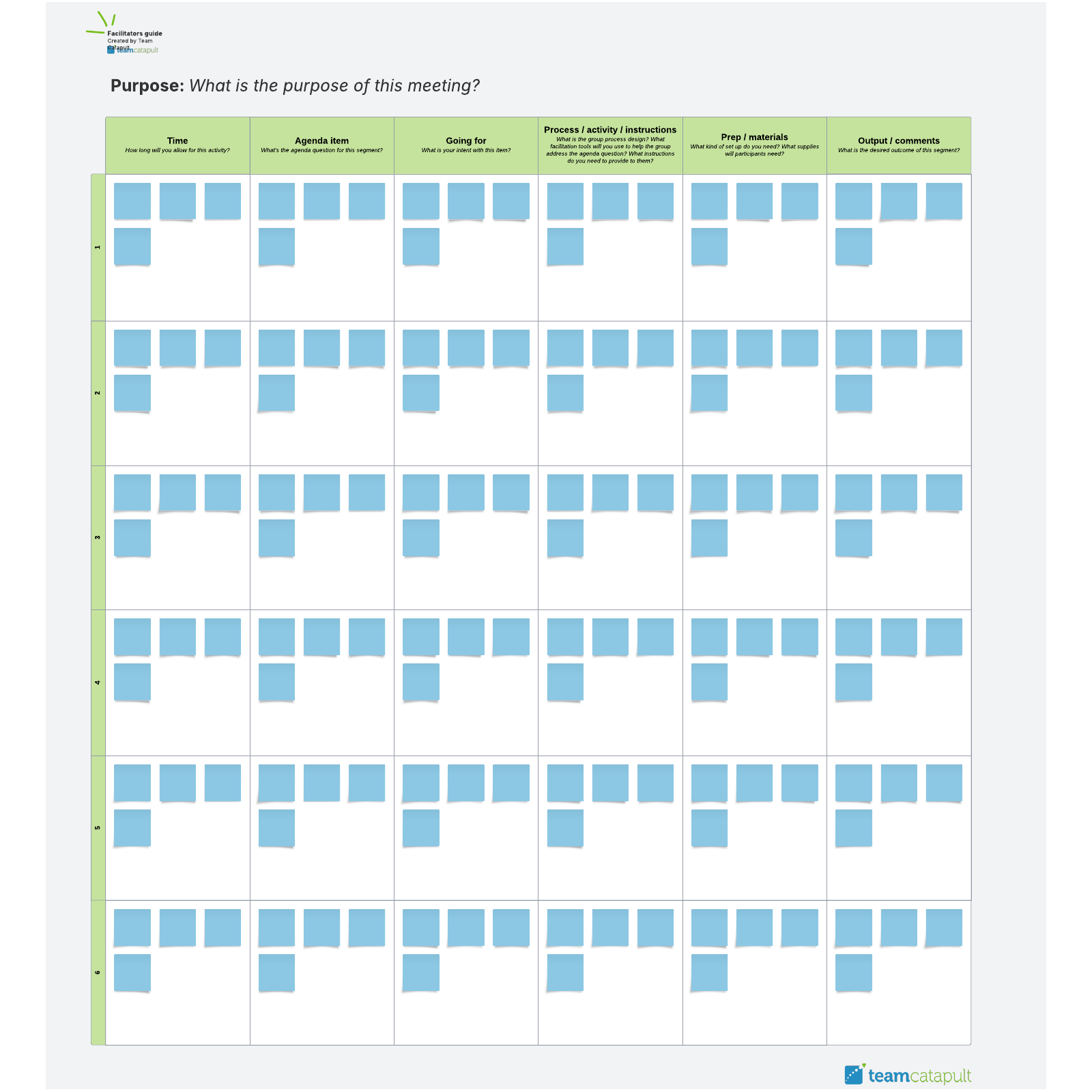 What is a facilitator's guide?
The facilitator's guide template is designed to help you plan out the details that need to come together to achieve the desired outcome of a meeting. It allows you to transition from running a dull, unproductive meeting to facilitating a creative, collaborative session.
To properly prepare for a meeting, you need to plan out the meeting's objectives, then design how the meeting will reach them. After you've completed those steps, use this template to work out the final pieces. You'll plan each part of the meeting, from how long it takes to what materials you'll need and what it should accomplish. When your meeting starts, you'll be ready to jump in with everything you and the participants need.
How to use the facilitator guide template in Lucidspark
The template includes space for each segment of your meeting. For each activity or agenda item, use one row of the template.
We've included questions in the template for you to answer. As you fill out the sticky notes with your thoughts, you'll have a better idea of what you need to do for your meeting to be effective. However, if the questions we've provided aren't relevant, or if we've missed something, you can easily change the template. Add, delete, or switch sections as needed to make it work for you.
As you work, you can color-code sticky notes to make the facilitator guide easy to scan later. You can also tag sticky notes to easily sort them. If needed, you can track additional details or longer items in the Notes panel.
While you can use many different formats to prepare to facilitate a meeting, we recommend this template for its structure and flexibility—it helps you think through all the big questions in advance, and it's very customizable. Additionally, the template's design helps you keep track of all the details at a glance, which comes in handy when you're in the meeting itself.
For more tips and tools on effective meetings, check out our full meeting facilitation toolkit with Marsha Acker.

Team Catapult
Cultivate great leaders and effective teams by accessing collective intelligence.