Eisenhower matrix
Prioritize tasks using this Eisenhower Matrix. Organize tasks based on urgency and importance to get things done quicker. Try Lucidspark for free!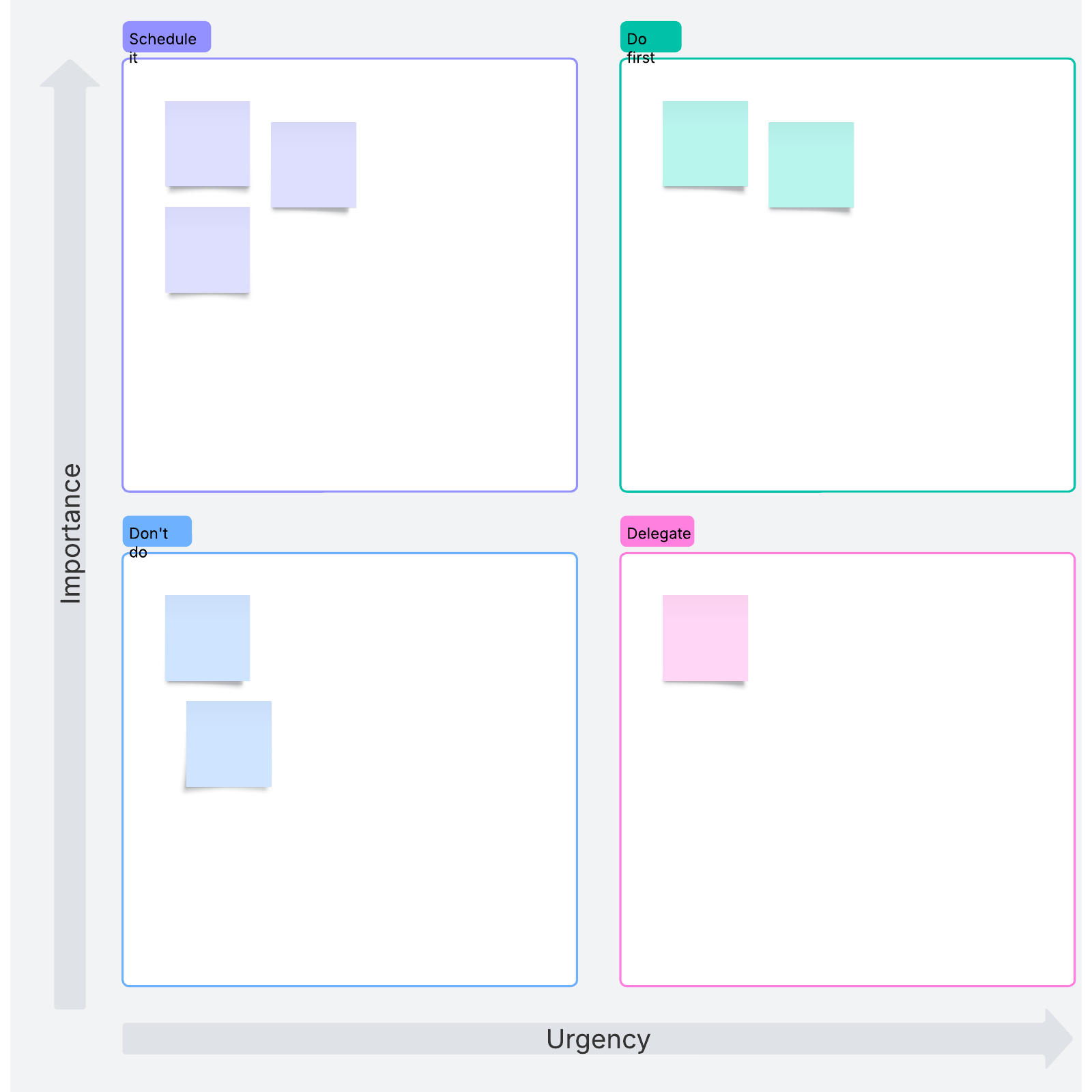 What is an Eisenhower matrix?
The Eisenhower matrix, aka the Urgent-Important matrix, is a four-quadrant matrix designed to sort tasks based on their importance. Tasks can range from most urgent and important to tasks you can delegate or not do at all.
The Eisenhower matrix was invented by Dwight D. Eisenhower, the 34th president of the United States, former general of the US Army, and first supreme commander of NATO. His long list of responsibilities ultimately led him to create the Eisenhower principle, accompanied by the matrix, to help him prioritize his daily tasks.
How does the Eisenhower matrix help prioritize tasks?
The Eisenhower matrix is built to help you avoid tasks that won't get you closer to reaching your goals or fulfilling your responsibilities. If you're the type to run around putting out fires all day without making progress on your long-term goals, this might be the tool for you. On the other hand, if you fall victim to procrastination or distractions, this matrix can help you stay on track by avoiding tasks that will waste time and make you less effective.
This framework can help you balance your time between time-sensitive tasks and important tasks that will help you accomplish your goals. To do this, it's important to understand the difference between urgent and important tasks.
Important tasks may not have immediate results or clear-cut deadlines, but they contribute to long-term goals and fulfillment. These can include things like self-care, brainstorming for a future project, or networking activities.
Urgent tasks have defined deadlines and consequences and require your immediate attention. These can include important meetings or calls with team members, responding to emails, or picking up a child from school.
How to use the Eisenhower matrix template in Lucidspark
Before you begin filling in your Eisenhower matrix, make a list of your current tasks. Tasks can range from professional responsibilities to appointments or personal goals. Drag your Eisenhower matrix onto your virtual whiteboard and begin sorting your tasks.
Do first: Place your most important and urgent tasks, the ones with clear deadlines, in the "Do first" quadrant.
Schedule: Your important but not-so-urgent tasks can be placed in the "Schedule" quadrant to be added to your calendar later.
Delegate: The "Delegate" quadrant should be filled with urgent, less important tasks that can be completed by others. Use Lucidspark Cards to create action items for collaborators to put on their own to-do lists and ensure your follow up on them.
Don't do: Finally, any tasks that are neither important, nor urgent can be placed in the "Don't do" quadrant. These can include distractions or tasks that have no measurable value.
You can then use Lucidspark's Frames to highlight any specific sections or quadrants that need further attention, group personal or professional tasks, and further clarify your time management.