Design canvas for meeting agenda
Ready to craft your meeting agenda? Try this design canvas, created in collaboration with team coach and leadership expert Marsha Acker. Infuse your meeting with true collaborative engagement by drafting the agenda in question format and then sharing it with participants ahead of time. Here are some questions to get you started: — What are the risks we face? — What's the highest priority risk? — What are the strategies to mitigate the risk?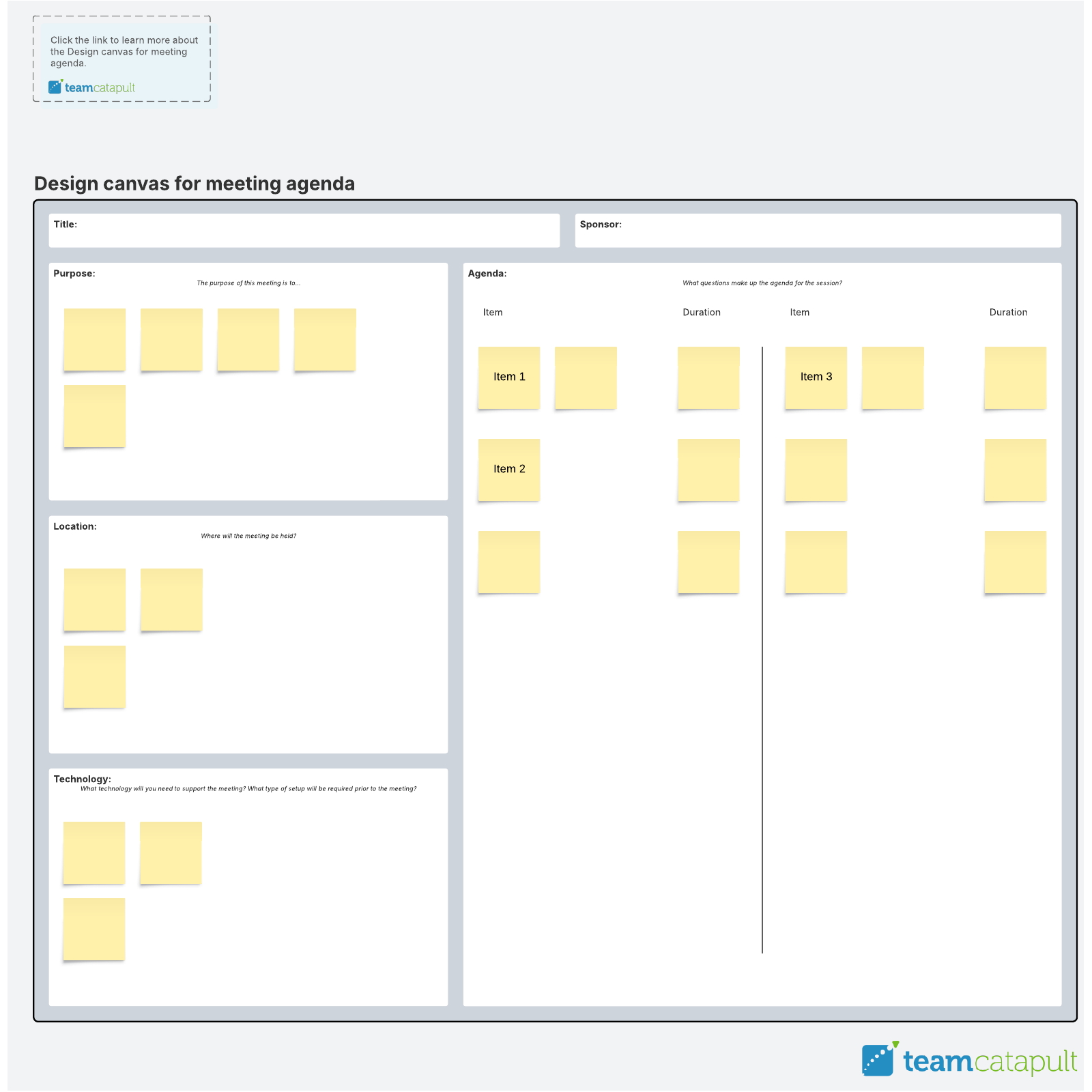 Use a design canvas to create your meeting agenda
If you want to get the most out of an important meeting, you should deliberately design the agenda beforehand. To make sure that all the most important points of discussion and decision-making are addressed, you can use Lucidspark's design canvas for meeting agendas. This canvas agenda will ensure that everyone will be able to give their input and be invested in the proceedings.
Deliberately designing an agenda will also ensure that you are able to facilitate your meeting correctly and efficiently instead of just letting it happen. Such an approach will guarantee the results you're looking for, maximize you and your team's time, and potentially avoid the need for additional meetings on the topic.
How to use Lucidspark's canvas template for designing meeting agendas
To get the most out of your upcoming meeting, share the meeting agenda template to your Lucidspark whiteboard. Then:
Determine the purpose, location, and technology needed to support the meeting. You can invite group input via color-coded sticky notes if these items are not already predetermined. This may be a good time to get everyone on the same page.
Determine what items should make up the meeting content and how long each item should take. Invite participants to add sticky notes with suggested items so that everyone can give input as to what they believe should be discussed. You and your collaborators can try listing agenda items in question format so that each talking point prompts answers when it's time for your meeting.
After you have some proposed items of discussion, feel free to use the Tagging feature to identify similar items. You can also have participants react with emojis to each other's proposed ideas to get a sense of which items should be prioritized.
As you utilize the template in this way, you'll give everyone a chance to help build the meeting agenda. This will increase engagement and ensure that your meeting addresses topics the team thinks are important. As you move forward, make the finalized agenda available to everyone so that they can come to the meeting prepared. With this approach, you and your team will be sure to have a productive and successful meeting.

Team Catapult
Cultivate great leaders and effective teams by accessing collective intelligence.