Current / future state activity
Eliminate your current processes' weak points by mapping out improvements for the future. Use this Current / Future state activity template in Lucidspark.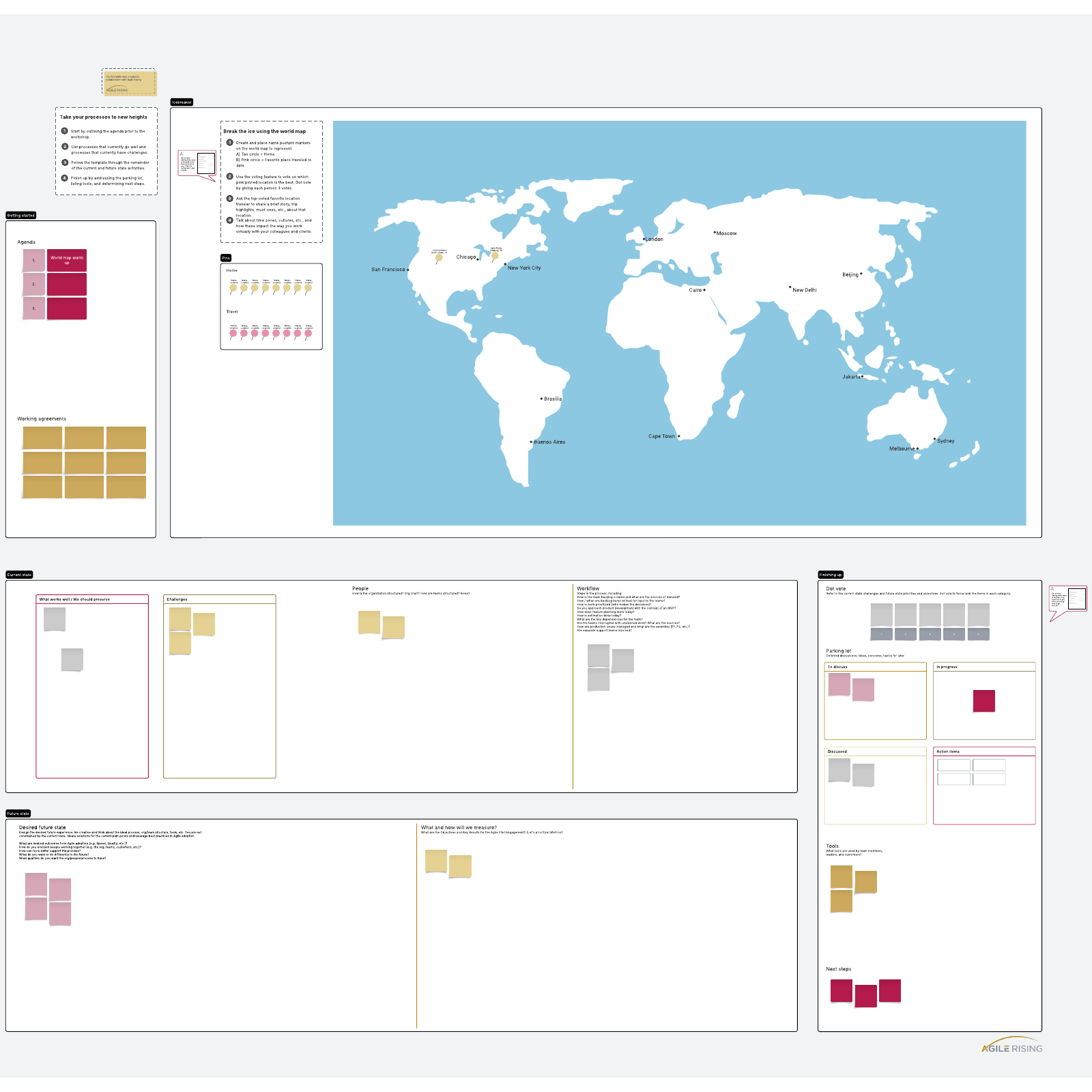 Examine current state vs future state and take your processes to new heights
When you need to look at the big picture, try our current state vs future state template. This template helps your team analyze where you currently are and what you're doing versus where you'd like to be in the future. The template also includes the travel icebreaker template to get your team relaxed, connected, and ready to dive in.
Benefits of using the current state and future state template
When you take a look at where you are versus where you want to be, you can find a way to make the future brighter. Use this template to help you figure out how to achieve your goals.
The template itself has lots of structure to make the meeting effective, including space for an agenda and meeting agreements to keep the group on track. You'll start with a built-in icebreaker to get everyone comfortable, which can help everyone be ready to speak up with their best ideas for the rest of the session.
How to use the current and future state template in Lucidspark
To prepare for the meeting, outline the agenda and working agreements in the template. When everyone is together, go over the agenda and get buy-in on the working agreements, including adding new ones or tweaking them to work for everyone.
Next, play the icebreaker game. Everyone will share their home location and their favorite location on the world map, and you'll vote to see which locations you want to learn more about.
After you finish the icebreaker, you're ready to move on to the main work of the meeting. Begin by focusing on the present: List processes that currently go well and processes that have challenges. You'll also describe your current organization structure and workflow.
Next, you'll focus on the future. Use the template to describe your ideal future state and what objectives and key results you'll measure to know you've gotten there.
As you move through the template, the group may have questions or ideas that you need to save for later. Put them in the parking lot, and address them at the end of the meeting. You'll also vote on what challenges you need to address first, list the tools you currently use, and figure out next steps to finish up.
Agile Rising
Agile Rising provides consulting, coaching, and training to organizations embracing enterprise-scale Agile, DevSecOps, and Business Agility, as well as Technology Business Management transformations.