Travel icebreaker template
Travel icebreaker template to learn about your team's favorite place to travel. Share travel stories and talk about upcoming trips through this team icebreaker game.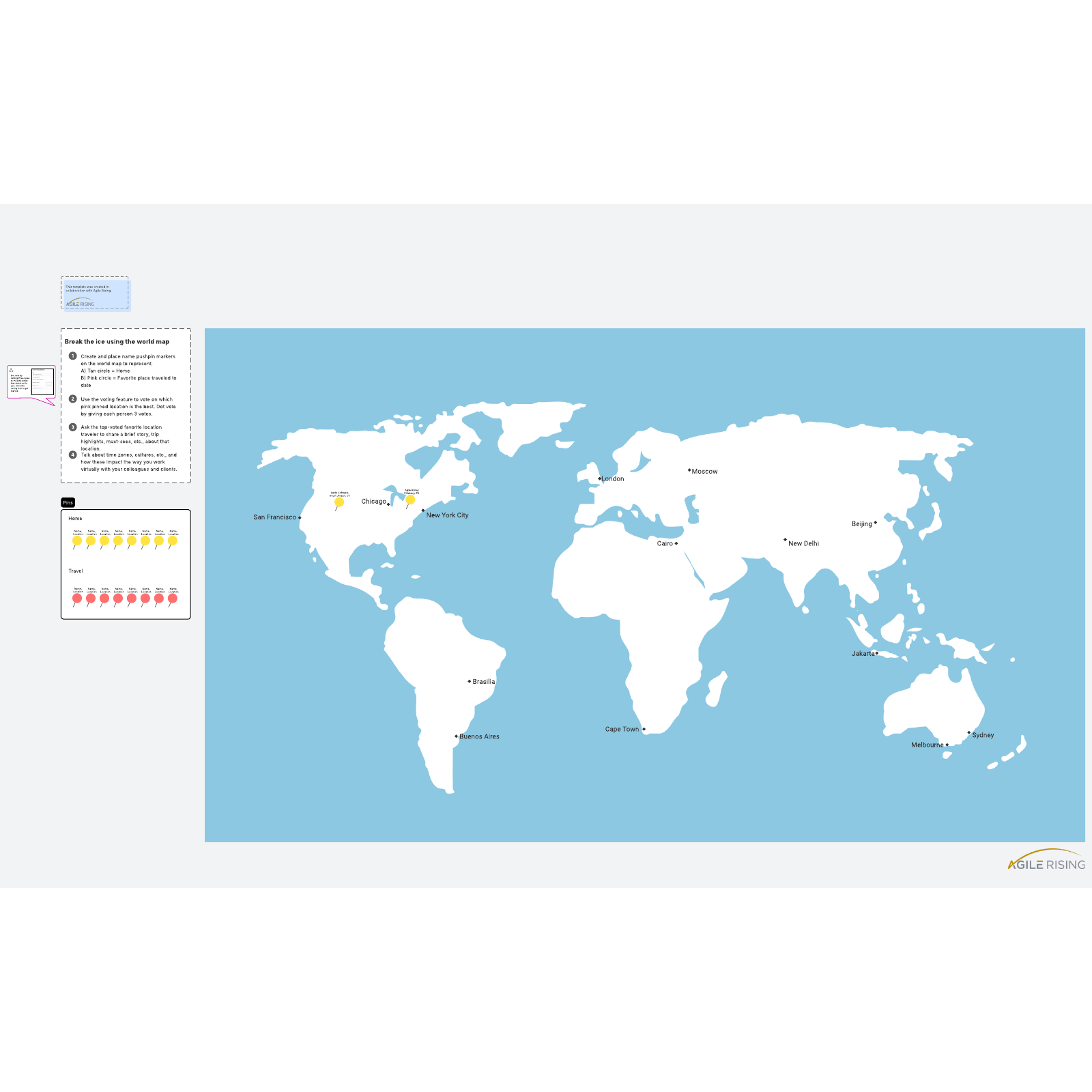 What is the world map warm-up?
Our workplaces are more diverse and widespread than ever before. With all that diversity comes an opportunity to explore different cultures, work practices, and experiences—and how they can make our work experiences more inclusive and rich.
With this travel icebreaker template, participants are invited to share both their home location and their favorite travel destination. Your meeting participants are then invited to vote on the most interesting location and discuss how the participant spent their time there, as well as the interesting customs or cultural differences and similarities they noticed about the location. In the end, you may find that you've discovered information that can help your team better work together as a team and with your clients.
Benefits of using this travel icebreaker template
The world map warm-up is a fun, quick activity to break the ice during a meeting, especially if you have participants from a variety of locations in attendance. Not only does it promote engagement and give participants a chance to get to know one another, but it's also an opportunity for your entire team, no matter where they're located, to learn how to better work together.
How to use the world map warm-up template in Lucidspark
Here's a step-by-step guide to getting started with our world map warm-up:
At the beginning of your meeting, give every participant a chance to create and place pushpin markers on the world map. A tan circle indicates each participant's home. A pink circle indicates each participant's favorite place traveled to date.
Use the voting feature to vote on which pink circle is the most interesting location. Give each participant three votes to dot vote on their favorite locations.
Ask the top-voted favorite location traveler to share a brief story, trip highlights, must-sees, and other note-worthy information about that location.
Talk with other participants about time zones, cultures, and work customs and how these impact the way you work virtually with your colleagues and clients.
Agile Rising
Agile Rising provides consulting, coaching, and training to organizations embracing enterprise-scale Agile, DevSecOps, and Business Agility, as well as Technology Business Management transformations.