Critical assumptions template
Use this template to identify your riskiest assumptions using this critical assumptions matrix. Customize to suit your needs.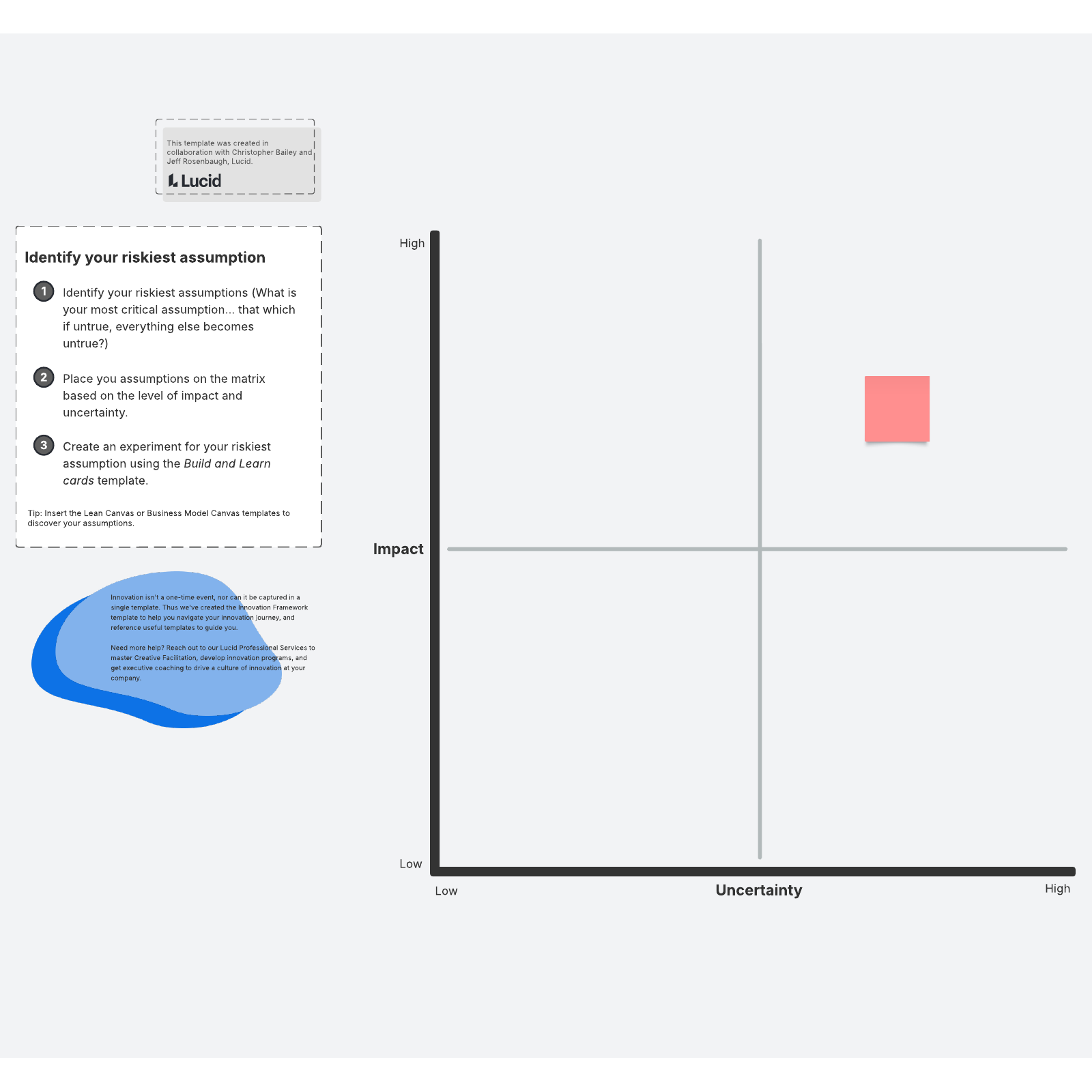 What is the critical assumptions template?
Making assumptions is a necessary part of navigating life. When you drive, you assume the other drivers around you will behave normally. When you rent an apartment, you assume it will be safe and clean.
But in business, assumptions can be blind spots. For instance, if you're opening a juice bar in downtown Denver, you're assuming that your customer base will be reliable enough to keep you in business. You're assuming the price of produce won't rise dramatically, that you won't have significant competition, and that people are willing to pay $8 for a glass of juice. These assumptions are significant and can determine the success of your business.
The critical assumptions template helps you identify these assumptions about your business that must be true for your business to be successful. More importantly, it helps you identify the riskiest assumptions that—if untrue—will cause everything else to become untrue.
Benefits of the critical assumptions template
Using this template will give you visual insights into which of your assumptions are the riskiest so you can better mitigate them as you implement changes, analyze your customers and channels, or begin a new venture. You'll also be able to compare assumptions and discover how assumptions relate to one another.
How to use the critical assumptions template in Lucidspark
First, brainstorm assumptions and place them on the matrix based on impact vs. uncertainty. You can insert the lean canvas or business model canvas templates to discover your assumptions. You can also use Collaborator Colors in your brainstorming session to keep track of each contributor's ideas.
Discuss assumptions as a group and use the Note Panel to record why decisions were made or follow-up items.
Whichever assumption is in the top right corner is your riskiest assumption.
When finished, use the build and learn cards template to create an experiment to test your riskiest assumption.
Christopher Bailey & Jeff Rosenbaugh
Professional Services, Lucid
Christopher and Jeff have spent the last decade helping organizations develop innovation pipelines and transform into Agile systems of delivery.