Lean canvas model template
Lean canvas models are designed to help develop business plans. Use a lean canvas model to define problems, solutions, key metrics, and unfair advantages.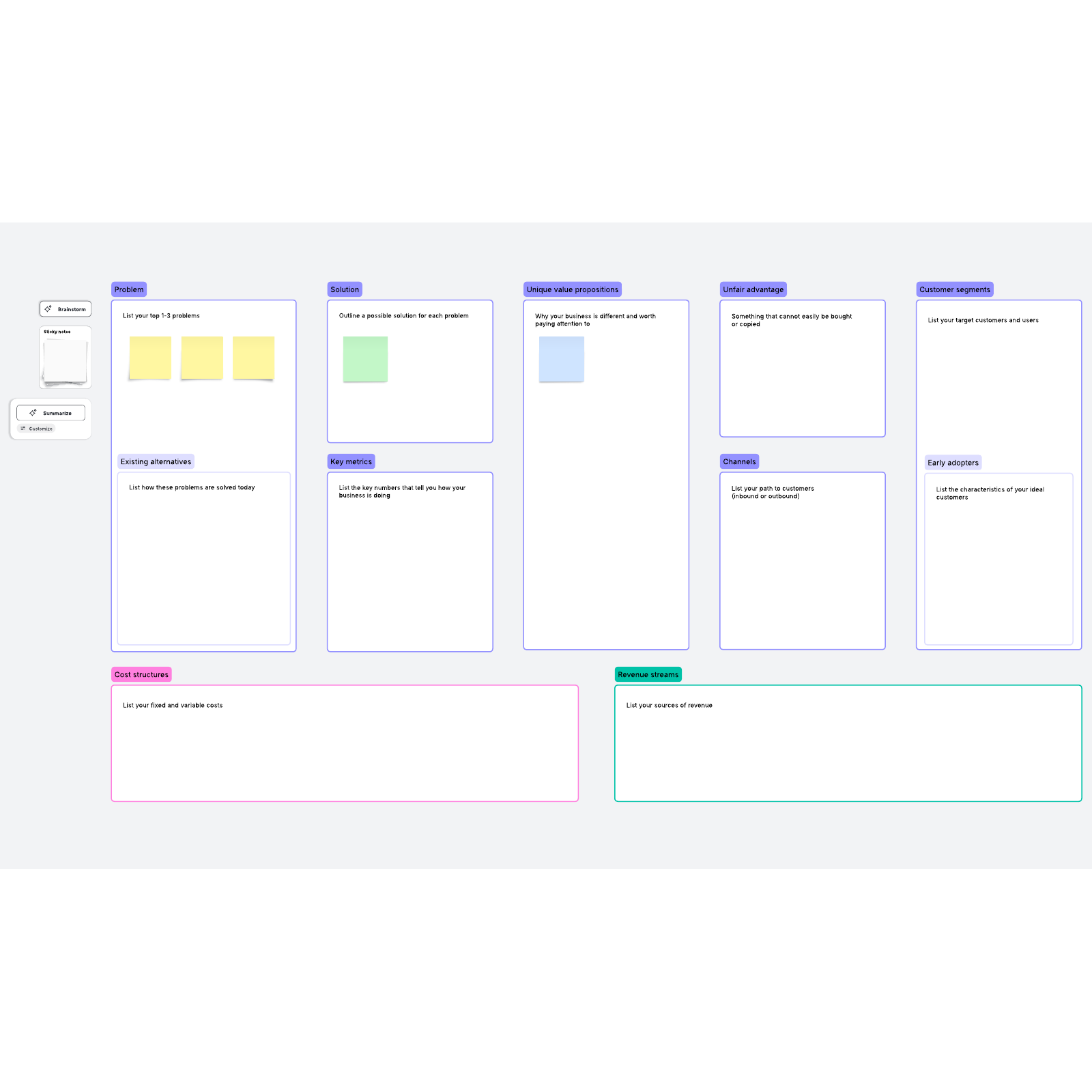 What is the lean canvas template?
The lean canvas template is a one-page business plan. It's meant to be simple, easy to modify and easy to read, unlike many complex business plans.
Ash Maurya of Leanstack created this template by modifying the business model template by Alex Osterwalder. The end result is a clear, straightforward way to get to the heart of what your business is all about.
Benefits of the lean canvas model template
While a traditional business plan can hold a lot of detail and complexity, they have several drawbacks. They're time-consuming to write, difficult to update, and hard for outsiders like investors to read. This template's aim is to fix those issues.
The lean canvas helps you deconstruct your business idea into the key pieces. It's strategic, but simple, which makes it quick to write and quick to read. You can also customize the template as needed, and update or refer back to it along the way.
Creating your lean canvas in Lucidspark means that you can easily collaborate with others on your business plan, whether you're working together in person, working remotely, or have a hybrid team.
How to use the lean canvas template in Lucidspark
Each box of the template asks you to fill in some information about your business. These sections include information about what problem your business seeks to solve, what makes your business different, who your customers are and how you'll reach them, what costs your business will incur, and what your sources of revenue are.
Fill out each section by adding sticky notes with the relevant information—if you need to add more context to a sticky note, use the Note Panel.
As you work with your team on the lean canvas, use Frames to call attention to specific sections of the board that you need feedback on. You can also use emojis to react to others' work.