Agenda item design canvas
Try out this agenda item design canvas, created in collaboration with team coach and leadership expert Marsha Acker. Start exploring the details of the group process design.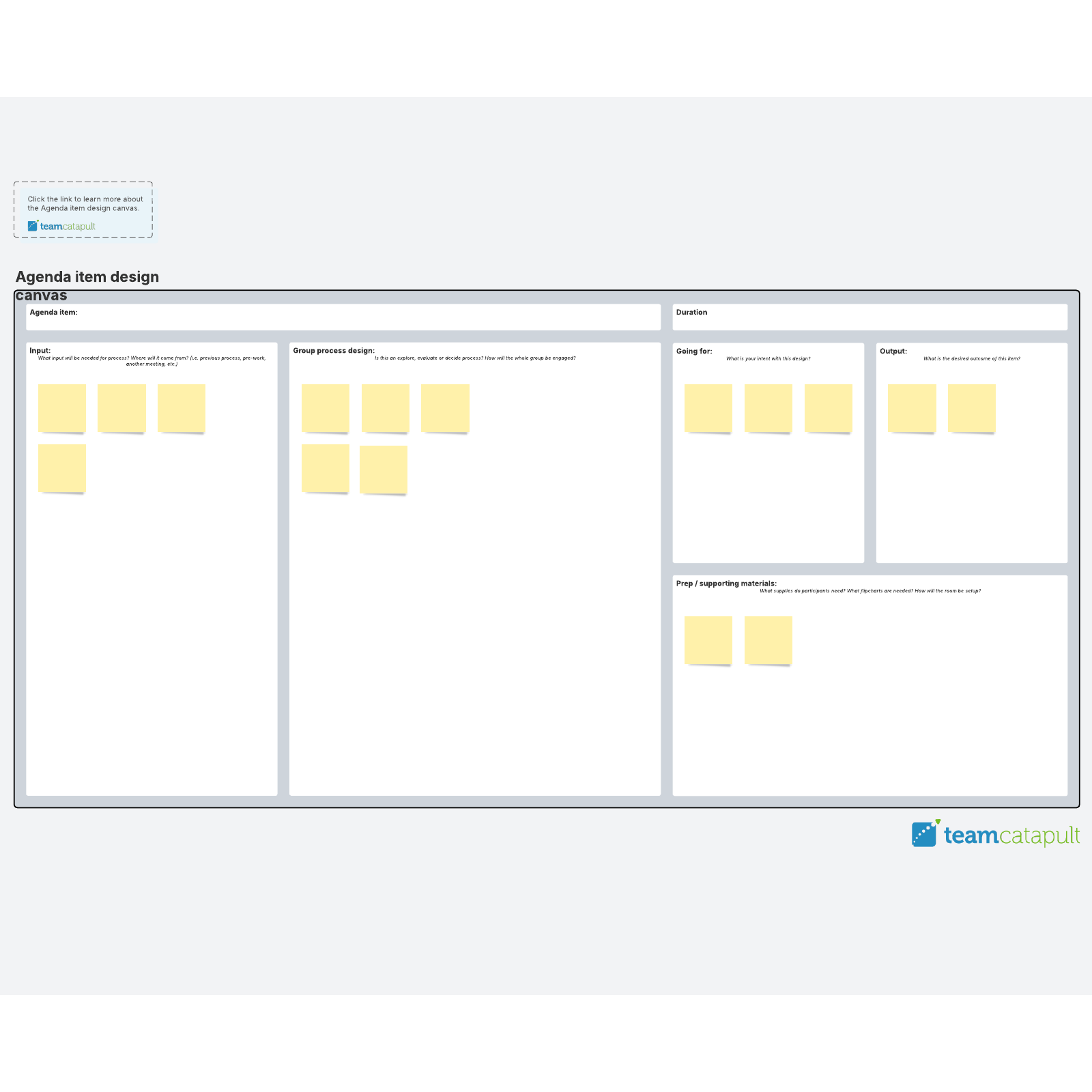 What is the agenda item design canvas?
Before you can conduct a successful meeting, you have to do the prep work. We've worked with Marsha Acker of TeamCatapult to put together resources for facilitating meetings, including this agenda item design canvas.
To lead an effective meeting, you start by planning out what you want to accomplish—but you aren't done yet. Before you start the meeting, you need to design how you will reach the goals you outlined in the planning phase. Use this template in this design phase to make sure your meeting accomplishes its objective.
Benefits of using an agenda items template
Save time—and money. Most workers have been in meetings that didn't have a clear goal or that never got anywhere productive. These poorly planned meetings don't just kill morale—they waste time and money. You can avoid falling into this trap by planning and designing your meeting in advance.
Drive group engagement. While many meeting facilitators understand the need to plan the meeting's objectives, that's not enough. You have to know how you'll accomplish those goals. Use the design phase to think about how you'll engage the group and what methods you'll use to spark creativity and insight. This will help you achieve the outcome you want from your meeting.
How to use the agenda item design canvas template in Lucidspark
When you're ready to design your meeting, just follow the instructions included in the template. We've included probing questions to help you think through what you need to do and space to write the answers. However, customizing the template to fit your specific needs is easy in Lucidspark, so feel free to make it your own.
The template's structure helps you visualize your ideas, common themes, or unaddressed gaps, especially if you use color-coded sticky notes and the Tagging feature. You can also add information to the Notes panel to keep track of ideas you come up with along the way.
Want more help facilitating meetings? We've got you covered. Read our full blog on meeting facilitation with Marsha Acker to learn about the entire process.

Team Catapult
Cultivate great leaders and effective teams by accessing collective intelligence.