SWOT analysis generator
Lucidspark is a virtual whiteboard that helps you and your team collaborate to bring the best ideas to light. Sign up for a free trial today.
A SWOT analysis creator to ignite your business strategy
Uncover the potential in any business or product

Make the most of the positives—and minimize the negatives—with an online SWOT analysis. Using a SWOT analysis chart, you and your team can evaluate each strength, weakness, opportunity, and threat that might affect your organization. Visualize your SWOT analysis with Lucidspark to help you and your team improve business operations, brainstorm strategic decisions, and plan out strategy. Put your insights into motion to discover new opportunities for customer growth, plus products and additional services to increase your market share.

Tailor your SWOT analysis to your needs in minutes

Our SWOT analysis tool lets your team hit the ground running, no matter what your workflow looks like. Start with a blank canvas and customize your SWOT analysis from the ground up, or save time by filling in our SWOT analysis template. Use sticky notes, shapes, images, text, and even freehand drawing to get your ideas on the board. Then add external links and additional information to help your team turn analysis into action.


Share ideas and build consensus as a team

Use Lucidspark to work seamlessly with your team as you determine what direction to take your strategy. Collaborate in real time by sharing your board and working together with your team members, no matter where you're located. Add comments, @mentions, and emoji reactions to your SWOT matrix to share insights or collect feedback. Keep each update organized by contributor with Collaborator Colors—or choose to follow individual collaborators to stay up to date on all of their edits.


Integrate our SWOT analysis maker with your favorite apps

Lucidspark integrations make it easy to take your team's analysis to the next step. Share and sync your analysis to Google Drive to manage your visuals and ensure you never lose your work. Streamline your sharing by inserting your SWOT analysis directly into your team Slack channel, where you and your collaborators can jump-start your brainstorming session. Export your analysis to Lucidchart to upgrade your image to a polished deliverable and then return to our SWOT analysis software for more brainstorming.

How to create a SWOT analysis using Lucidspark
Start from scratch or with a template

Start your SWOT analysis with a blank canvas and add containers labeled as strengths, weaknesses, opportunities, and threats. Or, choose a template to save time and add structure.

Add sticky notes with internal factors

Use sticky notes to fill in the strengths and weaknesses quadrants in your analysis, also known as your internal factors.

Continue adding sticky notes with external factors

Move on to adding sticky notes with opportunities and threats. These are external factors that are outside of your organization's control.

Share your SWOT analysis

Share your board with stakeholders and get helpful input on the potential factors that may affect your business.

Move on to your final version

Use our SWOT analysis creator to create a final version of your analysis that you can present and share across your organization. To continue strategy work, export your visual to Lucidchart.
Frequently asked questions about our SWOT analysis tool
See Lucidspark in action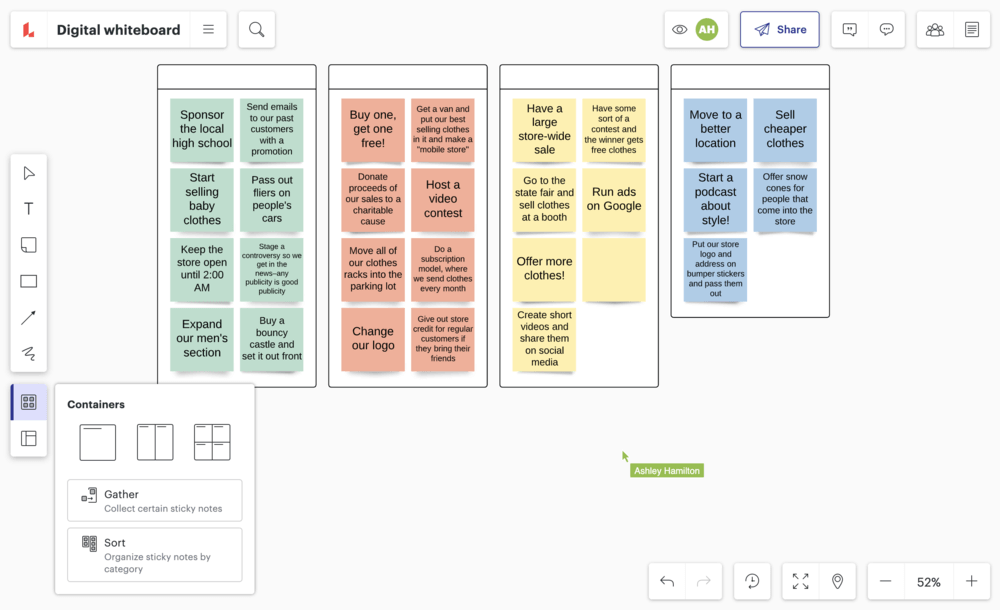 A demo of a sample Lucidspark brainstorming board is shown, with lots of active participation from the four participants across the entire board. Next, a rapid series of close ups demonstrating some Lucidspark features: Writing on a sticky note, drawing a circle around an idea, starting a 30-second timer, crossing an item off an agenda, adding emoji reactions to a sticky note, and sharing a board with collaborators in the share settings. The video then continues to demo features in line with the narrator's audio for the remainder of the video. The video ends with the Lucidspark logo and tagline Where ideas ignite.