Johari window template
The Johari window helps boost personal and interpersonal relationships. Explore behaviors traits and to improve self-awareness and teamwork.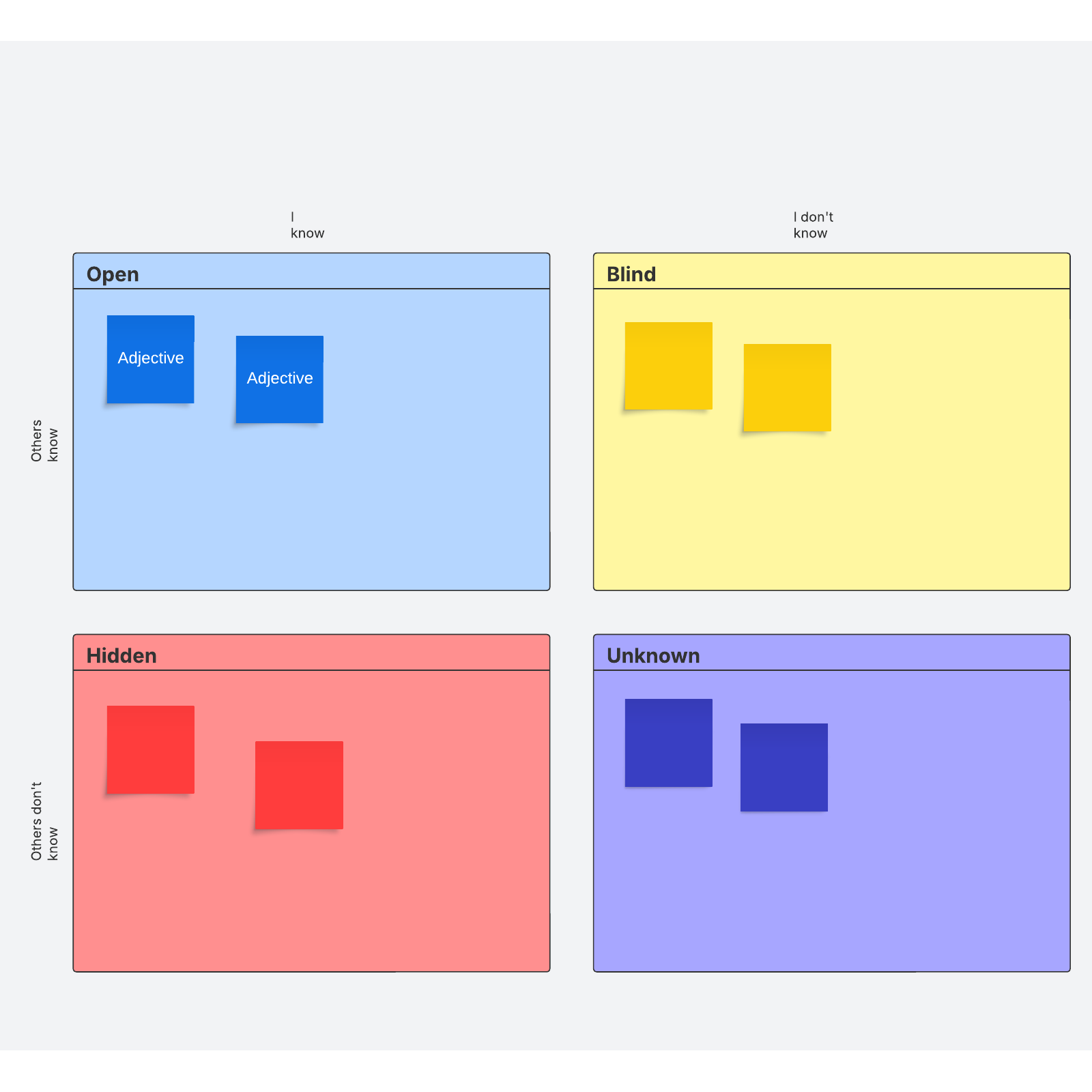 What is the Johari window and how can it benefit team relationships?
No matter what kind of team you work with, your interpersonal relationships are important. You can facilitate greater trust, acceptance, and self-awareness for yourself and your individual team members with a Johari window diagram.
A Johari window is a unique exercise that helps you become more aware of your personal traits and how others in the group perceive you. It accomplishes this by requiring participants to volunteer adjectives and phrases on how they see themselves or others and to share them with the group.
The template has you sort different adjectives into four different categories of personal qualities or traits:
Open: Qualities and traits that you and others on the team recognize as being your unique attributes.
Blind: Personal qualities that you are unaware you possess, but that are recognized by others on the team.
Hidden: Personal qualities and traits that you are aware of, but that others on the team are unaware of.
Unknown: Qualities and traits that both you and the members of your team are unaware of.
While revealing such personal information can be daunting, many participants find the exercise empowering and enlightening. The exercise requires you to be honest and empathetic with yourself and others, which can also make it a great team-building tool for fostering trust and cooperation.
How to use the Johari window template in Lucidspark
You can use Lucidspark's Johari window template to create a diagram for each member of your team in a shared whiteboard space. This way, you can have team members work on their own templates and collaborate on the relevant sections of each other's templates at the same time.
Step 1: First, provide a list of adjectives that could describe a person in your team's setting. These adjectives may include words like "organized," "social," "helpful," "knowledgeable," "cautious," "proud," "kind," "open-minded," "anxious," "silly," or "shy." Try to include words that can be used objectively and avoid any overtly negative adjectives. You can also encourage team members to brainstorm their own adjectives.
Step 2: Then, have everyone copy four to six adjectives that they feel best describe their personality. Have them place those sticky notes in the "Open" category on their own template.
Step 3: When the "Open" category is filled out, have team members add sticky notes with adjectives to the "Blind" category on one another's templates.
Step 4: Then have each individual add adjectives to the "Hidden" section of their own template.
Step 5: Have everyone look at one another's templates and use emoji reactions or comments to give input on different attributes. This step is a great chance for team members to connect with each other and build trust.
Step 6: With the input of other team members, you can then fill out the "Unknown" category with any adjectives from the list that didn't fit in any other category. These may indicate areas in which you can improve.
With the help of a collaborative Johari window template, your team can reach a new level of empathy and understanding towards themselves and each other. You'll also be able to pick out areas of personal strengths as well as areas that might need development for yourself.