World explorer
Creatively solve problems by exploring beyond your frame of reference.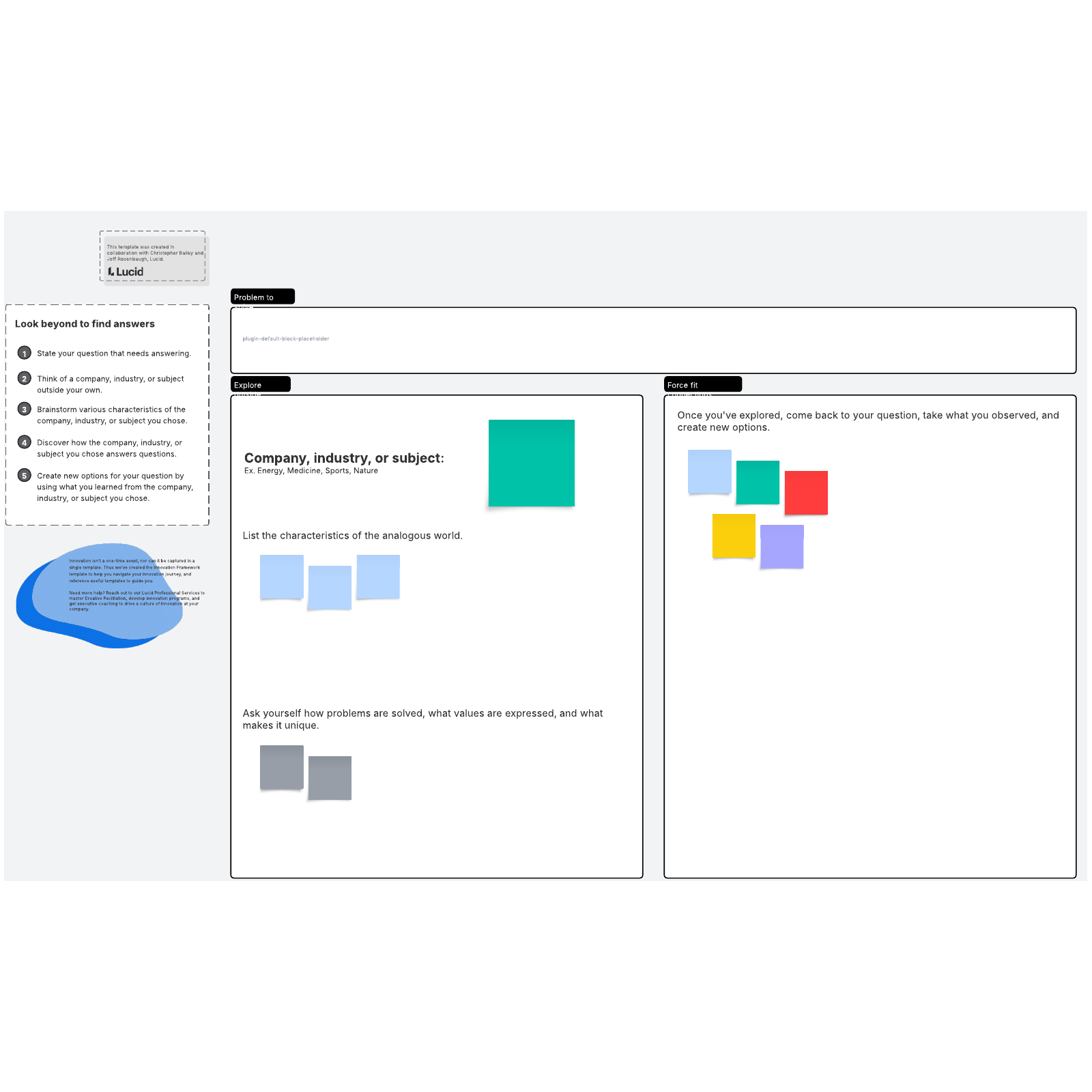 What is the world explorer template?
If you're brainstorming solutions to complex problems, you may know you need to think outside the box, but how do you actually do it? Sometimes you need some structure or the right nudge to broaden your frame of reference, which allows you to consider innovative solutions.
The world explorer template gives you that structure. You'll use it to consider how industries outside of yours solve their problems, like energy, medicine, sports, food, and nature. By thinking about companies so different from your own, you'll spark insights that you can carry over to your particular issue.
How to use the world explorer template in Lucidspark
While you can use this template on your own, the world explorer template will be most helpful if you collaborate on it with others. Begin by gathering your group to discuss your problem and explore innovative solutions.
Fill in the "problem to solve" box so everyone is clear on what you're trying to accomplish. When that's done, you'll choose a company, industry, or subject that you can gain inspiration from. Fill in some information about this entity: List their characteristics, then consider what problems they face. How do they solve those problems, and what values guide them as they do so?
Once you've finished putting yourself in the shoes of this other organization, revisit your own question. Think how the tactics of the source of your inspiration could apply, and use that insight to come up with creative solutions to your problems.
As you work through the world explorer template with your team, use Collaborator Colors to keep track of who contributed each idea. You can also react to and build off each other's sticky notes with emojis, comments, and the chat feature. This helps you make sure that every voice on your team is included.
Christopher Bailey & Jeff Rosenbaugh
Professional Services, Lucid
Christopher and Jeff have spent the last decade helping organizations develop innovation pipelines and transform to Agile systems of delivery.