Turning behaviors into action
Use this turning behaviors into action template to create new goals and habits. Build a behavior change plan through implementing a new action.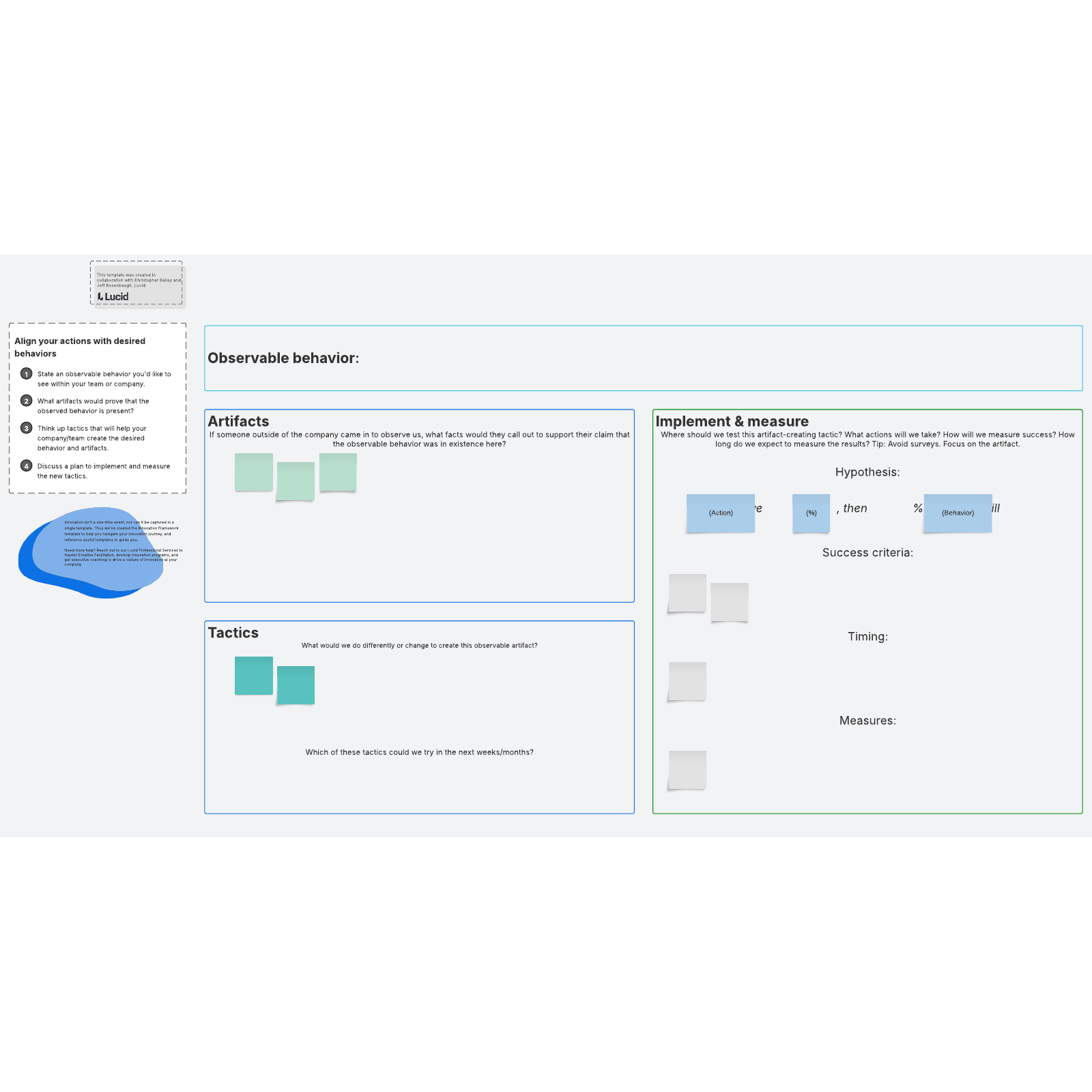 What is the "turning behaviors into action" template?
Making changes in behavior isn't always as easy as setting your alarm clock an hour earlier or getting a new tumbler you'll love drinking out of (we've all done it). Meaningful, sustainable behavioral changes can require forethought, planning, and follow-through.
The "turning behaviors into action" template provides a step-by-step guide to help you identify what behavioral change you'd like to see and what concrete actions you can take to make those changes a reality. Use the template to plan your own behavioral change or to support your employees as they embark on making changes as a group.
How to use this template in Lucidspark to inspire behavior change
Here's a step-by-step guide to get started with your "turning behaviors into action" template:
At the top of your template, note the overarching observable behavior you would like to see in yourself or amongst your team. If you're working together with your team, keep your team engaged by using collaborative tools such as our chat feature, comments, and emoji reactions.
In the Artifacts section, note what you'd be able to witness to prove this behavior is happening.
Brainstorm and record what tactics you would need to employ in order to create each observable artifact.
Select a few tactics to test over the next few months. Discuss how you'll implement, measure, and judge success with each tactic.
State your team's hypothesis: If we (action), then (%) of people will (behavior). If you're completing this template with your team, you may want to assign concrete action items to your team to be followed up on later.
Begin the process of implementing each tactic. Make a plan for when you'll follow up on the results of your behavior-into-action experiment.
Christopher Bailey & Jeff Rosenbaugh
Professional Services, Lucid
Christopher and Jeff have spent the last decade helping organizations develop innovation pipelines and transform to Agile systems of delivery.