Transactions board
Use this transactions board template from Platform Design Toolkit Map how your ecosystem is currently exchanging value. Next, envision how your platform strategy can help them transact value in an easier, cheaper, and faster way by providing channels to facilitate interactions and transactions.
What is the Transactions Board?
The Transactions Board is a simple grid that maps out how your ecosystem currently exchanges value and lets you visualize how you can change your platform strategy to make transactions easier, cheaper, and more scalable. The Transactions Board is part of the Platform Design Toolkit, and is a useful tool for visualizing relationships in your platform strategy.
By providing and curating various channels and contexts within your ecosystem, you can make sure any potential platform strategies are as efficient as possible.
How the Transactions Board can be used to reduce transaction cost
Getting the most out of your transactions is difficult without the right insights. With a transactions board, you can focus exclusively on individual relationships and enumerate all of the transactions already in motion, plus transactions that could take place with the right platform strategy facilitating them.
As a platform shaper, your role includes creating channels that reduce transaction costs. A transactions board lets you visualize current transactions and channels, and identify ways to improve them or create new channels so the transactions can happen at scale. When mapping transactions, try to focus on atomic transactions, which are simple and easily repeatable.
Additionally, try to think beyond software-based transactions, and explore other ways you can reduce bureaucracy or unnecessary waste. Easily take stock of the unnecessary steps and red tape, such as offer-templates and payment channels, that are making your transactions less efficient. From there, you can create streamlined transactions that take place at scale, saving you valuable resources.
How to use the transactions board template in Lucidspark
Here's how to use the transactions board in Lucidspark in four easy steps:
Identify which relationship you're exploring within your transactions board. We recommend running a transaction board for each of the relationships in your Core System first, then moving on to other relationships from there.
Take a look at your Motivation Matrix and enumerate all of the elementary and atomic transactions you see occurring in your ecosystem. Then, identify which transactions may happen if they were facilitated enough. After you've identified these interactions, think about how you could reduce their transaction cost in order for them to happen more easily and more cost-effectively.
Look at your transactions and identify any that don't make sense being separated from each other. Group these interactions together. It's optional to use the Tagging and Sort features in Lucidspark to help you group these.
After you've completed these steps, you should be left with a simple model of atomic transactions, plus a list of channels that you as platform owner will need to build as part of your platform strategy.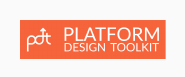 Platform Design Toolkit
Platform Design Toolkit is a design framework that one can use to envision, develop and roll out platform strategies that mobilize ecosystems.