Brainstorm Headlines Template Using Wash-a-Pig
Brainstorm headlines through a series of iterations. Write the perfect headline with our 3 column brainstorm template created in collaboration with Wash-a-Pig.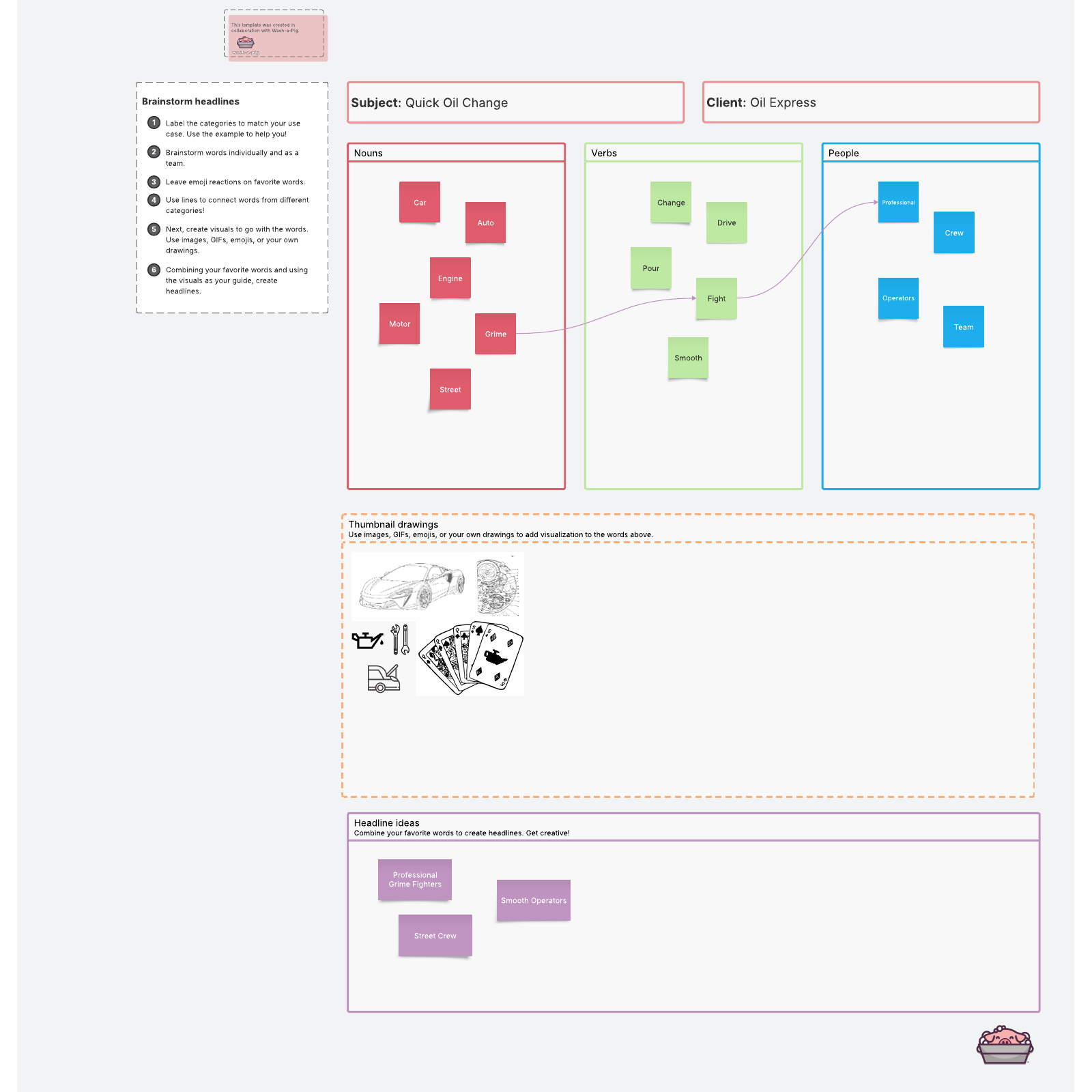 What is the Three-column brainstorm with Wash-a-Pig?
The Three-column brainstorm with Wash-a-Pig is a template that encourages teams to use different types of images and words to guide them in brainstorming creative headlines.
Thankfully, no actual barnyard animals are involved. Instead, this template uses the famous copywriting Wash-a-Pig game to create fun, outside-the-box headlines that speak to specific audiences. Wash-a-Pig was invented by a graphic designer who wanted to harness the creative powers of copywriters without subjecting them to the confines of traditional copywriting. The result is the gamification of copywriting, and this template allows you to play the game asynchronously as part of a larger brainstorming session.
Benefits of using the Three-column brainstorm with Wash-a-Pig
Brainstorm with any type of team: Remote brainstorming sessions aren't always energizing. Our Wash-a-Pig template makes these sessions a lot more fun. This is a fun, game-like brainstorming session that encourages creativity and garners creative headlines.
Maximize productivity: Left to their own devices, copywriters are apt to agonize over a few headlines This activity allows your team to produce many headline ideas within a short time frame.
Build trust: Open idea-sharing requires a trusting environment, and Wash-a-Pig helps build this trust through the expression of creativity. This can help strengthen teams and break down barriers that otherwise often lead to a loss of efficiency and less-than-stellar ideas.
How to use the Three-column brainstorm with Wash-a-Pig in Lucidspark
Label the categories to match your use case.
Brainstorm words individually and as a team. Turn on Collaborator Colors to keep track of who made each contribution.
Leave emoji reactions on favorite submissions.
Next, create visuals to go with the words. Use images, GIFs, emojis, or your own drawings.
Combine your favorite words and incorporate the visuals to create headlines.
Level up your team's next creative brainstorming session with our Three-column brainstorm with Wash-a-Pig template.
Wash-a-Pig
Kills creative block on contact! Wash-a-Pig is a creative thinking tool for professionals. And unprofessionals.