The ecosystem motivations matrix
Use this ecosystem motivation matrix template from Platform Design Toolkit to analyze business motivations, explore the potential to exchange value flows, and map existing value exchanges.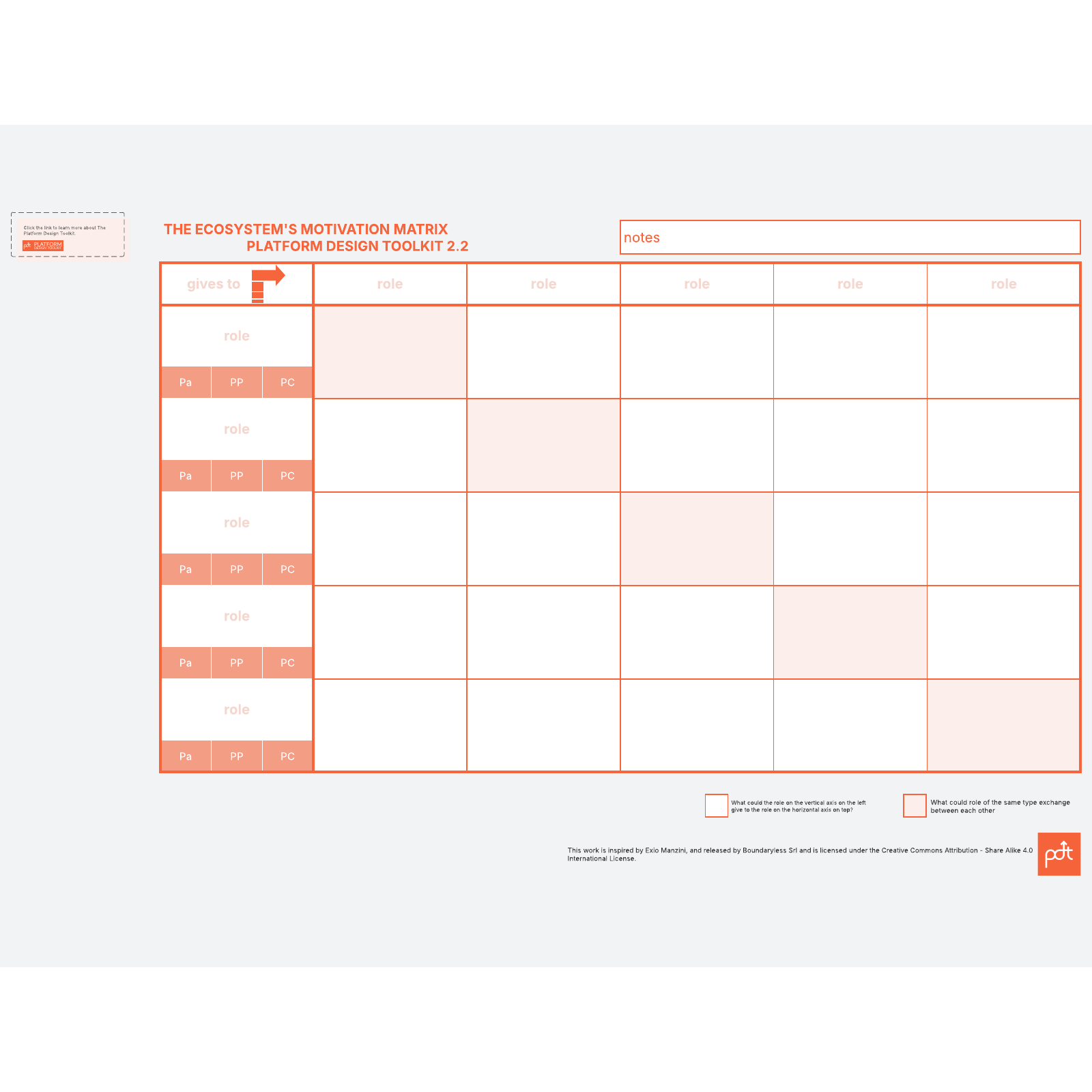 What is the ecosystem motivations matrix?
As part of the Platform Design Toolkit, the ecosystem motivations matrix is a chart that allows you to analyze an entity's potential to exchange flows of value. You can use the matrix to visualize the exchanges an entity is currently performing, as well as what kind of value they could exchange if they were supported by the right platform strategy. Once you're clear on each entity's potential, you can focus your platform strategy around the relationships with the highest potential flow of value.
Benefits of using the ecosystem motivations matrix
With the motivations matrix, you can easily visualize each and every current and potential flow of value between the entities-role. The motivations matrix allows you to map out each relationship within your ecosystem, so you can let your mind zero in on the relationships with the most potential value. Many users are surprised to find unexpected relationships emerge from the matrix as key players in their overall design.
As a result of using your matrix, you should be able to more clearly visualize and understand your system's potential to exchange value. This exercise also provides a chance to gain important and even unexpected insights about your ecosystem, ultimately directing you towards the relationships that are most powerful.
How to use the ecosystem motivations matrix template in Lucidspark
Begin by plugging your selected entities in the same order on the first and second rows and columns within your template. The cell in row 1 and column 2 should contain what the entity in row 1 "gives to" the entity in column 2.
Take a look at the value flows between entities of different types. Analyze how they function and how they could flow easier with the right support. Then, move on to value flows between entities of the same type. Record your notes in the notes section or using Sticky Notes and share them with your collaborators to align your thoughts.
If not all of your cells are full of value flows, that's perfectly normal. Don't feel the need to fill every cell. Let each cell's flow, or lack thereof, tell you something about your ecosystem. Involve your collaborators wherever you feel you need an extra set of eyes to confirm what you've found.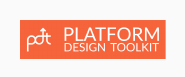 Platform Design Toolkit
Platform Design Toolkit is a design framework that one can use to envision, develop and roll out platform strategies that mobilize ecosystems.