The ecosystem canvas
Use this ecosystem canvas from Platform Design Toolkit to reflect on the ecosystem you're looking to shape and to organize your platform strategy.
What is an ecosystem canvas and why should you use one?
No product, website, or software system is an island, and you and your team will need a clear picture of the entities, or groups of users, that will interact with your platform in order to design a scalable platform strategy. You can accomplish this with the help of the ecosystem canvas, step one of the Platform Design Toolkit.
The ecosystem canvas template will give you a method to identify and map out the specific entities—from employees to partners to customers and more—that interact with your platform. This knowledge will allow you and your team to more deliberately create the ecosystem of your platform in ways that accommodate the roles and needs of these entities, both internal and external.
How to use the ecosystem canvas template in Lucidspark
To get started, share the ecosystem canvas template with your group on Lucidspark's virtual whiteboard. You'll all be able to view the template in real time and quickly add individual ideas and feedback to the whiteboard. Take the following steps to turn your template into a valuable resource for the whole team:
First, brainstorm different groups of potential users. Give everyone time to come up with as many different kinds of entities as they can. You may want to set a timer in Lucidspark to keep everyone on track.
Then, come together and go over everyone's ideas. You can cluster similar entities together and consolidate others under the same label using sticky notes. Pro tip: try out Lucidspark's Tagging feature to quickly identify common themes.
After you've grouped and consolidated your list of entities, discuss with your group and add the sticky notes to the corresponding entity categories on the template. Based on the role they play, are your entities external stakeholders, peer consumers, peer producers, partners, or platform owners?
Once you've placed all the entities, focus on the peer consumer, peer producer, and partner categories, as you'll need to focus on them to ensure that your platform strategy is viable. Choose no more than five entities that you'll want to workshop with in the future.
As you move forward with your platform design process, you'll want to focus on specific entities to determine their needs and make sure that your platform will meet those needs. You'll be able to refer back to the ecosystem canvas for guidance as you determine which entities to prioritize.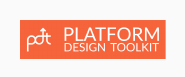 Platform Design Toolkit
Platform Design Toolkit is a design framework that one can use to envision, develop and roll out platform strategies that mobilize ecosystems.