Team room
Use this team room to facilitate meetings in a realistic way. Get started by importing a template or using the facilitator tools.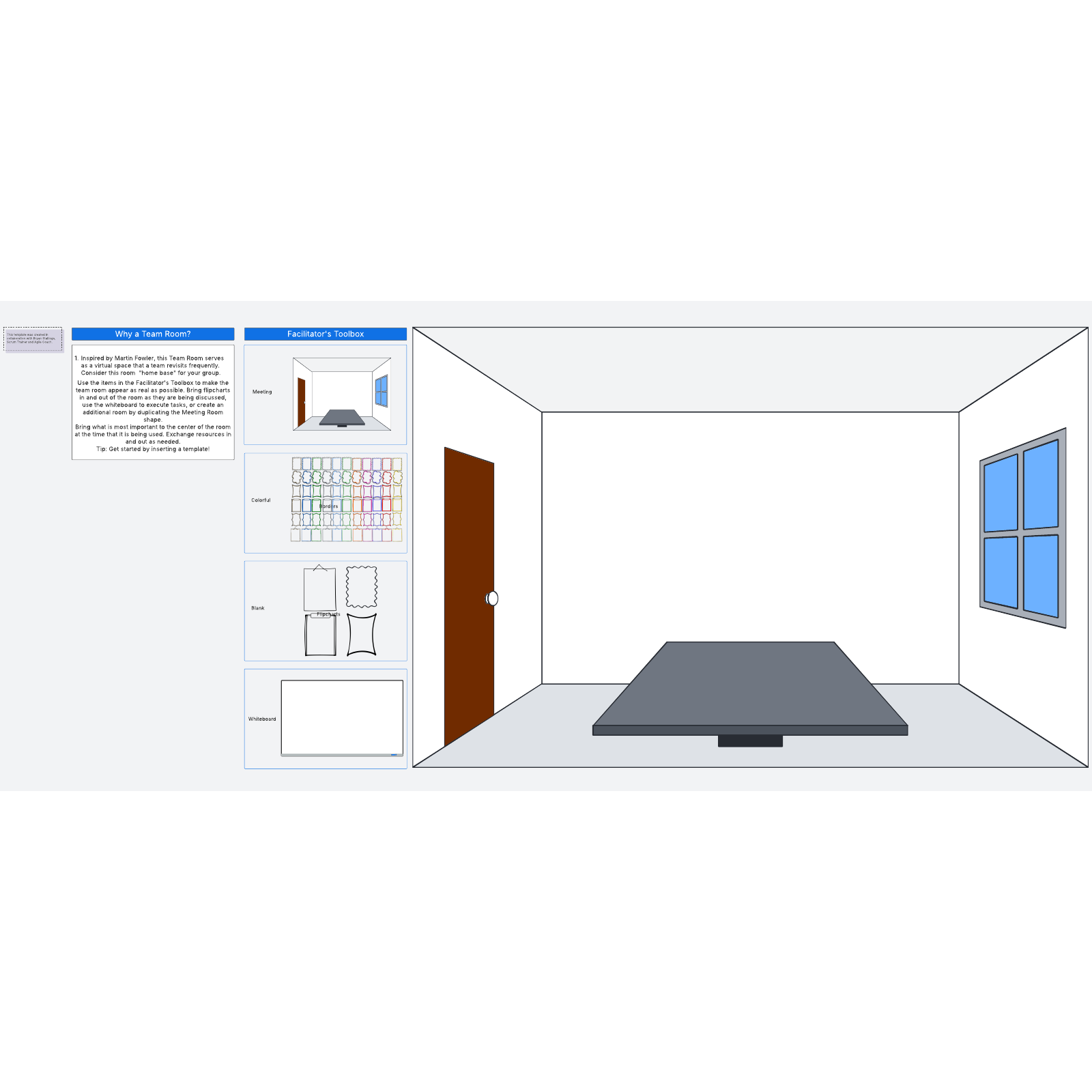 What is the team room template?
Remote meetings have more challenges than in-person meetings in keeping everyone on the same page. Hybrid meetings are even more difficult: when you have some participants in the same room as you, it's too easy to ignore or lose the people joining remotely. An online room can help you close the gap between your in-office and remote employees.
This template is designed to look like a room. Use it as your home base for all your team meetings, no matter the type, and your team will become as familiar and comfortable in it as they would be in an office conference room.
Benefits of using the team room template
In a hybrid meeting, the in-person participants may get all the attention while the remote members struggle to hear what's going on or get a word in edgewise. This template can level the playing field by giving the remote participants a virtual place to gather.
If you use this team room template, you'll be able to foster connections within your team even when your teammates never actually meet in person. The regularity of meeting in this virtual space will help everyone feel comfortable and at ease, which leads to more productive meetings.
Additionally, this template is easy to customize. Enjoy configuring it to meet the exact needs of your group.
How to use Lucidspark's team room template to facilitate hybrid work
As with any meeting, the best place to start is by planning well. Begin by defining what your meeting should accomplish, and choose a template from Lucidspark's template gallery that helps you get there. Insert that template into the team room. You can also use the items in the facilitator's toolbox to customize the room as needed.
As you begin the meeting itself, don't neglect an icebreaker or similar team-building activity to help participants get comfortable. This is especially important to help your remote participants feel connected with the in-person team members.
During the meeting, take advantage of Lucidspark's features. Have participants use emojis, images, and GIFs to react to what's going on, and use the voting feature to poll the team. Breakout Boards work well to facilitate small group activities, and you can use Lucidspark Cards to track action items that emerge along the way.
Hybrid meetings don't have to be confusing and disordered. Use this template to make them work for you—and check out our blog post for more information on facilitating hybrid team meetings.
Bryan Stallings
Chief Evangelist, Lucid
As Chief Evangelist at Lucid Software and Certified Scrum Trainer, Bryan Stallings has coached thousands of individuals and teams in Agile and Scrum techniques.