Survey builder
Develop your quantitative and qualitative surveys on strong foundations by identifying and building a strong purpose and then shaping meaningful questions. Use this survey builder template in Lucidspark.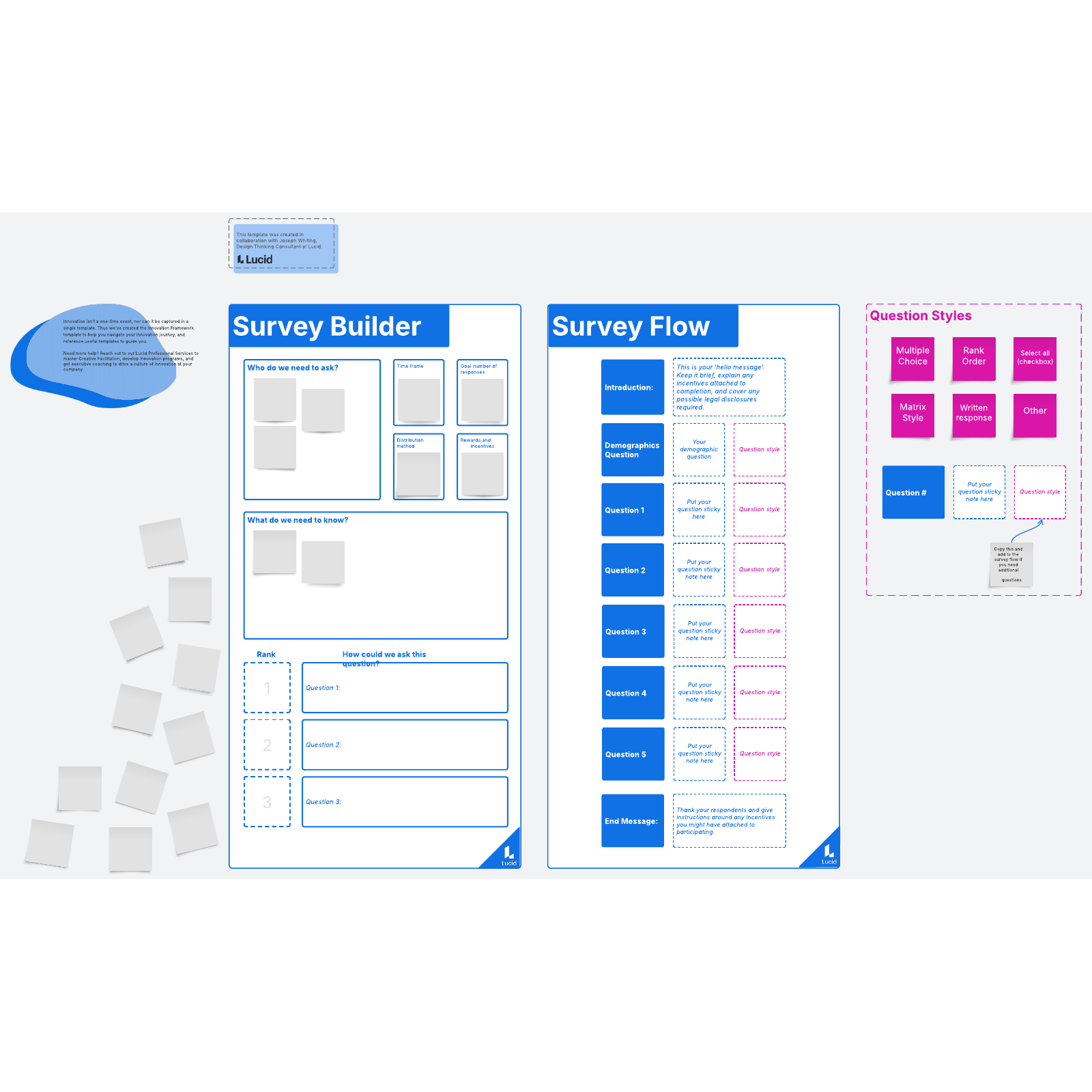 Create effective surveys with a streamlined survey builder template
If you rely on marketing information to do your job, you know that a survey can be good in theory but terrible in practice. There are many ways to make a bad survey, it seems, and only a few ways to make a good one.
To get useful information from your clients and customers via a survey, use a survey builder template to ensure that you ask the right questions in the right format.
Created as one 80 Design Thinking templates by Joseph Whiting, Lucidspark's survey builder can help you and your team collaborate on, design, and build a successful survey. The survey builder provides a blueprint to help you determine the parameters of your survey so you can proactively create a good survey flow.
Learn to use the survey builder template in Lucidspark
Share the survey builder template to your team's Lucidspark whiteboard. As you work on the template together, use Collaborator Colors to keep everyone's contributions straight and facilitator tools like the timer timer to keep everyone focused on sharing their ideas.
Then, as a group, discuss the items under the "Survey Builder" side of the template. Have your collaborators submit sticky notes with their ideas. Consider: Who is your target audience? What information do you need to gain from the survey? You may also gather different ideas about the time frame of the survey, the distribution method, your response goals, and any incentives you plan to offer to entice people to participate in your survey.
After you have established the parameters, experiment with different questions. As your group brainstorms, you can use comments and emojis to respond to different suggestions, as well as the Sort and Gather tools to group similar ideas.
Once you've come up with some questions and established their importance for your survey, you can move on to the "Survey Flow" section. This section provides the building blocks of your survey, including:
The introduction: This message explains the purpose of the survey, covers any legal concerns (such as anonymity), and explains any incentives.
The demographics question: This question helps divide up your survey respondents into groups for marketing purposes. Prompt your participants to tell you their age, race, gender, or other pertinent demographic information.
The main questions: You may include as many questions in your survey as you like, but remember that less is often more. Also keep in mind that earlier questions may color the responses to later questions.
The end message: Wrap up the survey with a thank you and provide instructions on how to get any promised incentives, such as discount codes or promotional information.
As you order your questions and determine what question style to use for each, you'll be able to more easily create an organic survey that will meet your needs and encourage participation.
Joseph Whiting
Design Thinking Consultant, Lucid
As a design thinking consultant at Lucid, Joseph has a passion for enabling the creative and innovative potential in others.