Story map
Determine tasks and stories for overarching activities within your upcoming releases.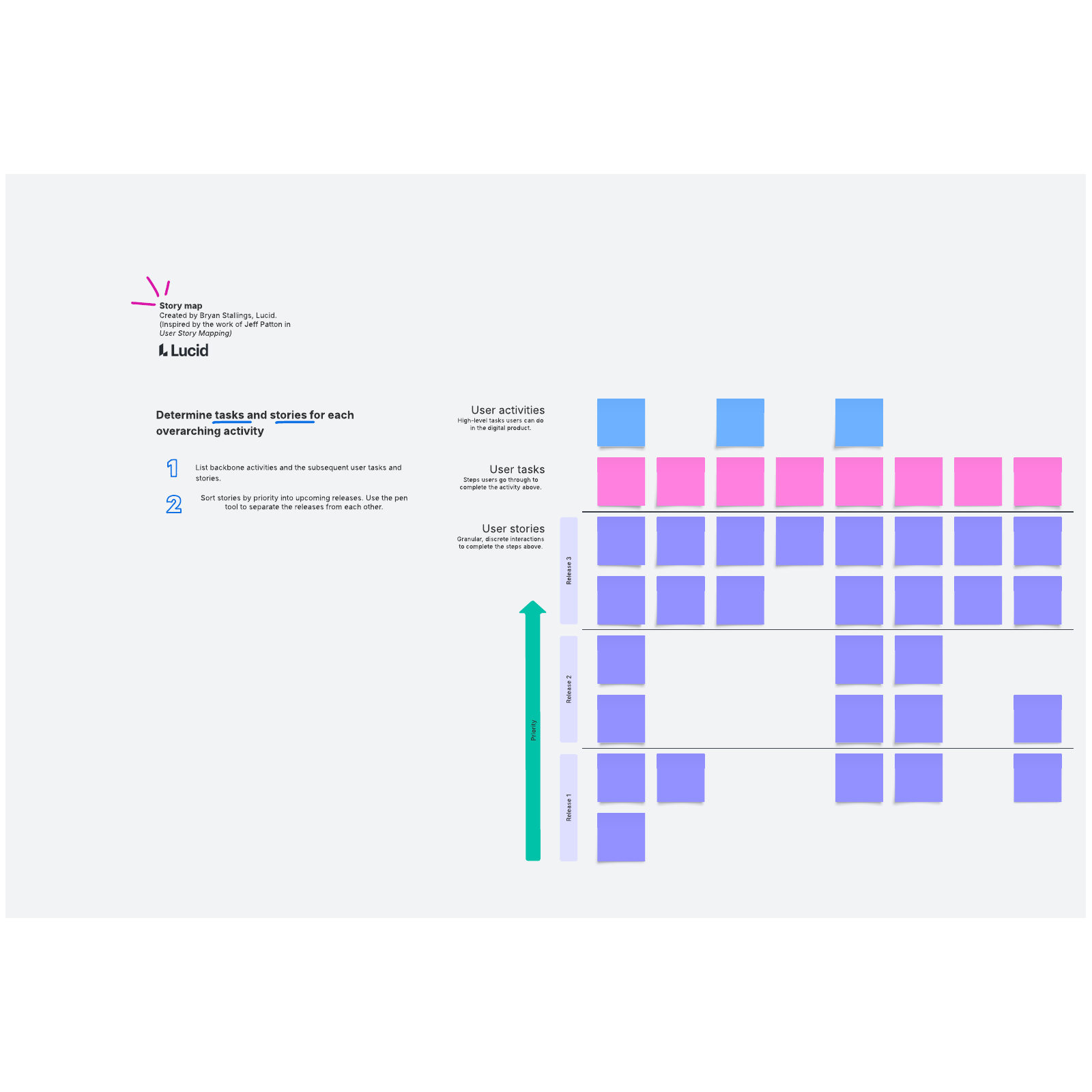 What is the story map template?
The story map template helps keep your users' needs front and center. With a story map template, you can visualize activities (high-level tasks users can do in the digital product) and subsequent tasks (steps users go through to complete the activity) and stories (granular, discrete interactions) in terms of users so that you're sure to be focusing on features that deliver real value.
The story map template arranges stories by priority so that you can then organize them into upcoming sprints. By approaching your product in terms of story, you can be sure to think of your customers as real people with real needs instead of just focusing on items that need to be worked on. When you empathize with your customers, your product is more valuable to them.
Benefits of using the story map template
The story map template helps you make sense of your backlog. It also helps:
Determine what exactly goes into an activity in terms of tasks and stories for users. Gain real, detailed understanding of how your customers interact with your product and what they intend to gain from it.
Puts emphasis on value for customers. Once you know how your customers interact with your product, you can determine what actually matters to them.
Continuously improve. By working on features that will deliver value, your product is always improving in a meaningful way.
Align hybrid or dispersed teams on sprints. Having solid reasoning for prioritizing features means everyone can agree to work on the most high-value features first.
How to use the story map template in Lucidspark
List backbone activities and the subsequent user tasks and stories.
Sort stories by priority into upcoming releases. Use the pen tool to separate the releases from each other.
Create tasks with Lucidspark Cards for Jira, Azure DevOps, or Smartsheet.
Bryan Stallings
Chief Evangelist, Lucid
As Chief Evangelist at Lucid Software and Certified Scrum Trainer, Bryan Stallings has coached thousands of individuals and teams in Agile and Scrum techniques.