Stakeholder map template
Plan communications with stakeholders based on their role and interest in the project with our stakeholder map template. Sign up for Lucidspark today!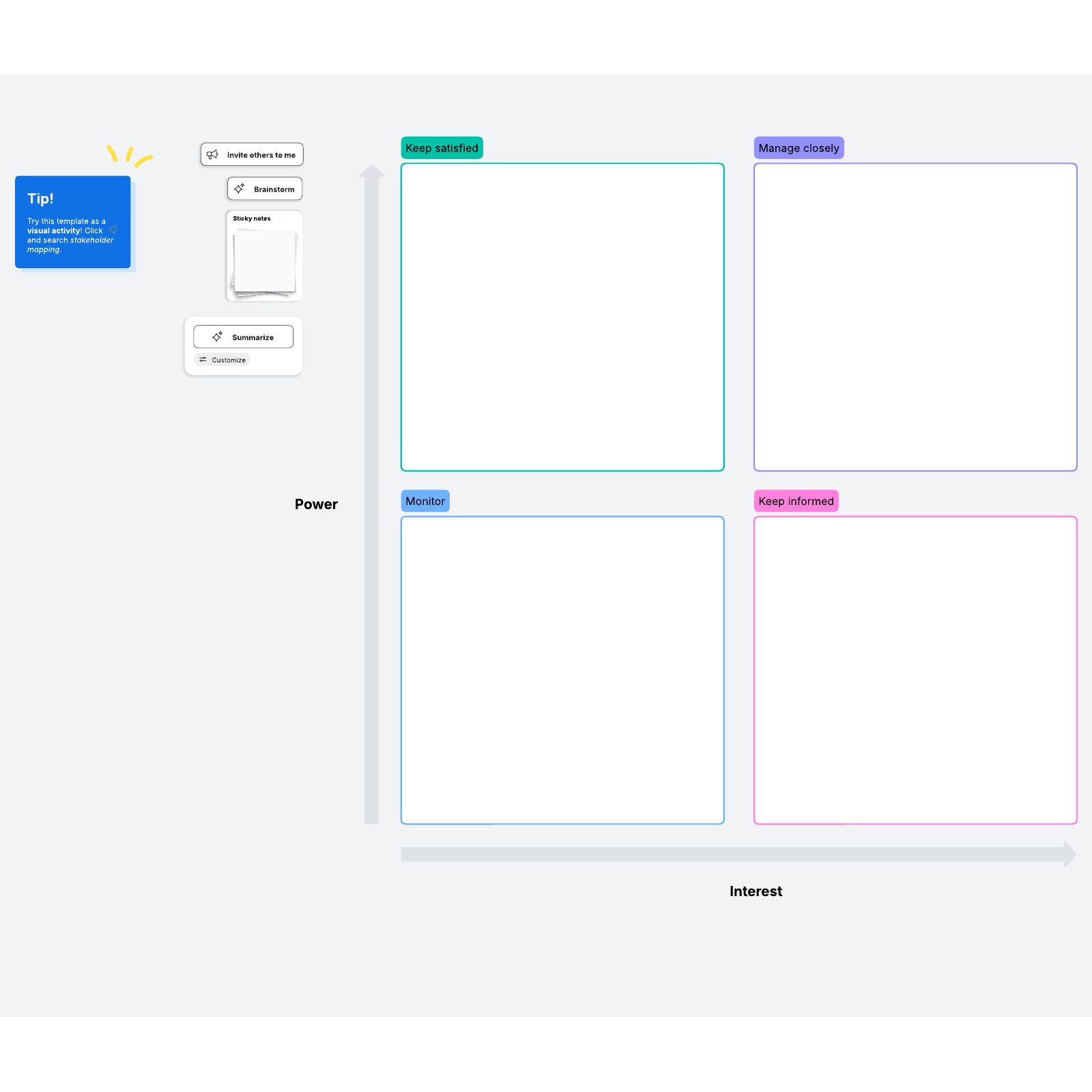 What is stakeholder mapping?
Your project isn't just yours, and it won't only affect you—you need to balance the interests and concerns of everyone involved. These stakeholders may include other departments or officials at your organization, other businesses, community leaders, or subject matter experts.
Stakeholder mapping is a technique for categorizing all these people so you know how to treat them. If you use this tool, you'll have a better chance of properly engaging with each stakeholder and making the best use of their expertise and influence.
Benefits of the stakeholder map template
You need to keep track of a lot of stakeholders, and if you don't communicate effectively with each, your work could stall. Use the stakeholder map template to plan your communication strategy ahead of time so your project moves forward.
This template also keeps your team on the same page. After you've collaborated on the stakeholder map, you can easily share it with others to create shared expectations and so everyone can refer back to it when needed.
How to use the stakeholder map template in Lucidspark
The stakeholder matrix template organizes stakeholders along two axes, influence and interest. Start by brainstorming a list of all potential stakeholders involved in your project. Then, place each stakeholder into one of the following categories:
Keep satisfied. These people have a lot of power over your project, but they aren't as interested or available for the day-to-day work. Keep them happy so they keep using their influence to advocate for your work.
Manage closely. This group contains the core people you rely on. They are both highly influential to your project's success and strongly engaged with it. You need to build strong relationships with these stakeholders.
Monitor. These people do not have a lot of influence and do not have a vested interest in your project's success, but you still need them. Don't let their work or expertise fall through the cracks—check in as needed.
Keep informed. The stakeholders in this group are strongly interested in your project, but do not have much influence over it. Prioritize communicating with this group proactively so they know what's going on.
Collaborate with your team to decide which category best fits each stakeholder, and write their names on sticky notes in the appropriate area. If stakeholders are connected, use lines and shapes to show their relationships. You can also use the Note Panel to add more context to each person.
By using Lucidspark as a stakeholder mapping tool, you'll easily be able to visualize their role in a project and formulate a custom plan of engagement.