SOAR analysis
Use SOAR analysis to identify what's going right so that the business can then capitalize on those strengths. Create, edit and share this template.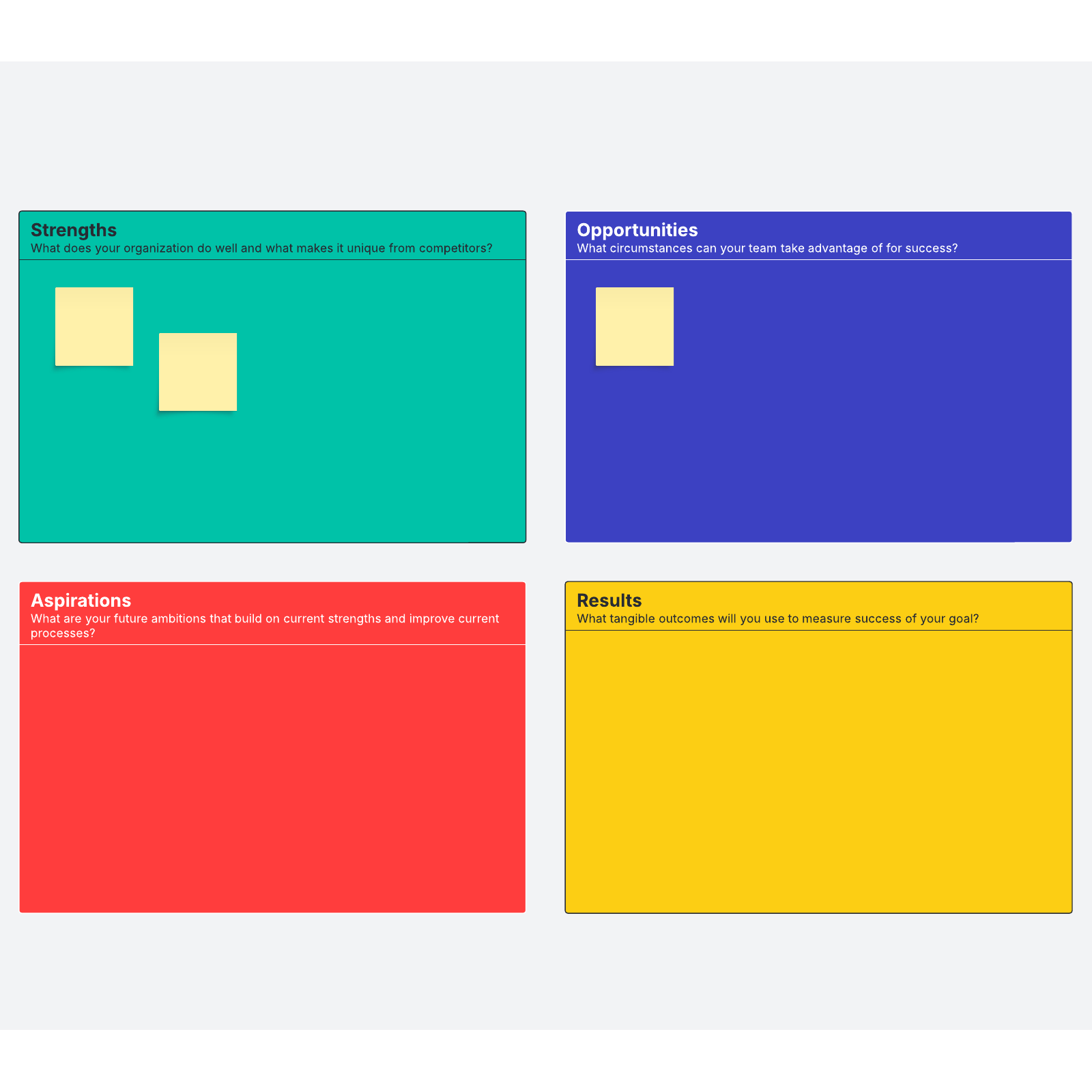 What is a SOAR analysis?
SOAR stands for Strengths, Opportunities, Aspirations, and Results. A SOAR analysis is a strategic planning technique that takes an in-depth look at the present state of your business in an attempt to pinpoint the right direction for your business to take in the future.
SOAR vs. SWOT analysis
If SOAR sounds an awful lot like SWOT, you're not wrong, but the two analyses are a bit different. SWOT stands for strengths, weaknesses, opportunities, and threats. A SWOT analysis is more a process of understanding potential liabilities and dangers, especially as they relate to project planning and competition. Essentially, A SWOT analysis seeks to understand the business's weaknesses so they can be corrected.
SOAR, on the other hand, takes a look at what's going right so that the business can then capitalize on those strengths.
Benefits of using a SOAR analysis template
A SOAR analysis takes the guesswork out of the process. By conducting a SOAR analysis with a template, you'll be able to see your strengths laid out in a practical way so you can make an informed decision about how you should invest your resources.
A SOAR analysis can also be used on an individual level to help team members identify and build upon their existing strengths.
How to use our SOAR analysis template in Lucidspark
Start by analyzing your present internal strengths. Using sticky notes, identify accomplishments, assets, and other positives that make your business stand out.
Move on to your present external opportunities. Think about partnerships or other trends you could capitalize on.
Next, look at future internal aspirations. What do your stakeholders want? What passions does the business have?
Finally, analyze your future external results. How do you intend on measuring whether or not you've met your aspirations? Quantifying your success is how businesses understand when they've reached their objectives.