Show and tell
Use this show and tell game to identify what artifacts are most important in the eyes of your customers.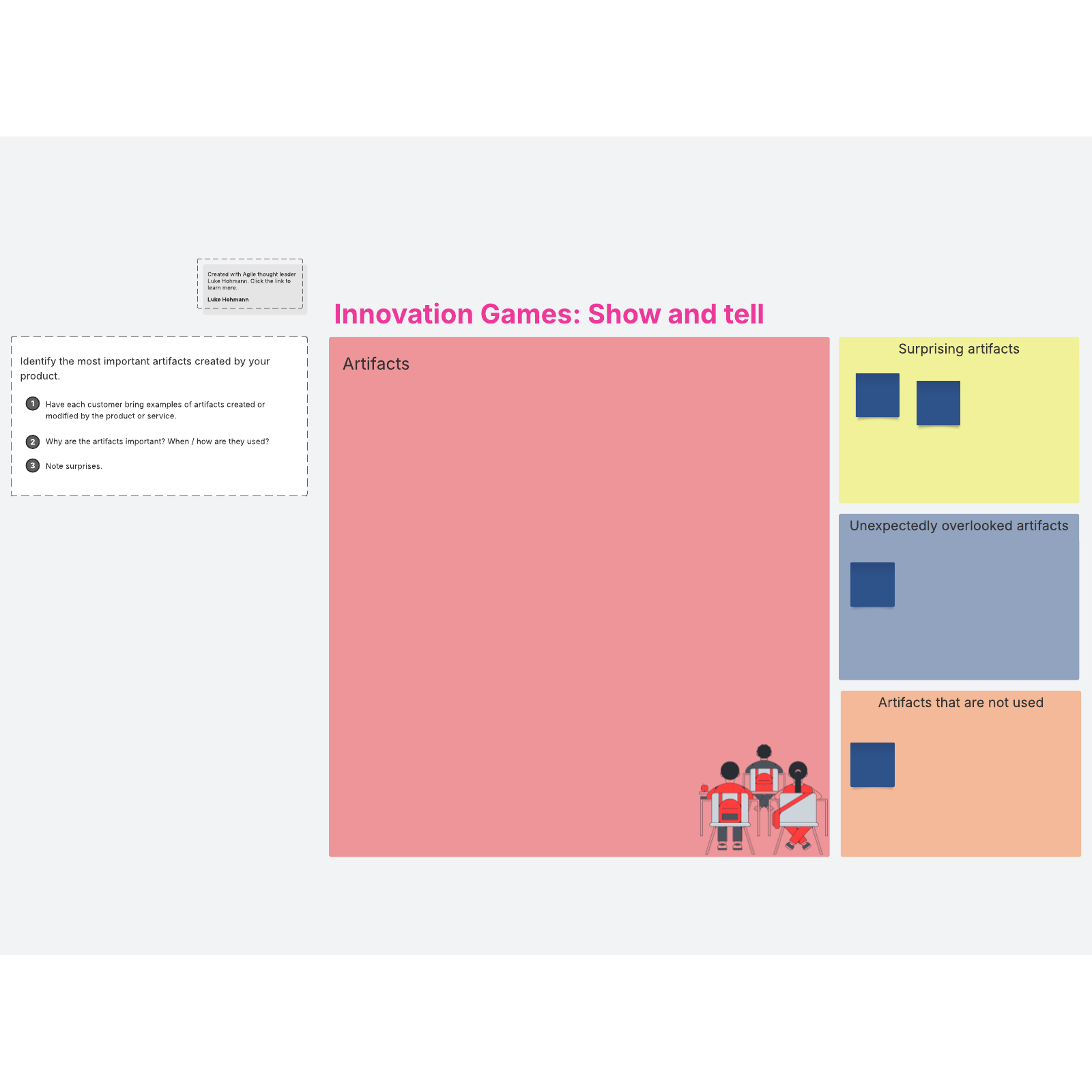 What is the Show and Tell Innovation Game?
Part of Innovation Games, or workshops designed to help businesses with market research, this collaborative exercise is a game-based approach to discovering what the best or most sellable features of your product and/or service are through the eyes of your consumers. This Show and Tell Innovation Game gathers feedback directly from your customers for high-quality, actionable data.
For the Show and Tell Innovation Game, customers bring examples of artifacts created or modified by your product or service and share them with your team. For instance, if your business sells a website builder, your customers may show off a website they've built with your software. Or if you build industrial equipment, your customers may want to share the products they've manufactured using your equipment.
Benefits of playing the Show and Tell game with customers
It's exciting and motivating to see what your customers have been creating with your product. Here are some more benefits you'll see from playing the Show and Tell game:
Increased collaboration. Use as part of a workshop with customers and/or employees. Your team and your customers will feel like they're working towards a common goal, and they'll appreciate feeling heard.
It's an easy and fun way to get feedback. Customers are much more likely to give valuable feedback when it's gathered in a game as opposed to a survey. Games break down barriers and facilitate trust.
You'll uncover new insights. Use the show and tell game to learn what has been created or improved thanks to your product. You'll have a better idea of where to focus your efforts to add the most value for your customers.
How to use the Show and Tell Innovation Game template in Lucidspark
Have each customer or stakeholder think of an artifact created or modified by your product or service. An artifact can be anything from an email to a physical product.
Insert a photo or screenshot of the artifact. With Lucidspark, you can add a photo or link directly to the artifact.
Discuss each artifact as a group. Use emojis to react, the chat or commenting features to add to the discussion, and the Notes Panel to record context. The goal is to determine how the artifact has added value to your customer.
Note surprises and themes by sorting the sticky notes into the appropriate sections: surprising artifacts, unexpectedly overlooked artifacts, and artifacts that are not used.
Use the insights gathered in this game to better understand your customers, discover what really matters to them and excites them, and focus your efforts on ways to continuously deliver value to them.

Luke Hohmann
Author, Innovation Games
As the author of the book Innovation Games, Luke Hohmann dives into predicting what customers want through a gameified approach. Luke believes that once you know what customers want, innovation can thrive.