Rotational mobile wireframing
Brainstorm to create an early prototype of a mobile wireframe by building on the ideas of teammates.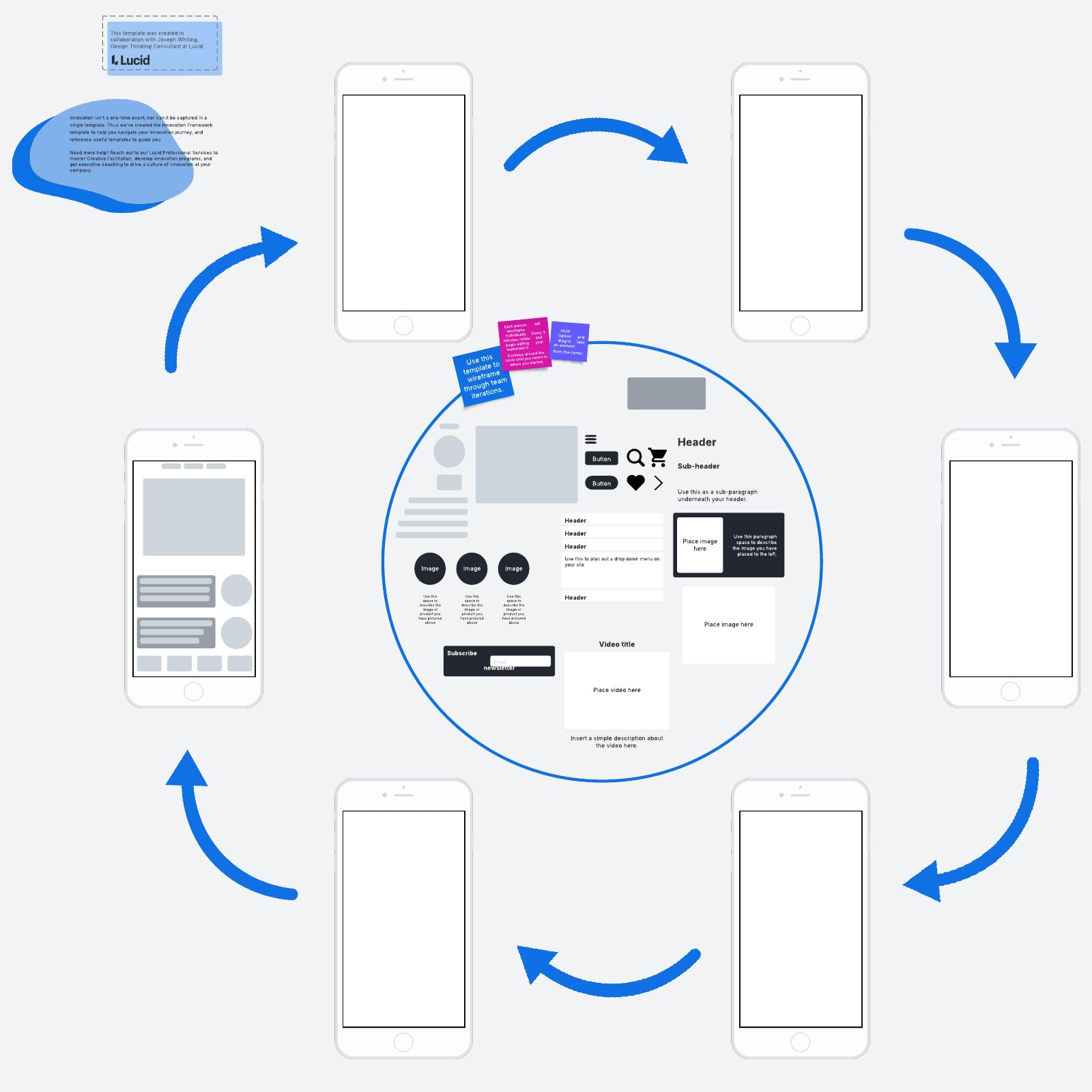 What is the rotational mobile wireframing template?
The rotational mobile wireframing template combines the best parts of working individually and working as a team. Using this template, your team will begin working individually, inserting their design directly into the mobile canvas on the template. Then, when the timer runs out, the template gets passed, and the process starts all over again. This template is a great way for team members to feel invested in a project and contribute personally to its success.
Benefits of using the rotational mobile wireframing template
Spark innovation. By building off of each other's ideas, your team will uncover creative designs that might have been missed if working individually.
Allow everyone to contribute. With this template, everyone has an equal opportunity to add their ideas. When the team feels valued, they're more invested in a project.
Quickly go from idea to wireframe. This template allows wireframes to evolve quickly. Instead of taking weeks from idea to mockup, your team can produce several wireframes in under an hour.
How to use the rotational mobile wireframing template in Lucidspark
Use this template to wireframe through team iterations. Begin by setting a timer for three minutes. Then, instruct each person on your team to wireframe individually. When the timer runs out, rotate the template and begin editing your teammate's wireframe. Continue around the circle until you return to where you started.
To quickly move wireframing elements, hold "option" and drag to take an element from the center.
Use emojis and freehand drawing to denote aspects of the wireframes team members like or dislike, and comment when reviewing.
Joseph Whiting
Design Thinking Consultant, Lucid
As a Design Thinking Consultant at Lucid, Joseph has a passion for enabling the creative and innovative potential in others.