Roman's sprint goal template
Use this template in Lucidspark to formulate great sprint goals by answering the following questions: Why do you carry out the sprint? How are you going to reach its goal? How do you know that the goal has been met?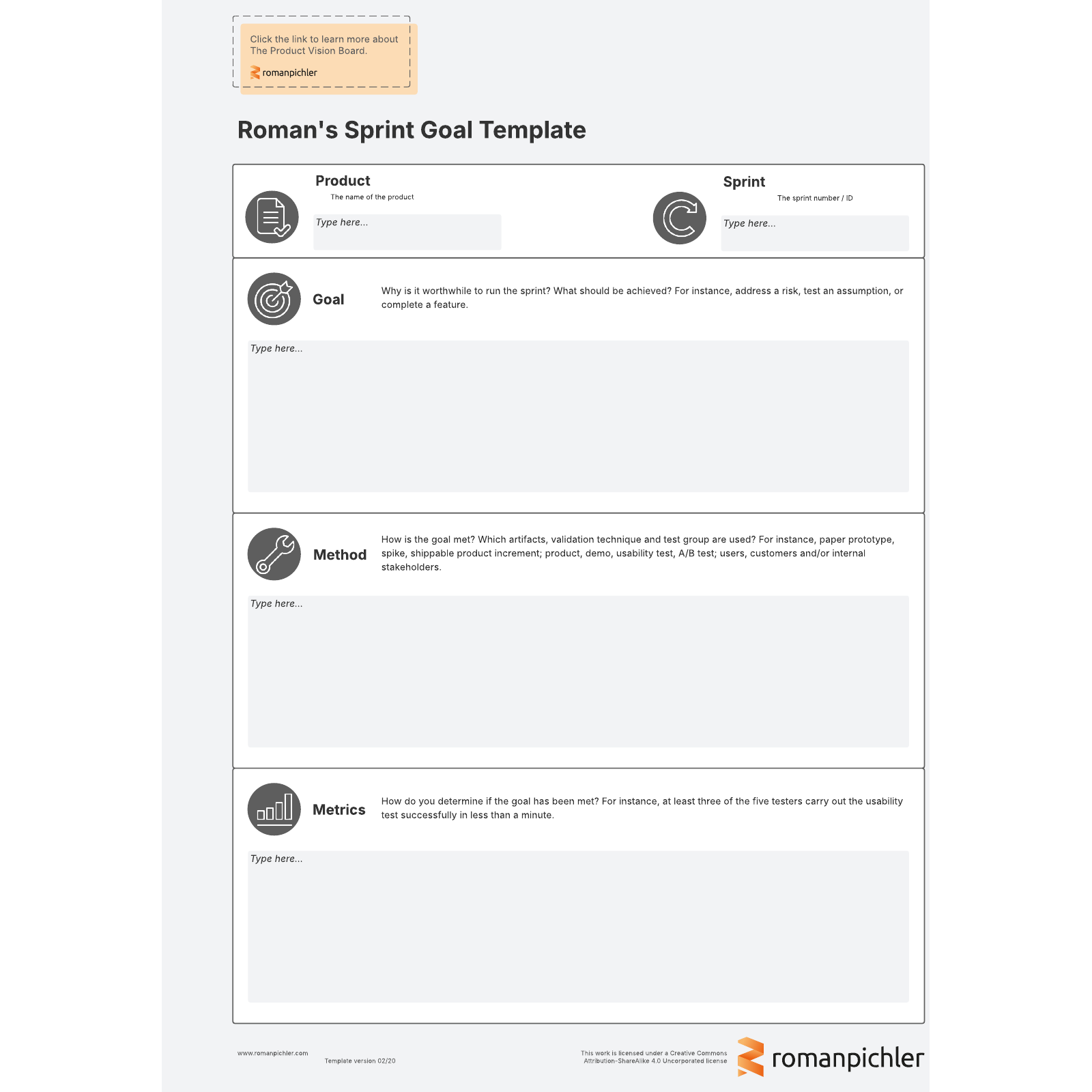 What is Roman's sprint goal template?
Working in sprints is popular for a reason: it's effective. However, sprints won't do your team much good unless you plan them well. You need to formulate the right goals.
Roman Pichler's sprint goal template helps you create great sprint goals by probing into what you really need. You'll reflect on the sprint's purpose, how you'll reach your goals, and how you'll know you've met your goals.
Benefits of using Roman's sprint goal template
Without some structure, you can get in a rut while planning your sprints. This agile sprint goal template helps you ask the right questions to find exactly what needs to be done and why. When your team understands the purpose of the goals, they're more likely to be energized, and they're more likely to reach those goals.
How to use Roman's sprint goal template in Lucidspark
First, fill in the top of the template with the name of the product and sprint number (such as the ID or date range). Then, you're ready to dig in.
You'll start with setting your goal. Ask yourself what you need to achieve to make the sprint worthwhile. For example, you may need to test an assumption, address a risk, or complete a feature.
Next, you'll move on to the method section. Here, you decide how you'll meet your goal.
The final section of the template asks you to think about how you'll know when you've met your goal. Consider what metrics you'll use to decide whether or not you've achieved it.
While you can work on this template by yourself, you'll get more buy-in if you work on it with your team—plus, you'll benefit from their ideas and perspectives. If you're managing other people on the template, use Lucidspark's Facilitator Tools, such as setting a timer so the group stays on track.
To help your group understand and respond to each other's ideas, turn on Collaborator Colors. Collaborator Colors help you keep track of who contributed each thought. Your team can also use @mentions to call someone's attention to specific items and respond to others' contributions with emojis.

Roman Pichler
Roman Pichler is a leading product management expert specialized in digital products and agile practices. He teaches product managers and product owners, advises product leaders, and helps companies create successful product management organizations.
Roman is the author of three books on product management and one on Scrum. He writes a popular blog, hosts his own product management podcast, and offers a range of free product management tools. Check out Roman's site to learn more about his work.