Roman's persona template
Roman's persona template is a simple yet effective approach to creating customer personas. Use this template in Lucidspark to organize goals and details about a user persona.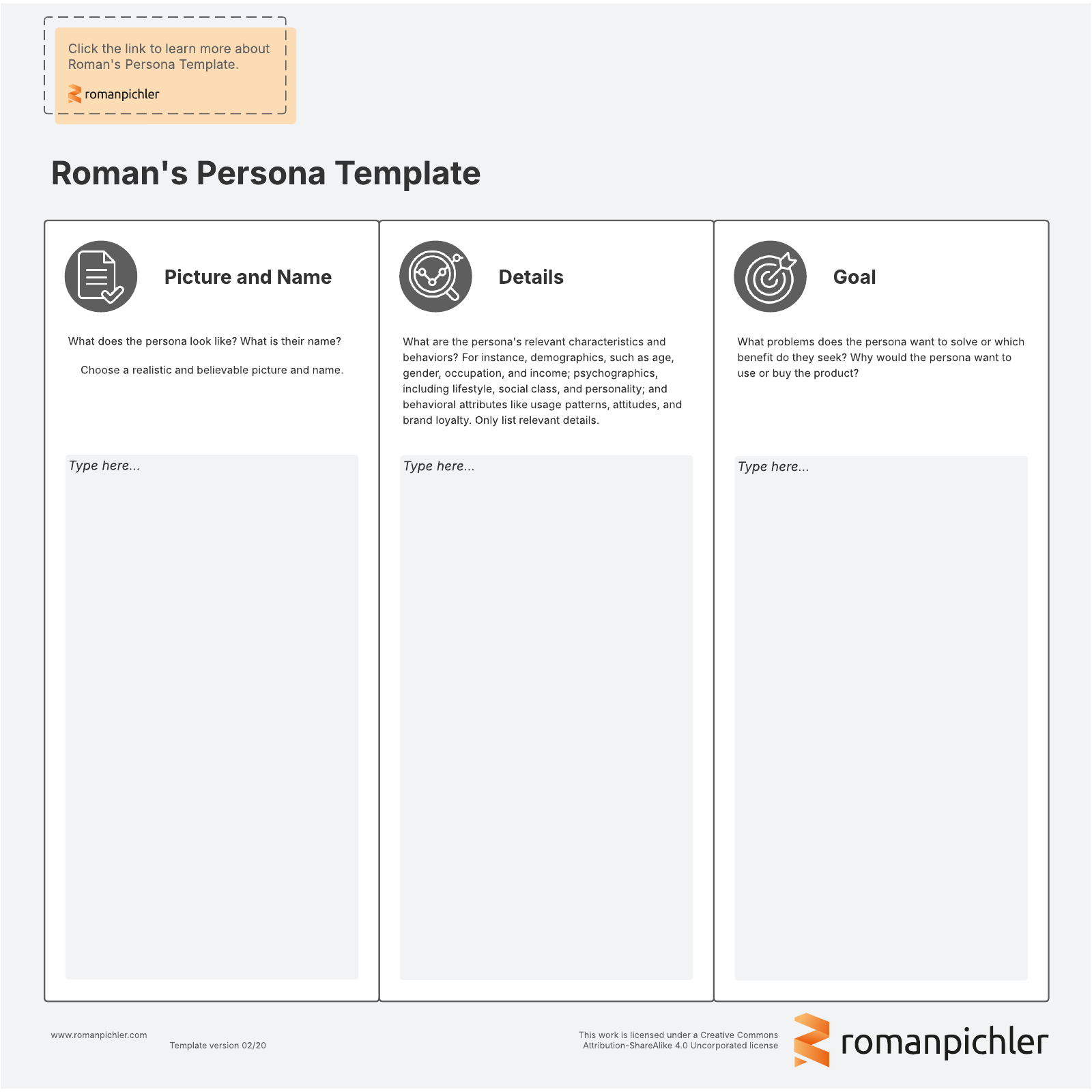 What is Roman's Persona template?
A user persona can be a useful tool in defining your customer; however, many personas lack the detail needed to identify a well-rounded target audience. Some are too detailed, while others are missing key information.
Roman's persona template is a simple but effective template designed to help product managers and owners design effective personas that can drive product creation. Optimized for Lean Startup and Scrum teams, where starting with a provisional persona is often useful, the template includes everything from the target user's name to their problems and goals.
Benefits of using Roman's persona template
Without a firm grasp on who your ideal persona is and what they want, your product will lack the focus and functionality it needs to add value to your users. By developing your ideal persona, you can unlock your user's problems, wants, needs, and goals in order to provide them with an effective product that's ideally suited to solving their problems and achieving their goals.
How to use Roman's persona template in Lucidspark
Here's a step-by-step guide to getting started with Roman's persona template in Lucidspark:
Step 1: Before beginning your meeting, familiarize yourself with the Facilitator Tools, such as the laser pointer and Broadcast feature, to make your meeting more organized and engaging. Assign each participant a Collaborator Color to see which ideas were added by whom.
Step 2: Enter your persona's name and picture to give them an identity. Remember to keep your picture and name believable. Time your brainstorming period to keep your meeting running on time. As participants submit ideas, ask your team to vote on their favorites using the Voting feature or emoji reactions.
Step 3: Enter relevant details about your persona, including characteristics and behaviors. Relevant characteristics could also include:
Demographics like age, gender, occupation, and income
Psychographics like lifestyle, social class, and personality
Behavioral attributes, including usage patterns, attitudes, and brand loyalty
Step 4: List what problems the persona wants to solve, as well as the benefits they seek. Why would the persona want to use or buy the product?

Roman Pichler
Roman Pichler is a leading product management expert specialized in digital products and agile practices. He teaches product managers and product owners, advises product leaders, and helps companies create successful product management organizations.
Roman is the author of three books on product management and one on Scrum. He writes a popular blog, hosts his own product management podcast, and offers a range of free product management tools. Check out Roman's site to learn more about his work.