Pyn onboarding checklist
Guarantee a great onboarding experience with this Pyn onboarding checklist template in Lucidspark. Complete both the HR and manager tasks and never miss a beat!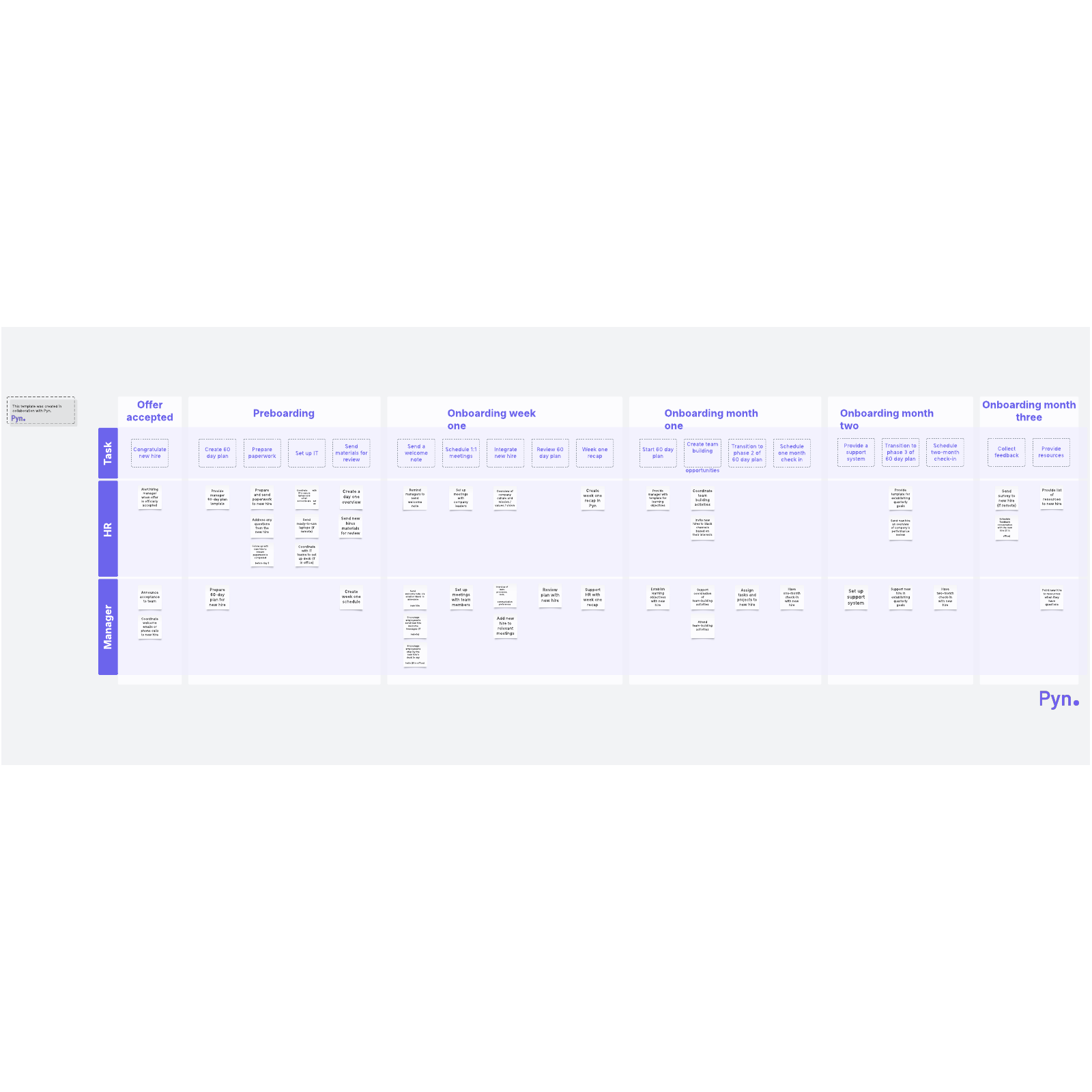 What is the Pyn onboarding checklist?
Onboarding a new hire is complex, and the stakes are high—if you don't do it well, your new hire won't be as effective in their role or as committed to the company. This checklist can help.
This template contains a comprehensive enterprise onboarding checklist that covers the entire process: the new hire accepting their offer, preboarding, week one, and months one through three. We've included recommended steps for both HR and the new hire's manager.
Why should you use the Pyn onboarding checklist?
To help you manage the onboarding process to everybody's satisfaction, this onboarding matrix template is:
Clear. Not only will you find each step for HR or the manager to complete, but the template also includes subtasks. You'll know exactly what each person needs to do.
Flexible. If the recommended steps don't work for you, change them! Customize the checklist to meet your needs, and share it with whoever needs it, whether those people are remote or working in the office.
Comprehensive. The onboarding process takes a long time, so the template starts from the very beginning. It covers each stage for you.
How should you use the Pyn onboarding checklist in Lucidspark?
When your prospective hire accepts their offer, open the Lucidspark onboarding checklist template to create a copy of the checklist for them. Follow along through each stage, from acceptance to preboarding to onboarding. For more information about each stage, read through Pyn's blog post that explains the entire checklist. This checklist includes a section for managers and an IT onboarding checklist.
Both the HR manager and the new hire's manager will complete tasks and check them off in the onboarding diagram template. Track your progress by changing the color of the sticky note that you're working on or tagging it. If you need to track your work more closely, try the timeline feature, and if anything needs a follow-up task, convert it to a Lucidspark Card. With your help, your new hire can hit the ground running and integrate smoothly into your team.
Pyn
Automated employee communications driven by HRIS data. Learn more about Pyn
here
.