Pros and cons list
A pros-and-cons list has been the old standby for helping people make decisions. Try this pros and cons template free today in Lucidspark.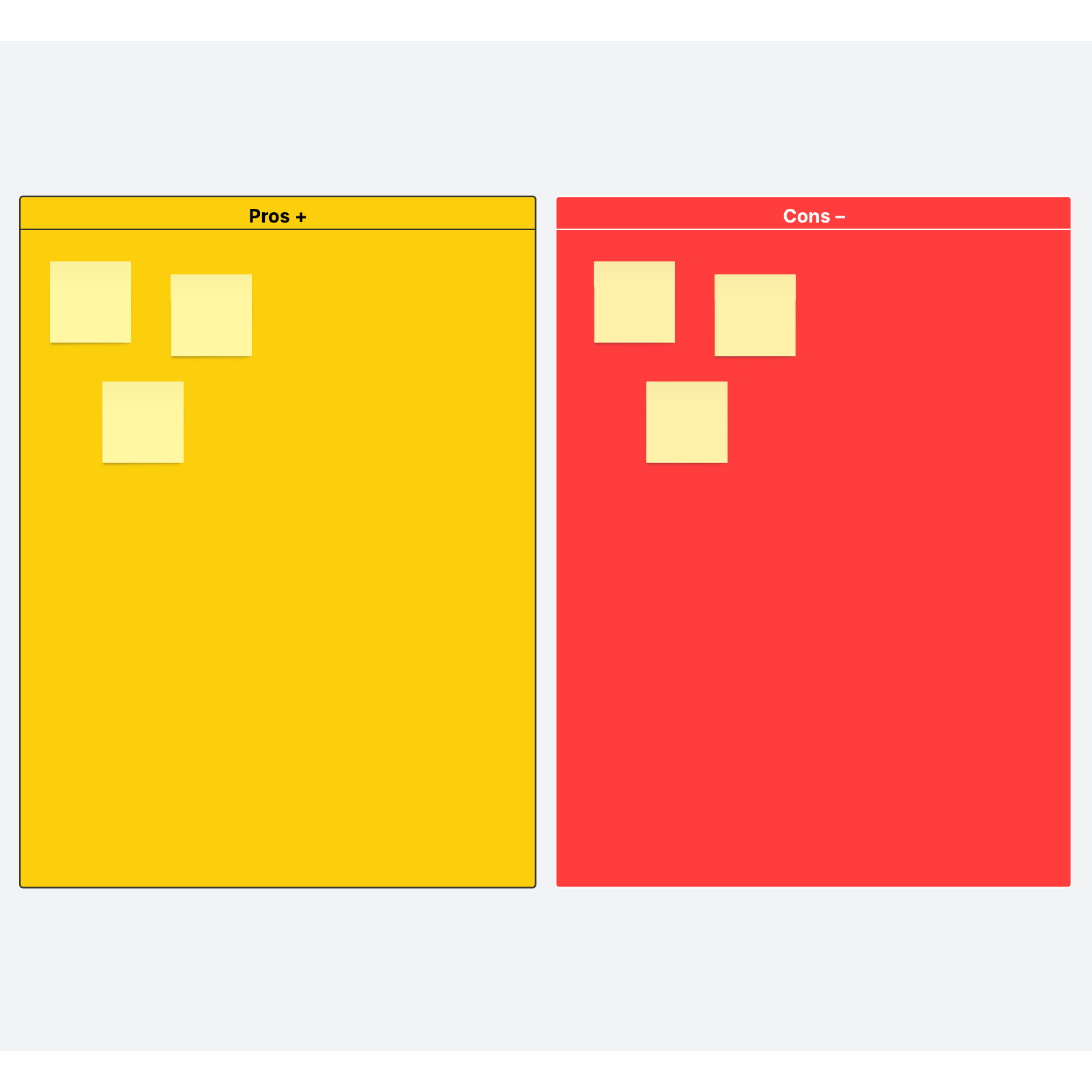 What is a pros and cons list?
A pros and cons list is one of the earliest tools of decision making. In fact, you use a mental pros cons list every day, often without realizing you're doing it. A pros and cons analysis template examines a decision by its positives and negatives to help you determine which choice to make. If you're considering moving to a different city, for instance, you may use a pros and cons list to help you decide if moving will offer more benefits than it would downsides.
In a work setting, a pros and cons chart template is helpful in determining the right decision to make. It's an easy way to cut through the emotions and make a smarter decision.
Why create a pros and cons list using our template
Using a templated pros and cons chart takes the age-old pros and cons list to an entirely new level. This cloud-based pros and cons list template allows you to:
Work as a group to collaboratively list pros and cons.
Enable hybrid and remote tooms to make decisions easier with interactive components.
Make a decision based on facts, not just on feelings.
Reduce the risk of decisions and, when used in a group, diffuse the risk of a decision across the team instead of on just one person.
Gain input from various viewpoints across the organization.
How to use our pros and cons template in Lucidspark
Our pros and cons template is so much easier and more collaborative than the traditional two-column, pen and paper approach. Here's how to use it:
Label the pros and cons list template with the decision you're trying to make (e.g., "Should we switch to cloud hosting?" or "Should our team go fully remote?"). Stick with a yes or no question.
Assign each member of your team a collaborator color and begin brainstorming using sticky notes in each column in your pros and cons template for free.
Use emoji reactions or voting in Lucidspark to rate the pros cons chart list items and quickly visualize what's most important to the team.
Share the pros and cons list online with any appropriate stakeholders involved in the decision to gain additional input and increase visibility.