Product box
Use this product box template to identify the most exciting, sellable features of a product or service.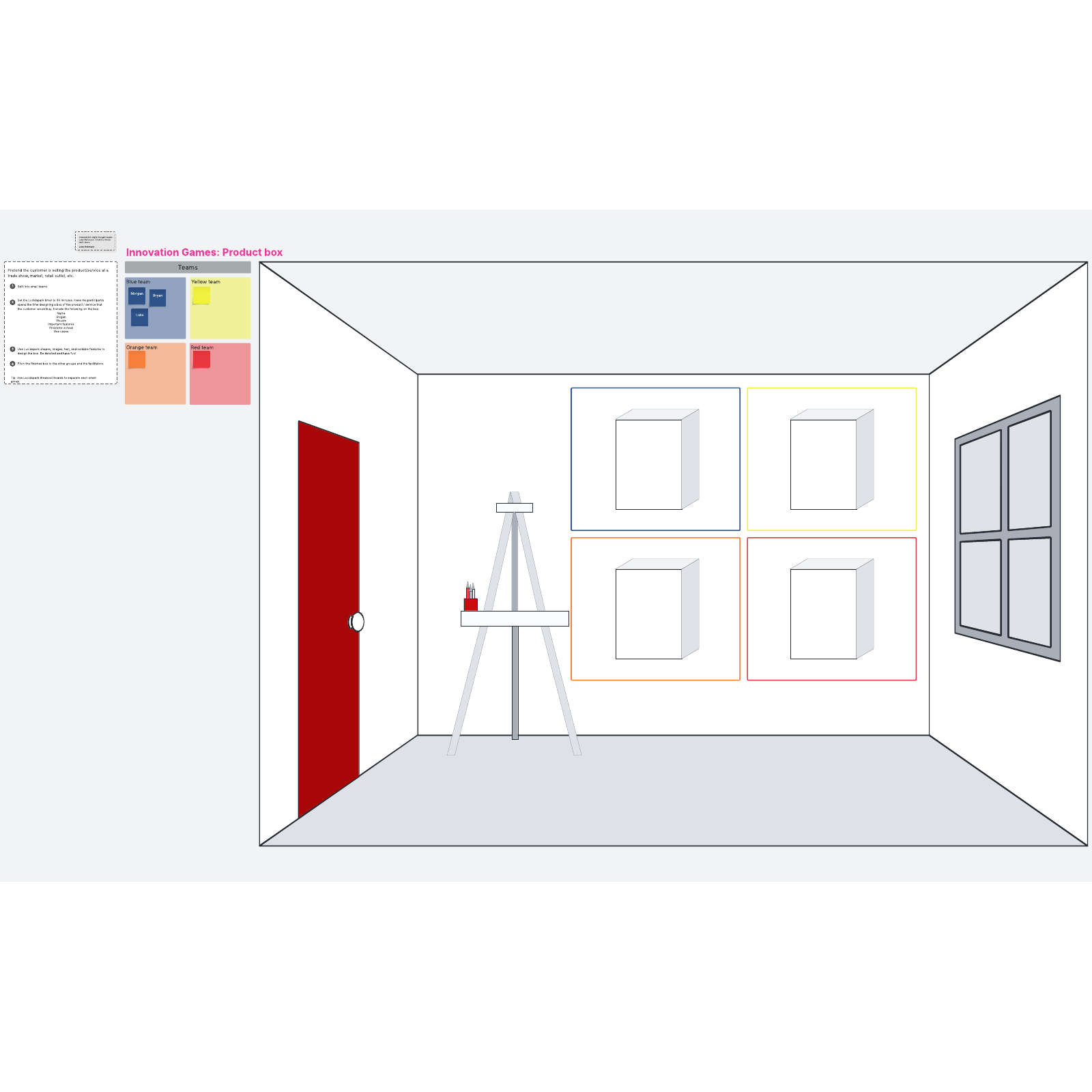 What is the Product Box Innovation Game?
Part of Innovation Games, a game-based approach to improve your product or service offering, the Product Box game allows your customers to tell you what they consider to be most valuable about your product or service. This approach is a fun way of discovering what the best or most sellable features of your product or service are through the eyes of your consumers.
With this game, your customers use Lucidspark features—such as pen, shapes, images, and icons—to draw, decorate, or design a "box" as if it were the actual packaging for the product or service.
Benefits of the Product Box game and template
If you were shopping at a store, the package for something you were buying would try to "sell" the product inside by highlighting its best features. The Product Box game draws upon this concept and lets you:
Break down barriers. By giving customers control over the "marketing" of your product or service, you'll understand what they prioritize and why.
Develop better marketing messaging. This is a creative way to uncover what customers think are the best features of your product, the greatest benefits of your product, and their view of the value proposition, which is a shortcut to developing marketing that speaks to your customers' needs.
Focus on the correct pain points. Once you understand what your customers value most, you'll know where to better direct your resources.
How to use the Product Box template in Lucidspark
Split your customers into four groups. Using Breakout Boards, have each group create and design a box for your product, including a name, slogan, visuals, features, problems solved, and use cases.
Set a timer for the session to add some pressure and encourage creativity.
Invite the groups to use Lucidspark features to add a mix of design and copy elements, such as shapes, freehand drawing, images, text, and lines.
When the timer runs out, invite each group to pitch their box design to the entire group. Use the Note Panel to record any interesting insights from the conversation.

Luke Hohmann
Author, Innovation Games
As the author of the book Innovation Games, Luke Hohmann dives into predicting what customers want through a gamified approach. Luke believes that once you know what customers want, innovation can thrive.