Plus delta template
Use this plus delta template to visually represent different pros and cons within a team or project in Lucidspark.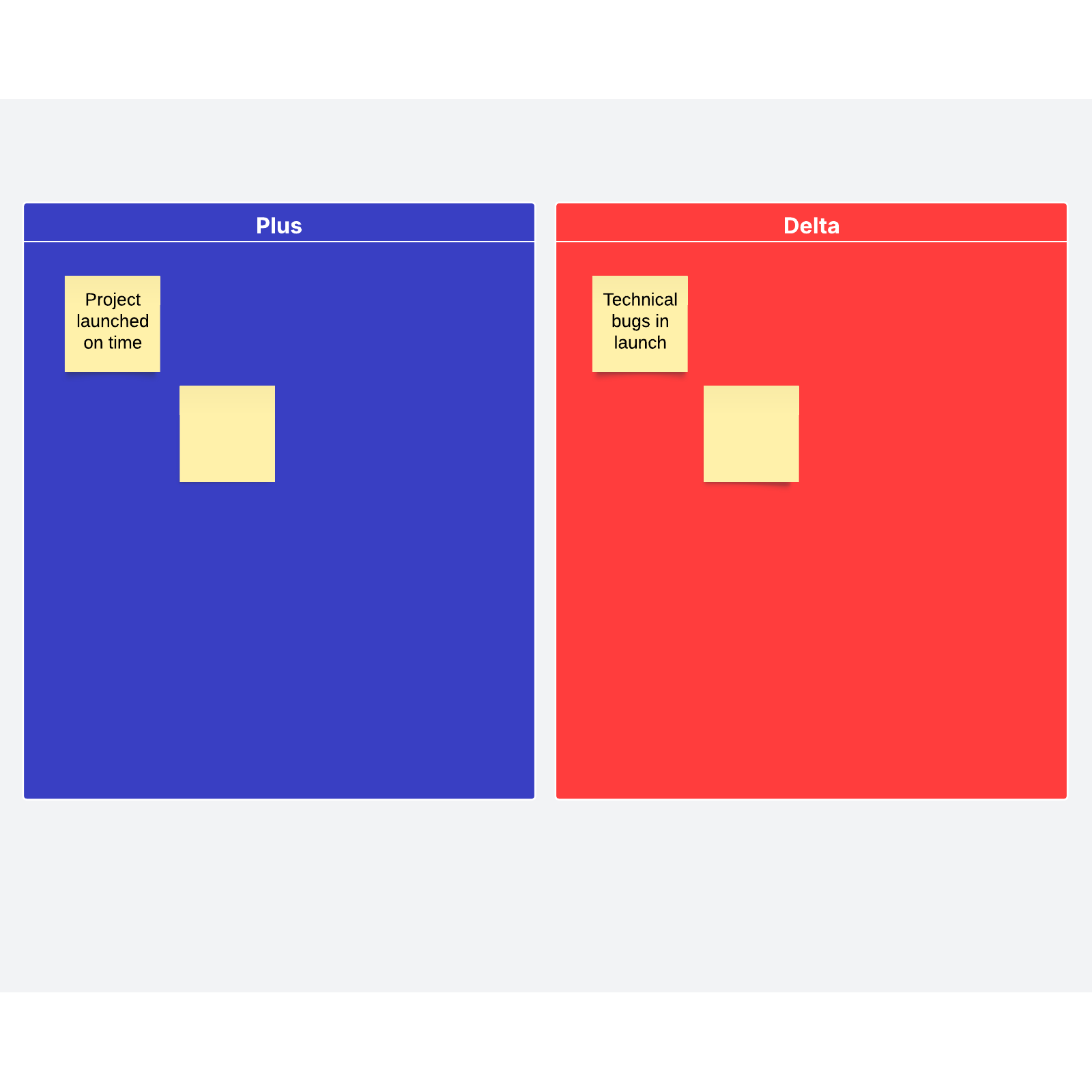 What is a plus delta template?
After a project wraps up, you can gain a lot of insight by taking a look at how it went. A plus delta chart offers an opportunity to reflect on what went well and what could have gone better.
On the plus side of the chart, you write down the positives, or everything that went well. The Greek letter delta (Δ) is the mathematical symbol for change. On this side of the chart, you write down everything you want to improve going forward.
Benefits of using a plus delta template
If you're trying to look back on a long project that took months or even years, you might have a hard time boiling down all the information you want to reflect on. A plus delta chart focuses on the most important insights and makes retrospectives simple.
Once you've completed the chart, you can also use it to showcase wins and opportunities for improvement to anyone involved in the project, such as stakeholders, managers, and your team. Feel free to use a plus delta chart for big, multi-team projects or for one-on-ones with individuals you manage.
How to use our plus delta chart in Lucidspark
Once you've opened up the template in Lucidspark, start adding your thoughts in sticky notes. Put wins on the plus side and things you'd like to change on the delta side. Keep the delta side productive—it isn't meant to be a list of everything that went wrong. Instead, the ideas on that side of the chart should look to the future and stay actionable and specific.
While you can fill out this plus delta template on your own, if you're looking back at a team project, you'll get better insights if you collaborate. Work on the template in real time with your team. If you're worried about getting off track, use the built-in timer to stay focused and productive. When you're finished, you can tag your ideas by priority and create action items using Lucidspark Cards so you'll be ready to make your next project better than the last one.