Platform design canvas
The platform design canvas from Platform Design Toolkit can be used as a dashboard to consolidate the insights you generate while using the toolkit. Work through six key steps beginning with the ecosystem canvas and ending with the learning engine. Documenting your brainstorming and platform strategy decisions in one place gives you a convenient source of truth to keep teams aligned.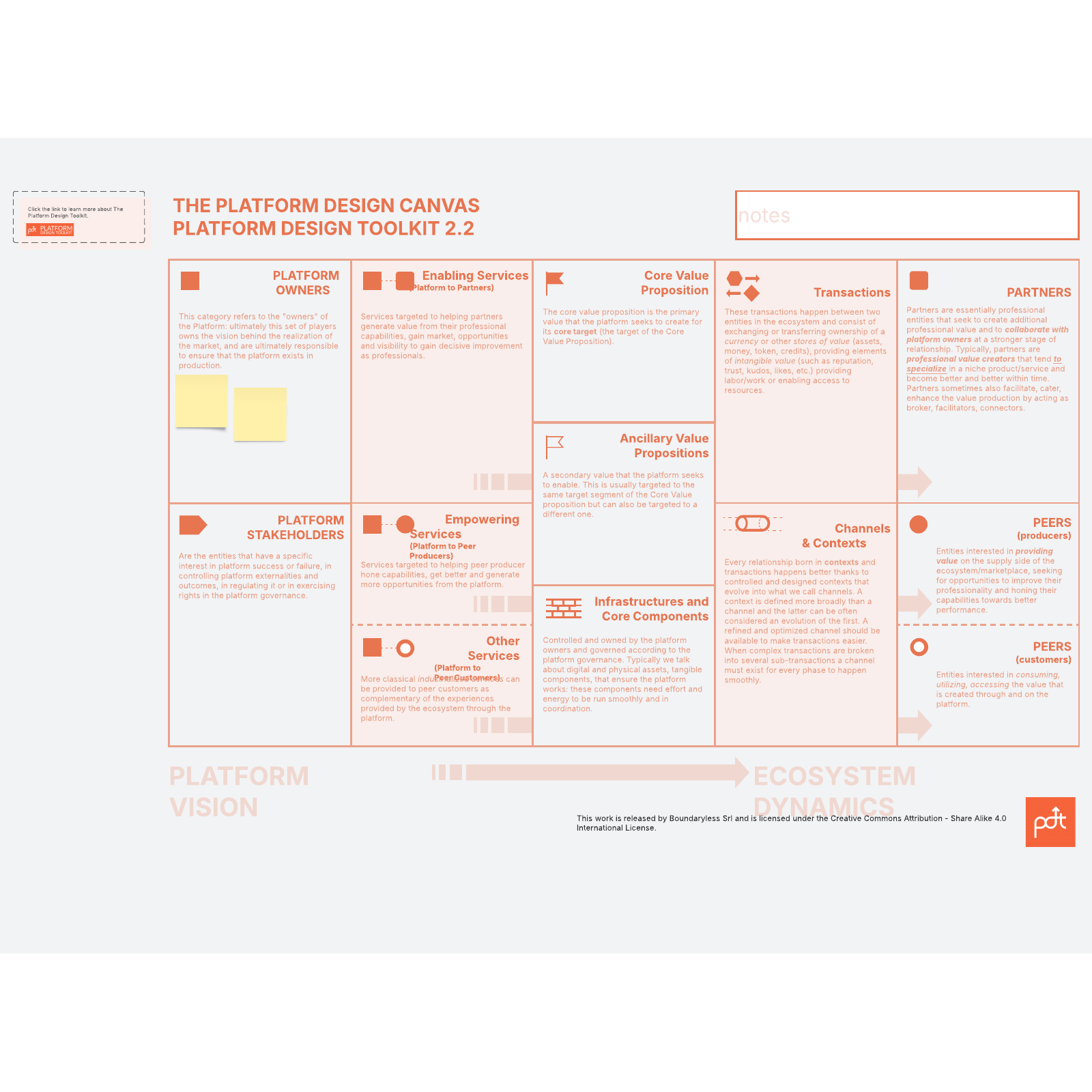 Explore your platform strategy at a glance
Platform organizations have become central to our way of life. Rather than producing goods, they connect goods and services with buyers (think Airbnb, Google, and Uber). The Platform Design Canvas helps teams understand, innovate, and evaluate their platform design.
This is important because platform organizations don't follow a traditional pipeline structure—with the Platform Design Canvas, teams will understand the organization at a high level to better understand its strengths, weaknesses, and opportunities.
What is the Platform Design Canvas?
Created by Platform Design Toolkit, the Platform Design Canvas is a framework that helps a complex organization be understood visually. It contains everything from the platform owners to the channels and contexts utilized by the platform. This framework allows you to keep track of the progress made in each component of the platform organization. It's easy to see at a glance how well you're doing in each segment.
The Platform Design Canvas is even more powerful when used with the entire Platform Design Toolkit. Consolidate the insights you generate from the rest of the toolkit into the canvas itself, especially in the steps going from 1 (the Ecosystem Canvas) to 6 (the Learning Engine).
How to use the Platform Design Canvas template in Lucidspark
Drag the canvas onto your Lucidspark board to quickly brainstorm (or map an existing platform strategy) in one single sheet:
Identify the value proposition. In other words, what are you doing and what problem are you solving?
Name the platform stakeholders. These are the people who are responsible for the platform itself and for bringing the vision of the platform to life.
Fill in your peer segments. Who is using your product, who is providing the services, and who is acting as an ancillary provider or consumer?
What are the key transactions? For example, with a service like Airbnb, these recurring transactions are bookings.
Detail your channels. How will these peer segments get in touch? Mobile platforms? Apps? Spell it out.
Identify value exchanges. Think payment, ratings, exchanges, etc.
Name your key platform components. These are the primary pillars of your organization.
Figure out community support services. How will you build a community? How will your platform gain traction?
How are you getting paid or gaining value? Your platform needs to be rewarded with some type of value. When does this happen, and in what form does the value take?
Share your Lucidspark board with others to get additional insight or feedback when filling out the canvas. You might even consider using Breakout Boards and completing the Platform Design Canvas in smaller groups to see what unique ideas and opportunities everyone comes up with regarding your platform strategy.
Platform Design Toolkit
Platform Design Toolkit is a design framework that one can use to envision, develop and roll out platform strategies that mobilize ecosystems.