Planning template
Align your teams across sprint planning for the upcoming quarter with this project calendar template. Planning Templates help teams to organize and implement project ideas.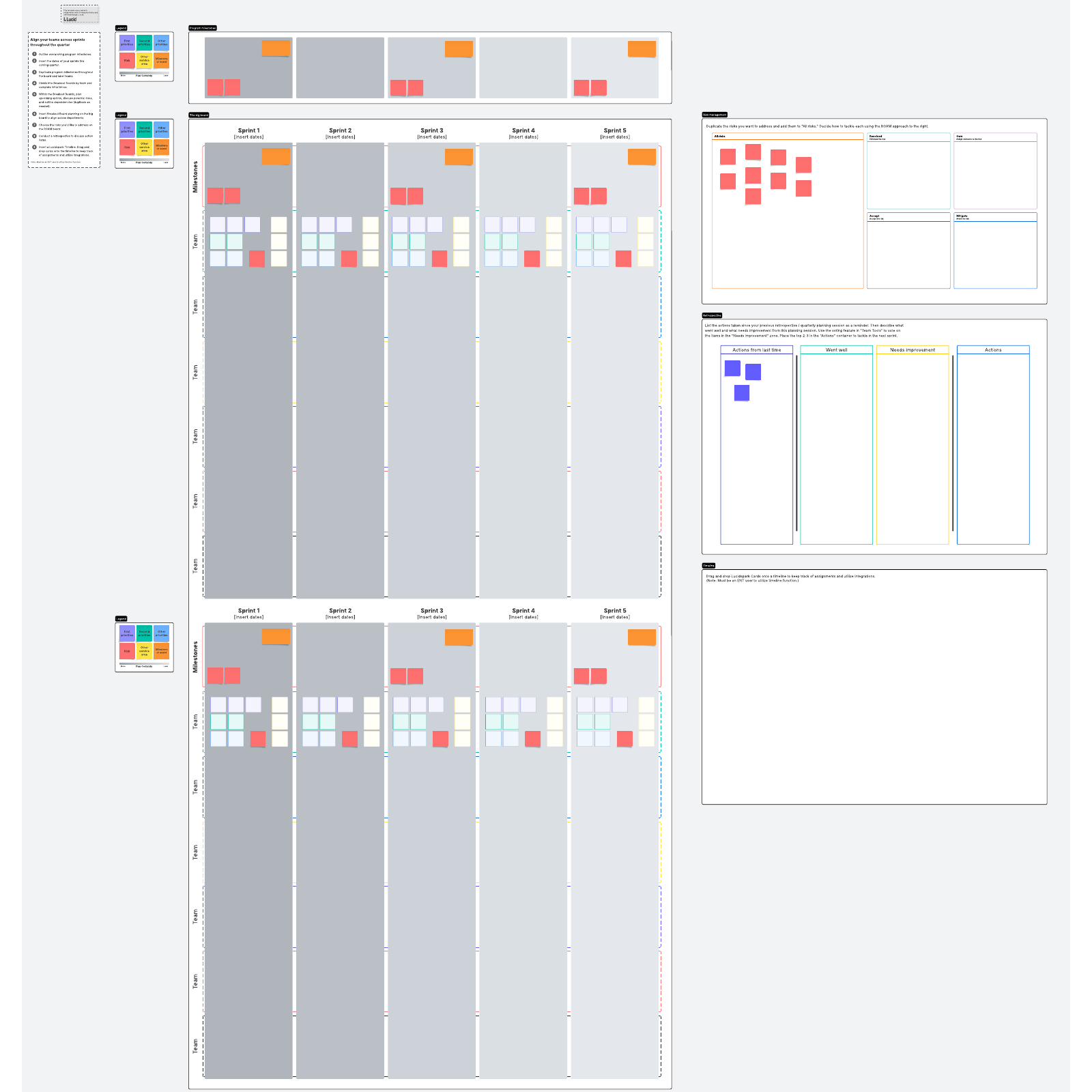 What is the planning template?
This planning template is meant for big room planning. Facilitators often try to limit the number of people in a meeting for effectiveness, but sometimes complex planning requires the input of many teams and individuals. This big room planning template helps you be sure that all stakeholders are aligned on goals and that you account for all perspectives in your plans.
Use this planning template, along with Breakout Boards and Lucidspark Cards, to have your teams plan out sprints for the quarter. When you're done, you should have a solid plan for how the quarter will go, including deadlines, program milestones, events, and risks.
Benefits of the planning template
This template works best to help you simplify complex planning—you can use it to align each team's work with your organization's initiatives and milestones. This ensures that all the work your teams do contributes to the organization's overall success. The template also helps everyone see the big picture, including what each team is working on and how it relates to other teams and the company overall.
The planning template itself is easy to share and collaborate on, whether your big room planning meeting happens in person or remotely, or even a combination of the two. Use Breakout Boards to get the most out of the template—you can break the large group into smaller ones, then bring everyone back together after.
How to use the planning template in Lucidspark
Begin by outlining the overarching program milestones that you need to achieve this quarter and inserting the dates of the quarter's sprints into the template. Next, duplicate the program milestones into each box in the Program Milestones section and label each box with a team name.
Now that you've finished the prep work, you'll get everyone involved by dividing your group into Breakout Boards by team. Each team will use their board to plan upcoming sprints, discuss potential risks, and outline any dependencies. When the groups are done working, bring everyone back together and insert the Breakout Boards into the main board to get everyone aligned across departments.
Next, you'll work through the Risk Management section of the template. Duplicate the sticky notes about risks that you want to talk about to the All Risks section, then work through the ROAM board next to it.
The Retrospective section comes next. Discuss action items, and make it interactive with voting, emojis, and comments.
Finally, insert a Lucidspark Timeline. Drag and drop cards onto the timeline to track assignments and tasks, and integrate it with your preferred project management software to make sure that the work gets done.
Christopher Bailey & Jeff Rosenbaugh
Professional Services, Lucid
Christopher and Jeff have spent the last decade helping organizations develop innovation pipelines and transform to Agile systems of delivery.