Outcome-Based Roadmap Template
Communicate, collaborate, and align with your stakeholders on the what and the why with this outcome-based roadmap. Use our outcome-based roadmap example today!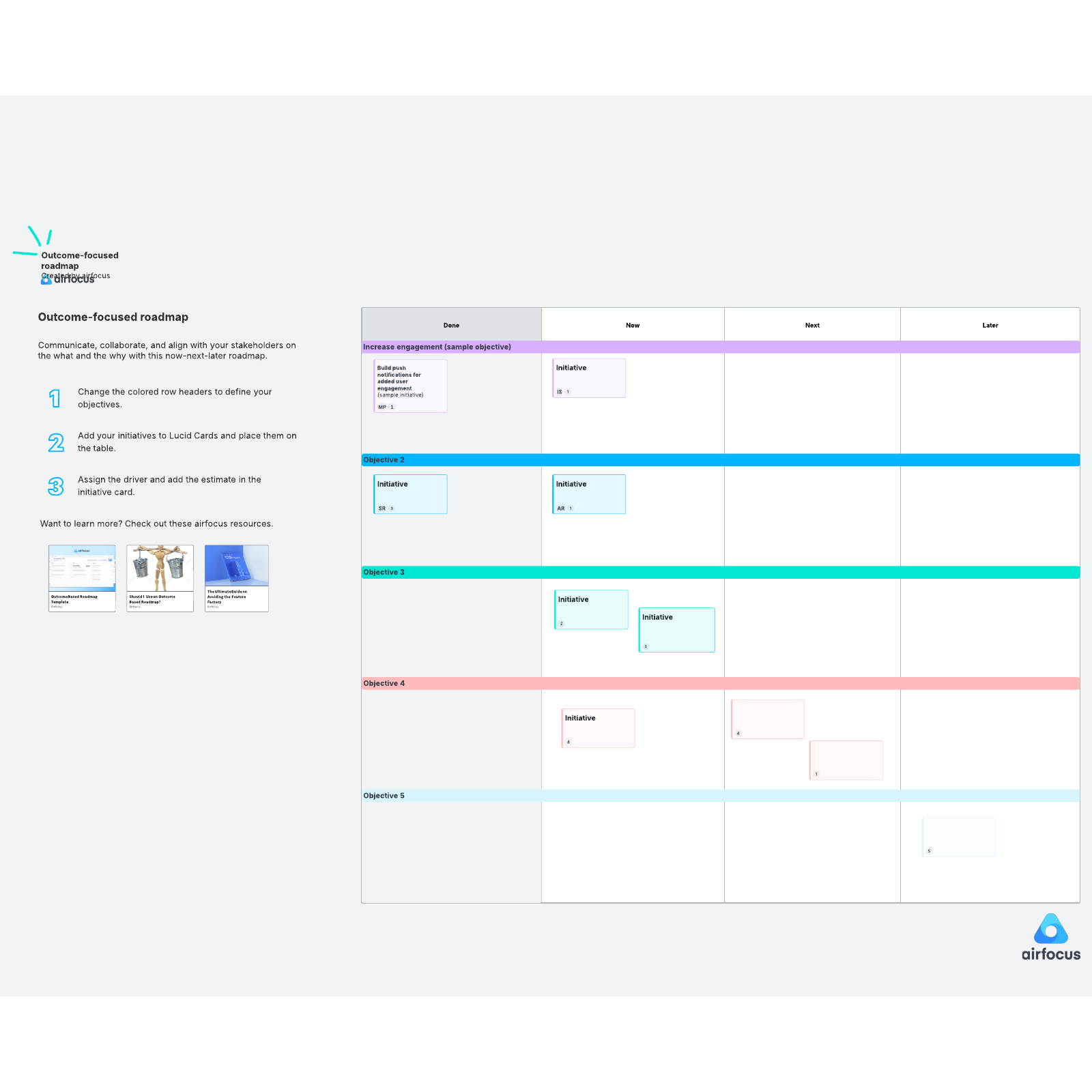 What are outcome-focused roadmaps?
An outcome-based roadmap provides an outline for the many potential scenarios in a product's creation. With possibilities visually mapped out on your outcome roadmap, you and your team can easily communicate and align on what steps need to take place to develop your product, allowing you to prioritize your project objectives for a successful launch.
Benefits of using outcome-focused roadmaps
An organized outcome-based roadmap provides teams with a look into both the how and the why of a product release. When team members are aligned on the context of specific action items and product objectives, they can maximize their likelihood of reaching goals and creating a successful product.
How to use the outcome-focused roadmap template in Lucidspark
Here's a step-by-step guide to getting started with your outcome-based roadmap:
Take time to discuss product vision, goals, and strategy with your team.
Distill your product strategy into actionable objectives.
Using your outcome-focused template, change each colored row header to define your objectives.
Add your objectives to individual Lucidspark Cards and place them on the table.
Designate your drivers and include estimates on the initiative cards.
Share your findings with your team and stakeholders to ensure you're all aligned on your objectives moving forward.
Clarify the complex by starting on our Lucidspark outcome-based roadmap template today.
airfocus
Product management made easy with a flexible platform that helps you manage strategy, understand user needs, prioritize, and align your teams around clear roadmaps.