Nine dot puzzle
Take your problem solving outside of the box with this nine dot puzzle template. Link the 9 dots with only 4 straight lines, without lifting the pen.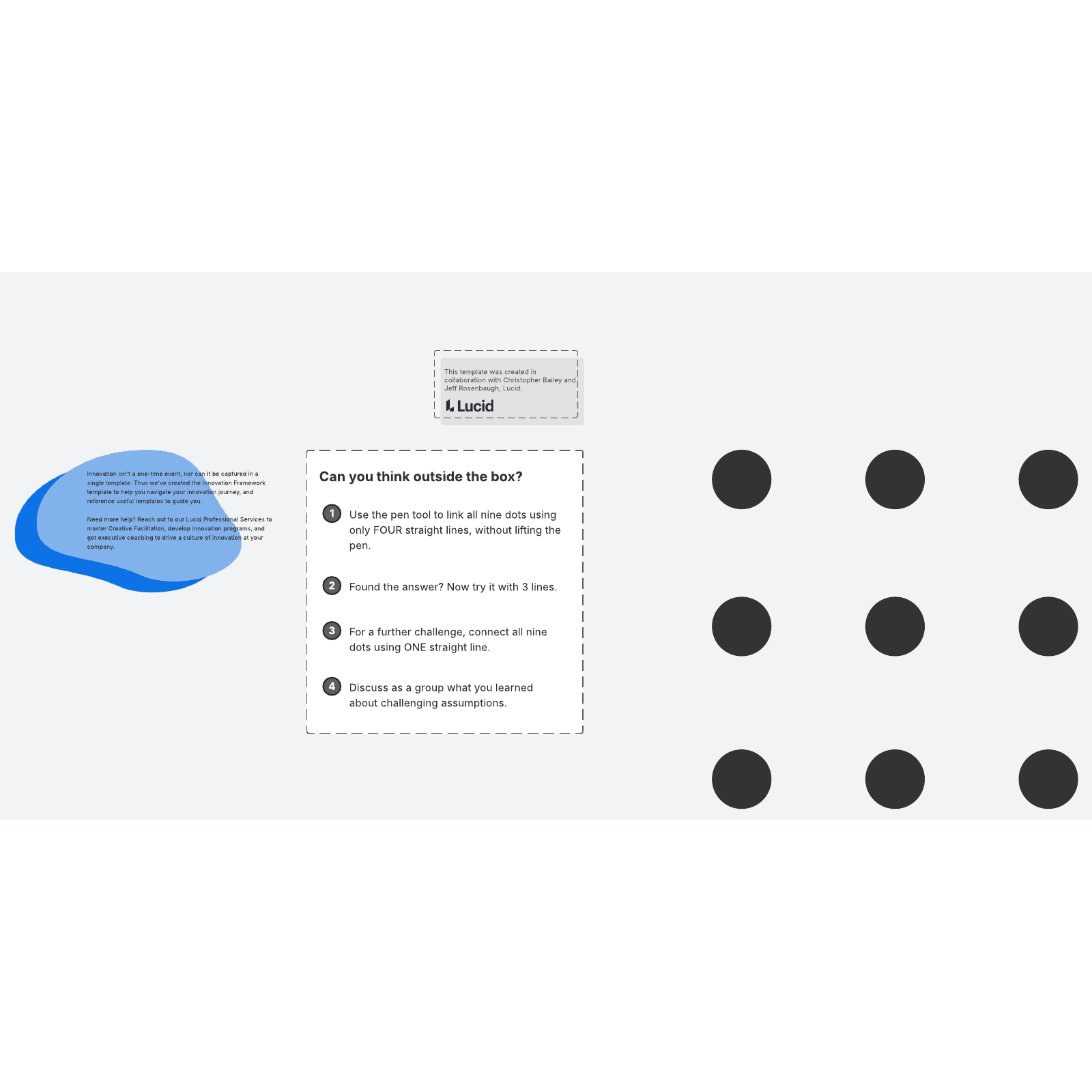 What is the nine dot puzzle?
You've likely seen the nine dot puzzle in brain challenge apps or circulated on social media, but the puzzle itself predates the computer. The nine dot puzzle consists of three rows of three dots and asks viewers to link all the dots using either four or three straight lines without lifting the pen. The first known published version of the puzzle was in 1914, and variations of the puzzle have persisted in popularity ever since.
The nine dot puzzle, while being great for mental stimulation, can also be fantastic for encouraging your team to think outside the box. It helps teams challenge their assumptions and think of creative ways to complete the puzzle. This thinking can then be applied to other scenarios, such as brainstorming innovative solutions to complex business problems.
How to use the nine dot puzzle template in Lucidspark
Use the pen tool to connect the dots.
Try connecting all nine dots using four lines. If your team is struggling, encourage them to use four lines by extending beyond the dots.
Once your team has connected the dots using four lines, try connecting with three lines, then one line. You may have to think beyond the plane of the template and beyond the size of the pen.
After your team has successfully completed each challenge, ask them what assumptions they had to confront when completing the puzzle. Keep track of these assumptions using the Note Panel, then try tackling a different business problem. What assumptions are useful and which can be challenged when solving this business problem? Ask the team what they have learned from this activity.
Christopher Bailey & Jeff Rosenbaugh
Professional Services, Lucid
Christopher and Jeff have spent the last decade helping organizations develop innovation pipelines and transform to Agile systems of delivery.