My worst nightmare
Discover the hidden and/or worst-case-scenarios that your consumers can imagine using this game-based template.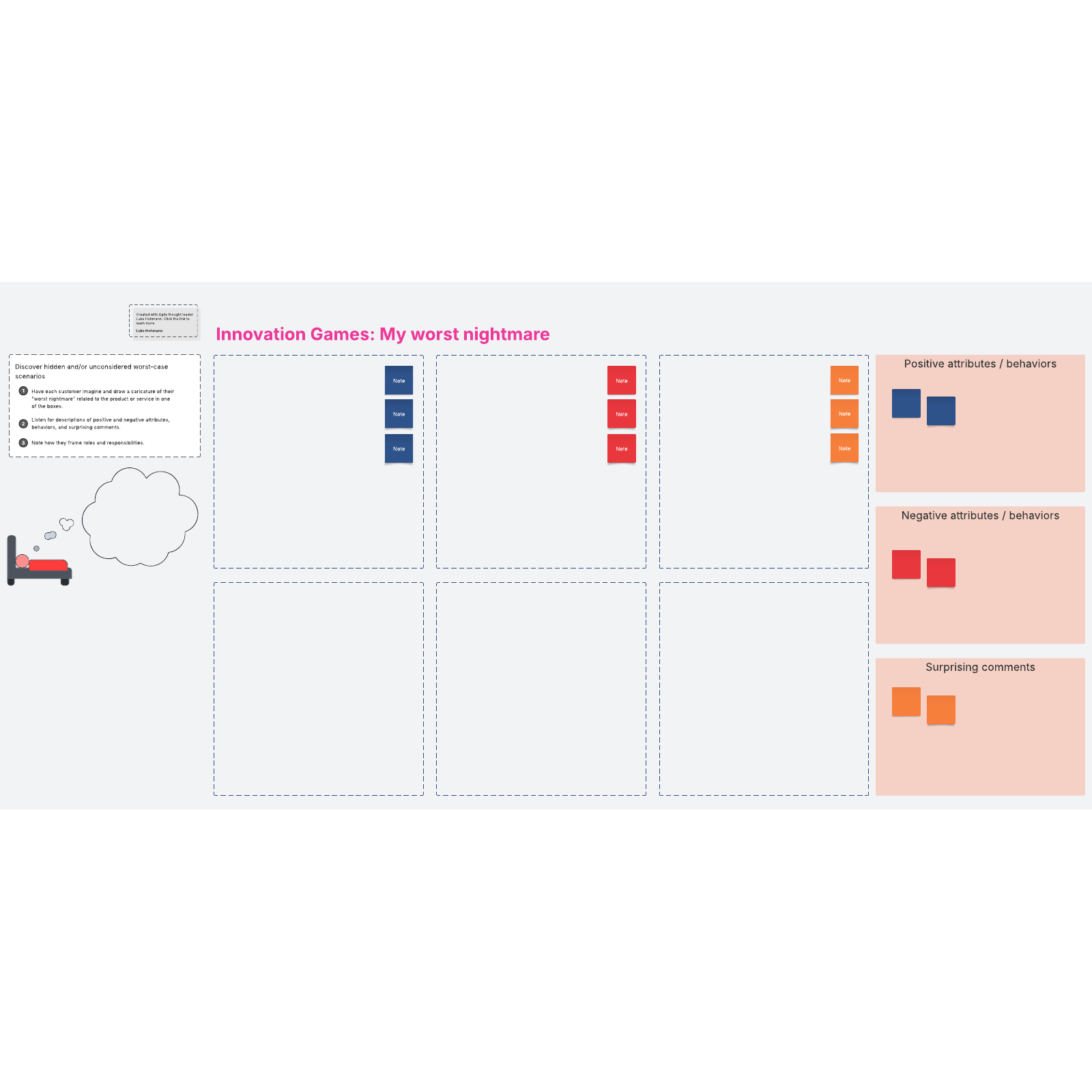 What is the My Worst Nightmare Innovation Game?
Luke Hohmann created a series of Innovation Games to help teams better understand their customers. When you play, you put yourself in the shoes of the consumer of your product or service, which helps you learn about their wants, needs, and fears, so you can design your product accordingly.
The My Worst Nightmare Innovation Game gets to the heart of what your clients are afraid of. The players brainstorm the worst-case scenarios for your customers when they use your product or service.
Benefits of using the My Worst Nightmare template
This Innovation Game template is easy to use, but more importantly, it's fun. Players will enjoy the creativity involved in getting into the mindset of the product's consumer, and they'll enjoy working with each other or with actual customers as part of a workshop.
Because this template takes a gamified approach to brainstorming, your team will likely discover new, different insights as opposed to just asking your participants a question. These insights can lead to better understanding of your customers' fears, which helps you focus your efforts on the most profitable features and improve your product and sales messaging.
How to use the My Worst Nightmare template in Lucidspark
First, gather your participants. You can work solely with colleagues on a specific team, but you may find more diverse, helpful perspectives if you gather other stakeholders, including actual customers. Once you have your players, assign them each a box in the template to work inside of.
Ask each participant to fill their box with a visual representation of the worst case scenario they can imagine while using your product or service. While they can draw freehand, Lucidspark also has a variety of other features to help illustrate ideas, such as shapes, icons, GIFs, images, and sticky notes.
When your players have finished, discuss with the group what each person came up with, and record your findings. The template has space for sticky notes to document positive and negative attributes, along with any information the group finds surprising. Try tagging sticky notes as you go with any themes that arise so you can sort them later.
As you facilitate the game, use the built-in timer and Lucidspark's Facilitator Tools. This will help the meeting stay on track instead of getting sidetracked.
Afterwards, review your findings and make an action plan. With your new insights, you can make sure your customers' worst nightmares never come true.

Luke Hohmann
Author, Innovation Games
As the author of the book Innovation Games, Luke Hohmann dives into predicting what customers want through a gameified approach. Luke believes that once you know what customers want, innovation can thrive.