Multi-team retrospective
Celebrate successes and learn for the future using this free multi-team retrospective template in Lucidspark. As individuals within your team's swimlane, identify key aspects of the sprint. Refer to the legend to get started.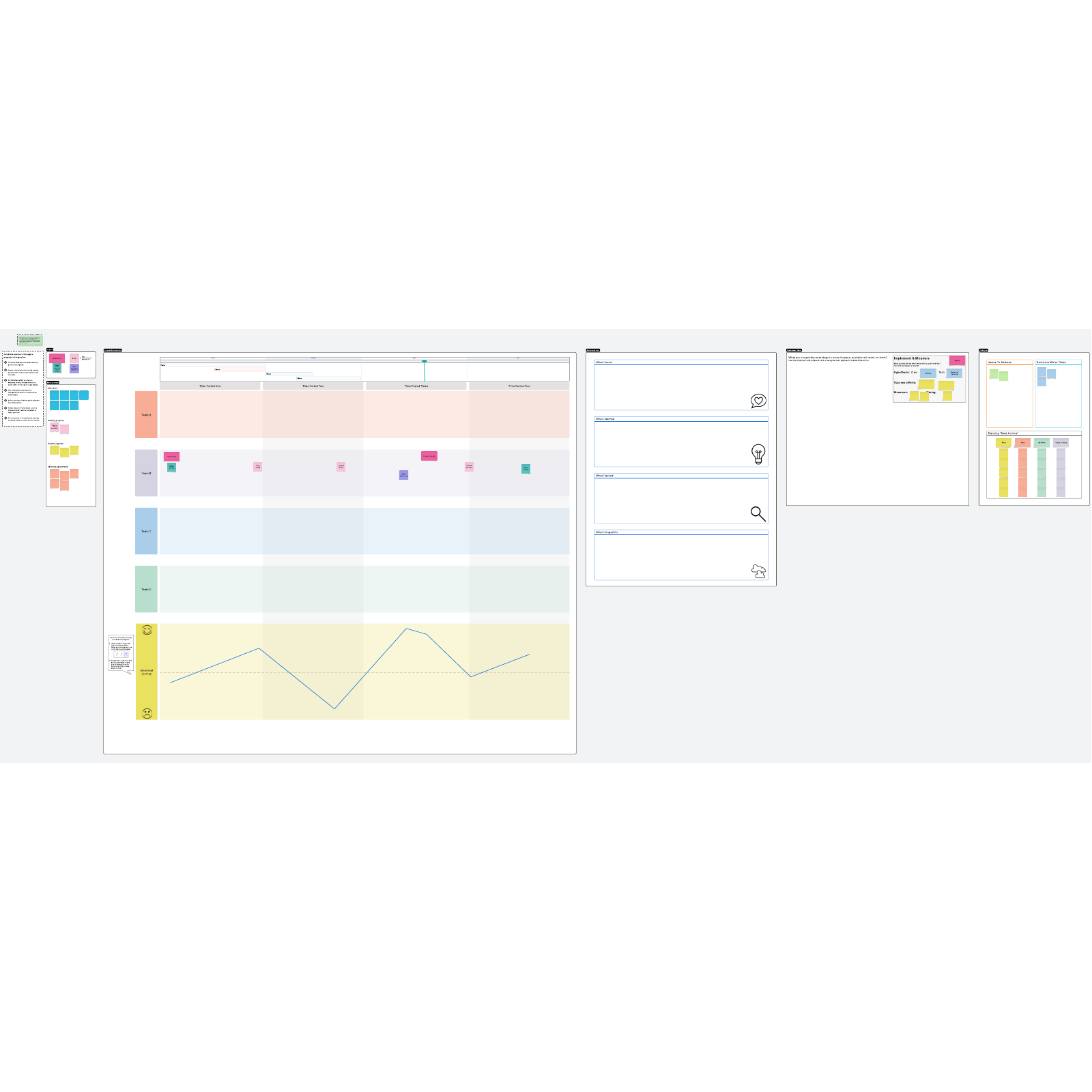 What is the multi-team retrospective template?
After a large project, you need time for the entire group to reflect. The multi-team retrospective template allows for large-scale retrospection, meaning all the teams involved can discuss the project, what they learned, what went well, and what they would like to change for the future.
Benefits of using the multi-team retrospective template
Large meetings with multiple teams can be difficult to manage. You may struggle to keep everyone engaged and on task. This template can help—it's designed for large groups and has space for each team to contribute.
Use the template to look back on the quarter or on an entire project. As you work through the template, you'll examine things you want to change for next time and how everyone felt during the time period in question. This helps everyone, including those who work from home and don't see their co-workers in person, to align on complex projects.
How to use the multi-team retrospective template in Lucidspark
Begin by introducing everyone in attendance and reviewing the agenda. Be sure to also discuss the meeting agreements, or the ground rules, to keep the meeting on track. You'll find space for these elements on the right side of the template.
Next, move to the section that shows what happened during the last quarter, sprint, or project—whatever time period you're reflecting on. Adjust the timeline at the top as needed, and have each team fill in their lane with key events.
Once you have the timeline filled in, each participant will map their emotions on the seismograph. Assign Collaborator Colors to show which line belongs to which person.
The next section of the template has boxes for the four Ls: things participants loved, learned, lacked, and longed for. Have your group fill these in with sticky notes.
Finally, your group will use the information you've gathered to fill in the section on improvement. Find out what the teams want to change for next time and make a plan for next steps.
As you work, questions may come up. Ask your participants to put them in the parking lot until you have a chance to deal with them.
To keep your meeting running smoothly, use Lucidspark's Facilitator Tools, including the timer, to keep each section of the retrospective on track. You can also encourage more group participation by asking participants to react to others' contributions with emojis, which makes the meeting more fun and keeps everyone engaged.
Bryan Stallings and Jessica Guistolise
Evangelists, Lucid
As Evangelists at Lucid, Bryan Stallings and Jessica Guistolise are Certified Scrum Trainers who have coached thousands of individuals and teams in Agile and Scrum techniques.