Multi-room scrum team space
This Multi-room scrum team template is your team's virtual scrum room with all the scrum resources and corresponding Lucidspark breakout boards.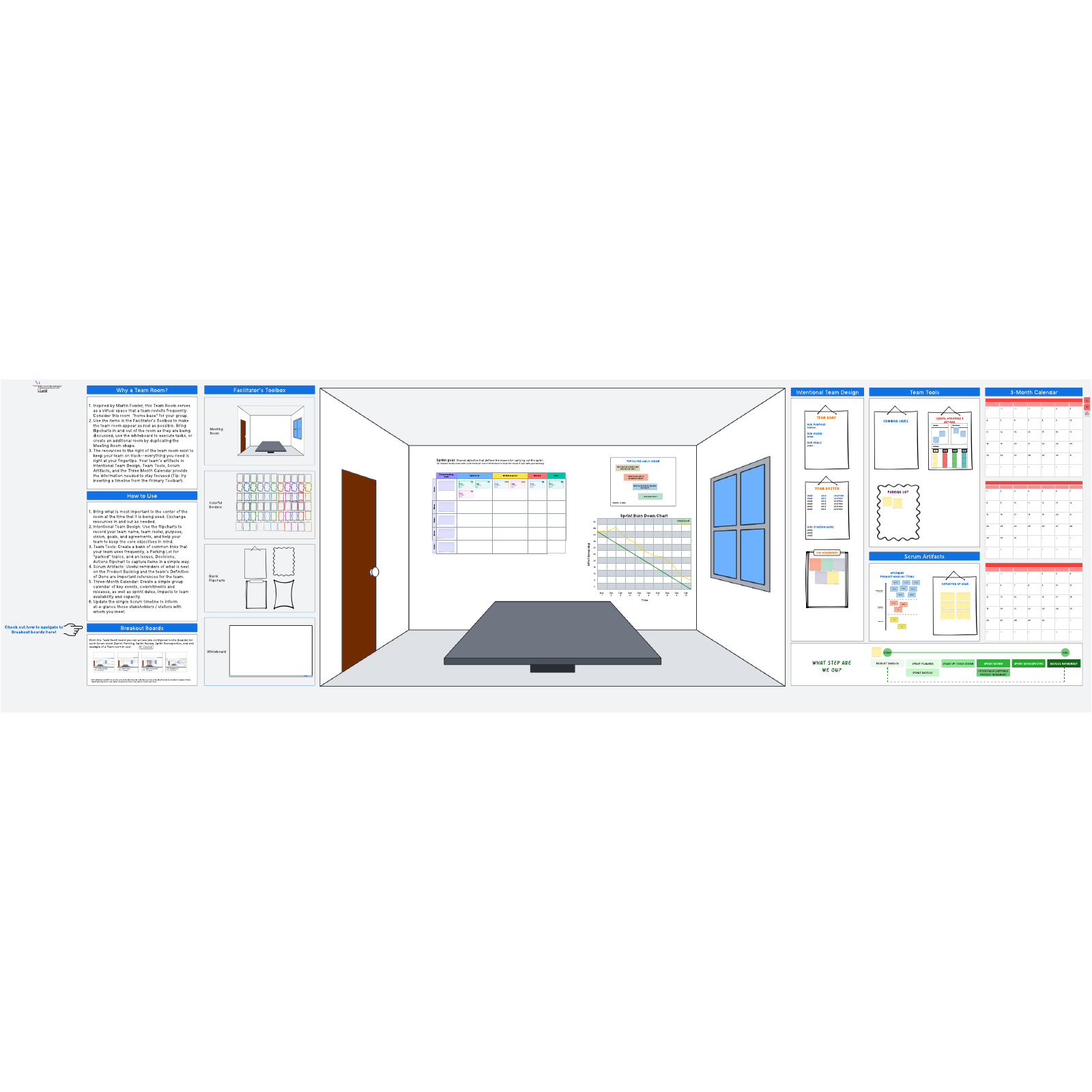 What is the multi-room Scrum team space?
In the real world, a Scrum team space is an actual room where the entire team works in close proximity—no cubicles and no barriers to communication. But when the team is remote or distributed, it can use an online multi-room Scrum team space so it can maintain some of the collaborative aspects of a real room. Inspired by ​​Martin Fowler, this scrum room serves as a virtual space that a team visits frequently for Scrum events. Consider this scrum space "home base" for your group.
What is a virtual scrum room used for?
Your virtual Scrum room contains facilitator tools to create a realistic scrum room design for hosting all of the Scrum events, including:
Sprint planning: Hold a sprint planning meeting to kick off the sprint by determining what the team will achieve during the sprint and how.
Daily standup meetings: This quick meeting helps the team stay apprised of what one another is doing. Your standups can take a variety of forms, but should cover what everyone accomplished yesterday, what they plan on accomplishing today, and if there are any roadblocks.
Sprint reviews: The sprint review is the Scrum's team chance to review completed sprint work, discuss progress with stakeholders, and collaborate on what work should be done next.
Sprint retrospective meetings: The sprint retrospective template creates a space for the team to contribute thoughts on what went well during the sprint and any opportunities for improvements.
Product backlog refinement: Backlogs can get messy quickly. Holding a meeting to refine those backlog items makes them easier to include in sprints.
If you're just getting started, check out our blog as a scrum resource that offers an Introduction to Scrum.
Benefits of using the multi-room Scrum room design
Meet in this scrum space for all sprint meetings to create a sense of regularity, whether your teams are remote or hybrid.
With all of your information in one central location, you can set your entire team up for success with clearly defined goals, expectations, and updates.
It's easy to customize the template to fit how your team functions best.
Sprint review, sprint planning, and sprint retrospective team room templates can be built into Lucidspark breakout boards, so the template can be used for multiple purposes without over-cluttering.
Refer to all parts of the sprint quickly and easily.
How to use this scrum meeting template for your scrum group
Use items in the facilitator's toolbox to create the meeting you need.
Use the main board as a team room for all team purposes. Pro Tip: Replace sticky notes with Lucidspark Cards for Jira or Smartsheet to keep this visual in sync with your backlog.
Integrate Lucidspark with Zoom so you can add to the boards during all your calls.
Access Lucidspark's breakout boards to host each of the different meetings. We've included resources in the templates specifically for sprint planning, sprint review, and sprint retrospective.
It can be intimidating to use a virtual Scrum team space at first, but once you've set up your Scrum rooms in the cloud, you'll find it fosters the collaboration that your team needs for successful sprints.
Bryan Stallings
Chief Evangelist, Lucid
As Chief Evangelist at Lucid Software and Certified Scrum Trainer, Bryan Stallings has coached thousands of individuals and teams in Agile and Scrum techniques.