Monthly calendar
Keep track of your to-do list and plan out your month using the monthly calendar template from Lucidspark. Sign up now and try it for free.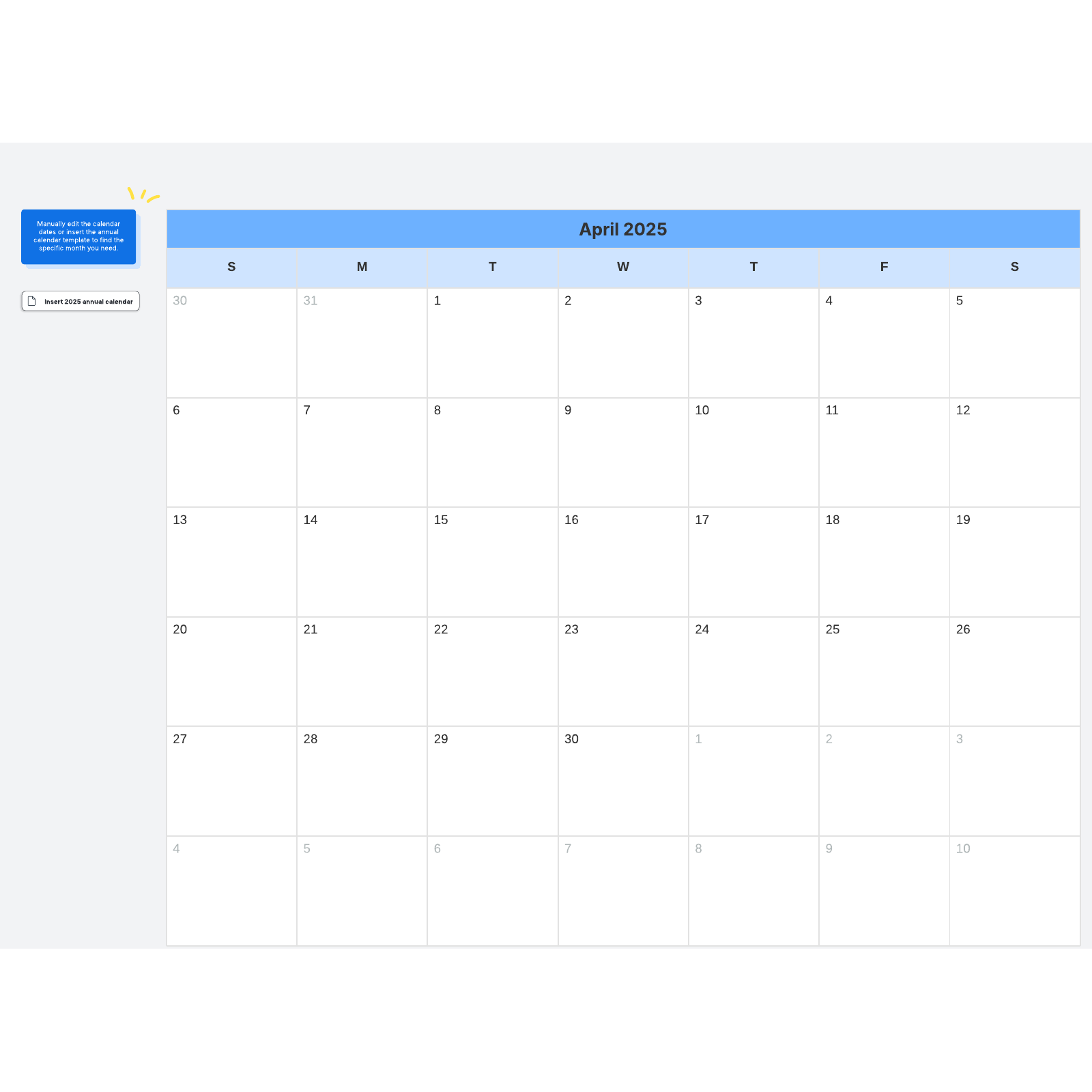 What is the monthly calendar template?
If you need to plan out your month and coordinate your schedule with others, this template is for you. This template is updated every month, so no matter when you come to this page, you can count on getting the right monthly planner template.
Use the monthly schedule template to plan for the future, but since something always comes up, we've also made it easy for you to move things around. Additionally, if your team needs to coordinate on tasks or align on projects, use this template to keep track of everyone. Your team will reap the benefits of flexibility, transparency, and collaboration.
How to use the monthly calendar template in Lucidspark
With every new month, come back to this page to download the new month's calendar. Share it with your team, and start adding events or tasks. Hard deadlines or definite events can go directly onto the calendar, but we suggest sticky notes for other events or tasks since they're easy to move around.
If you're using this calendar in tandem with other people, you'll need a way to visualize what events belong to which people. You can color-code sticky notes per person, and you can also designate a collaborator color to each person to add their own text, shapes, or notes.
If some events or tasks share a project or theme, try tagging them. This will allow you to search for and find them later, which is helpful if you have a project that you want to see the entire evolution of.
While the monthly calendar is ideal for short-term planning, you may also need a long-term look at your schedule. Use this template in tandem with our annual calendar template for best effect, and you'll be sure to stay on track each month and throughout the year.