Me and my shadow
Use this game-based approach to Identify the hidden needs of customers by shadowing their use of your product.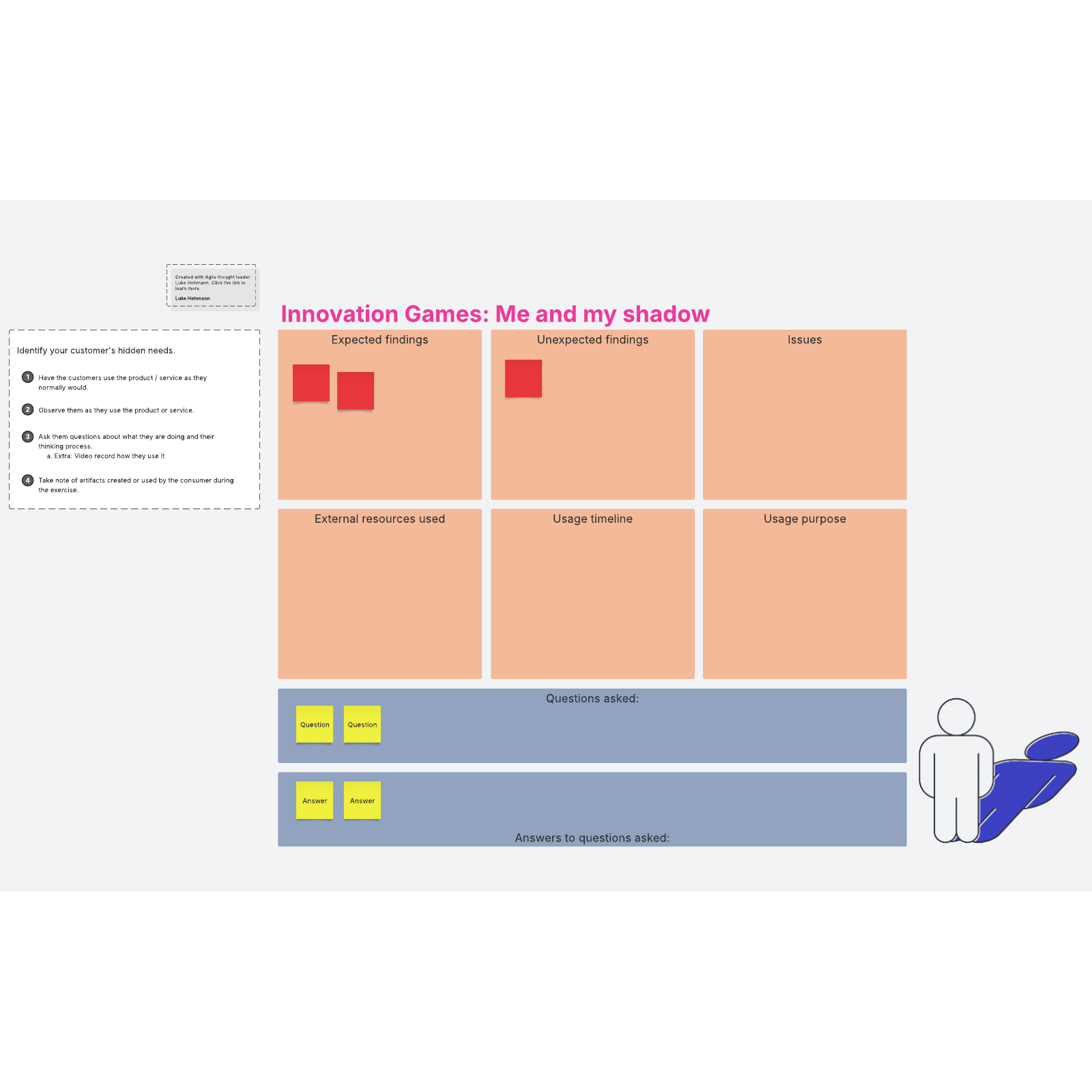 What is the Me and My Shadow Innovation Game?
Part of Innovation Games, an approach to market research that's performed collaboratively with customers, the Me and My Shadow game is a way to better understand your customers' behaviors and needs. This game involves following customers like a shadow as they interact with your product or service.
This is a way to observe your customers firsthand and discover things you wouldn't know just by asking them or having them fill out a survey. You can gain additional insight by occasionally asking your customers why they're performing certain actions or what they're thinking as they use your product.
Benefits of the Me and My Shadow template
The Me and My Shadow template gives you space to capture your observations, share with your team and stakeholders, and use as a basis to brainstorm product improvements. This template allows you to:
Gain deep insight into how your product is being used
Understand your customers' behaviors and hidden needs so you can improve your product experience, solve customer problems, or even uncover the need for a new feature
Develop greater empathy for your customers
How to use the Me and My Shadow template in Lucidspark
Observe your customers as they use your product as they normally would. Don't dictate their actions.
Place sticky notes in the template to record your findings, including anything unexpected or expected, any issues, and how your customer is using the product. You can also take pictures and videos and drag and drop them into the template.
Ask questions as you move through the activity to gain insight into why they're doing something or what they're thinking as they do it. Some questions you may ask: "Why are you clicking on that?" or "What were you thinking when you moved that?"
Insert copies of the artifacts your customer used as they interacted with your product or service.
Share the template with your team as needed to brainstorm ways to improve the experience based on what you observed.

Luke Hohmann
Author, Innovation Games
As the author of the book Innovation Games, Luke Hohmann dives into predicting what customers want through a gamified approach. Luke believes that once you know what customers want, innovation can thrive.