Lucid product fundamentals
Put yourself in a users shoes to identify their needs, gaps, and pains. Then, ideate and brainstorm possible product capabilities and solutions.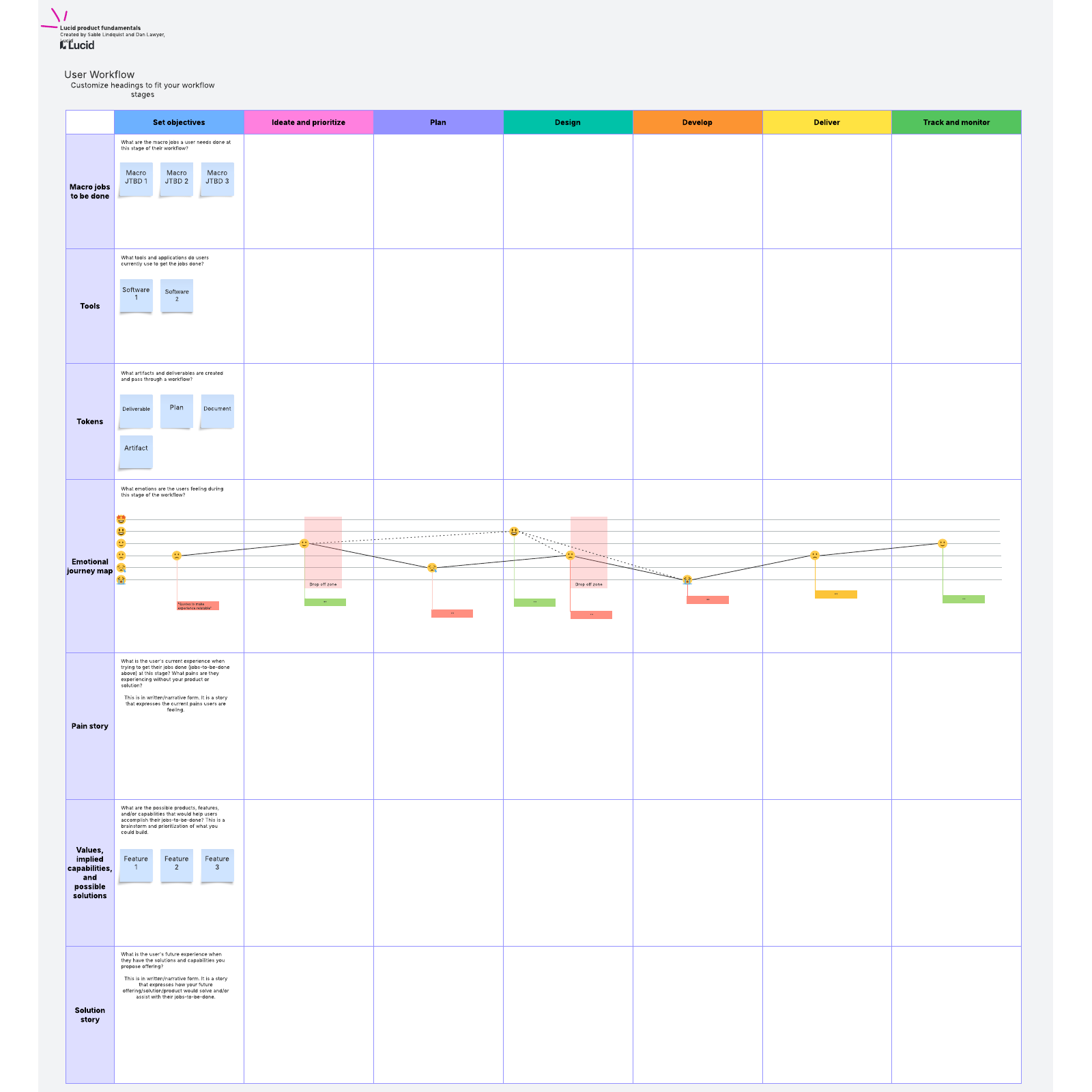 What is the Lucid product fundamentals template?
It doesn't matter how revolutionary your product is if it's not aimed at your customer's needs. To get there, your team needs to center your customer, their goals, and their pain points, at every stage of your product strategy.
Using Lucidspark's product fundamentals template, your team can easily create a detailed picture of your customer's journey, what they want, and how your product can help them, all within a specific use case. In completing the template, your team will be able to identify new products, features, and improvements that can help your customer overcome specific challenges and meet their goals.
Benefits of the Lucid product fundamentals template
Lucidspark's product fundamentals template combines form and function to create a template that can enhance any product strategy approach. The customizable template provides enough structure to house your ideas, with the flexibility you need for freeform ideation and creativity. Maximize your effectiveness by completing your template cross-functionally, involving viewpoints from your marketing, product management, and engineering teams.
Our template is built to work within a hybrid work model, so you can complete it easily in person or remotely. With each component of your customer's journey mapped out succinctly on your template, your team will be able to dig deeper into your customer's pain points and recognize potential solutions.
How to use the product fundamentals template in Lucidspark
Here's a step-by-step rundown of how to fill out Lucidspark's product fundamentals template:
Fill out the user workflow steps based on what use case you're trying to solve for. For example, your customer may be trying to migrate to the cloud.
For each step of the workflow, fill out:
Jobs to be done: Which macro jobs need completing at this stage in a user's workflow?
Tools: Which tools or applications do users need to complete their jobs?
Tokens: What artifacts and deliverables are created through the workflow?
Emotional journey map: What emotions are users feeling during this stage of the workflow?
Pain story: What kind of pains is the user experiencing without your product or service?
Value, implied capabilities, and possible solutions: What products, features, or capabilities would help users accomplish their jobs?
Solution Story: What is the user's future experience with the solutions your product offers?
Collaborate with your team by adding sticky notes, comments, freehand drawings, and emoji reactions to surface your best ideas, encourage engagement, and ensure that everyone's voice is heard. You can fill out your template asynchronously or in real time.
Sable Lindquist & Dan Lawyer
Sable Lindquist is Sr. Director, Product Marketing at Lucid with 10+ years of experience helping companies leverage customer insights to devise effective go-to-market strategies. As Lucid's Chief Product Officer, Dan Lawyer is passionate about creating value by solving problems in delightful ways. Prior to Lucid, he led product and design organizations at Adobe, Ancestry, and Vivint.