Lean coffee Seattle style
Easily and quickly discuss shared topics through a lean, Seattle-style approach.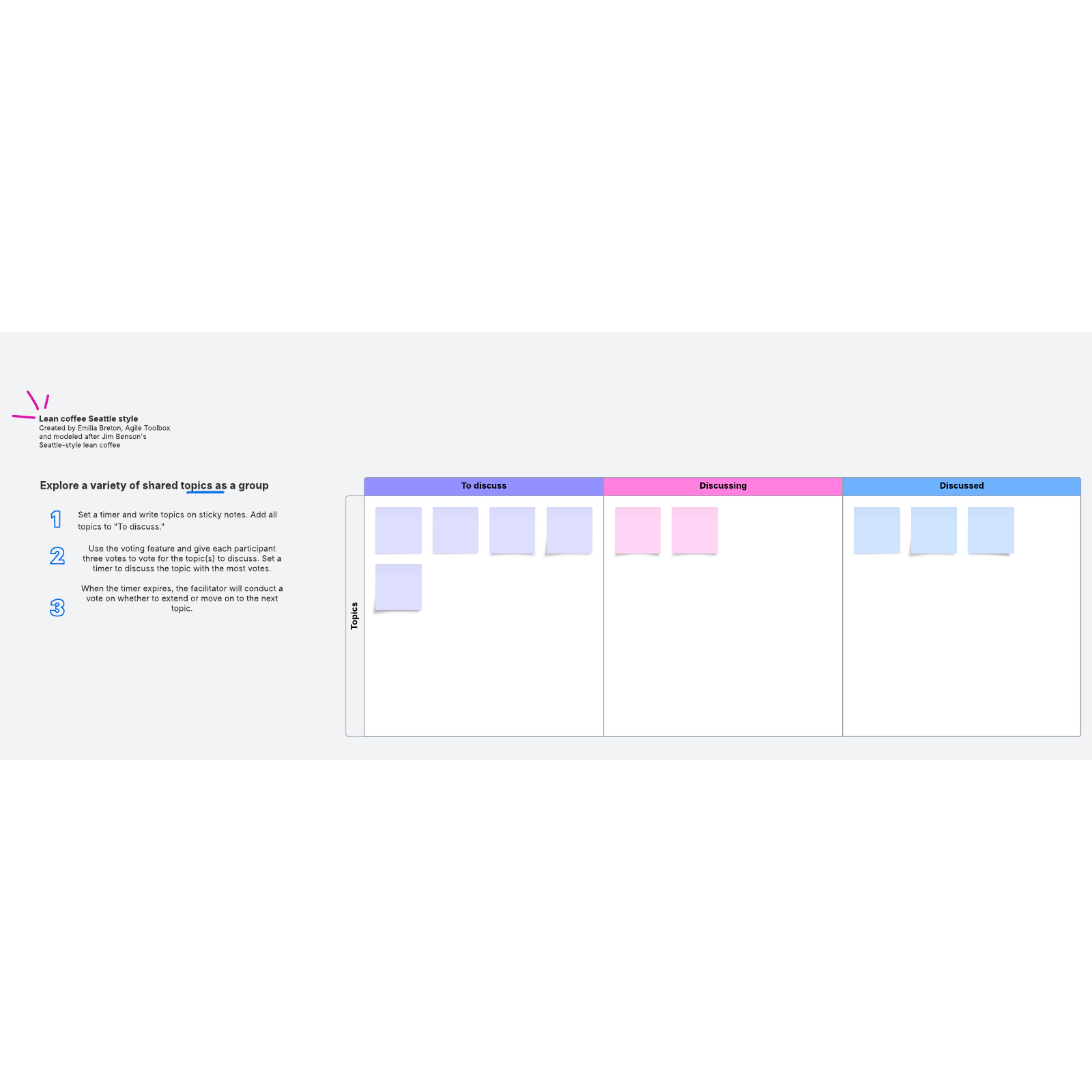 Discuss the most important topics in lean coffee Seattle style meetings
Lean coffee is a simple, straightforward meeting format that allows participants to choose the topics they'd most like to discuss. There are a few variations of lean coffee meetings, but lean coffee Seattle style represents the traditional lean coffee format. Essentially, lean coffee meetings are agenda-less meetings designed to increase the conversation's productivity since the topics are chosen democratically.
If you'd like to adapt the lean coffee format and make it even more efficient for your remote team, you can use Lucidspark's lean coffee Seattle style template. Using the lean coffee Seattle template, each participant gets three votes to narrow down the topics they'd like to discuss. This type of lean coffee is more helpful if you have a limited amount of discussion time.
Use the lean coffee Seattle style template for remote lean coffee
To use Lucidspark's lean coffee Seattle style template, start a meeting and share the template via Lucidspark's integration with Zoom. Then:
Set a timer and have participants write down topics they'd like to discuss on sticky notes. Place all the sticky notes in the "To discuss" section of the template.
Use Lucidspark's Voting feature and have everyone use their first vote to pick a topic.
Move the topic with the most votes to the "Discussing" section and set a timer for the discussion.
When the timer runs out, move the topic under discussion to the "Discussed" section.
Go back to the "To discuss" section and have everyone cast their second vote to select a topic.
Discuss the second topic, then repeat the process to select and discuss the third topic.
If you have more time on your hands or if your team feels a certain topic needs more time, you can extend the timed discussion sessions as needed. If you plan to have more lean coffee Seattle style meetings in the future, you can leave the sticky notes on the template so you can pick up the meeting where you left off.
Emilia Breton
Agile Toolbox
As a leader in all things Scrum, Emilia Breton is a highly successful agile professional with extensive experience guiding global organizations in defining and implementing processes, models, and standards that align technology investments with overall business goals.