Lean coffee California style
Easily and quickly discuss shared topics through a lean, California-style approach.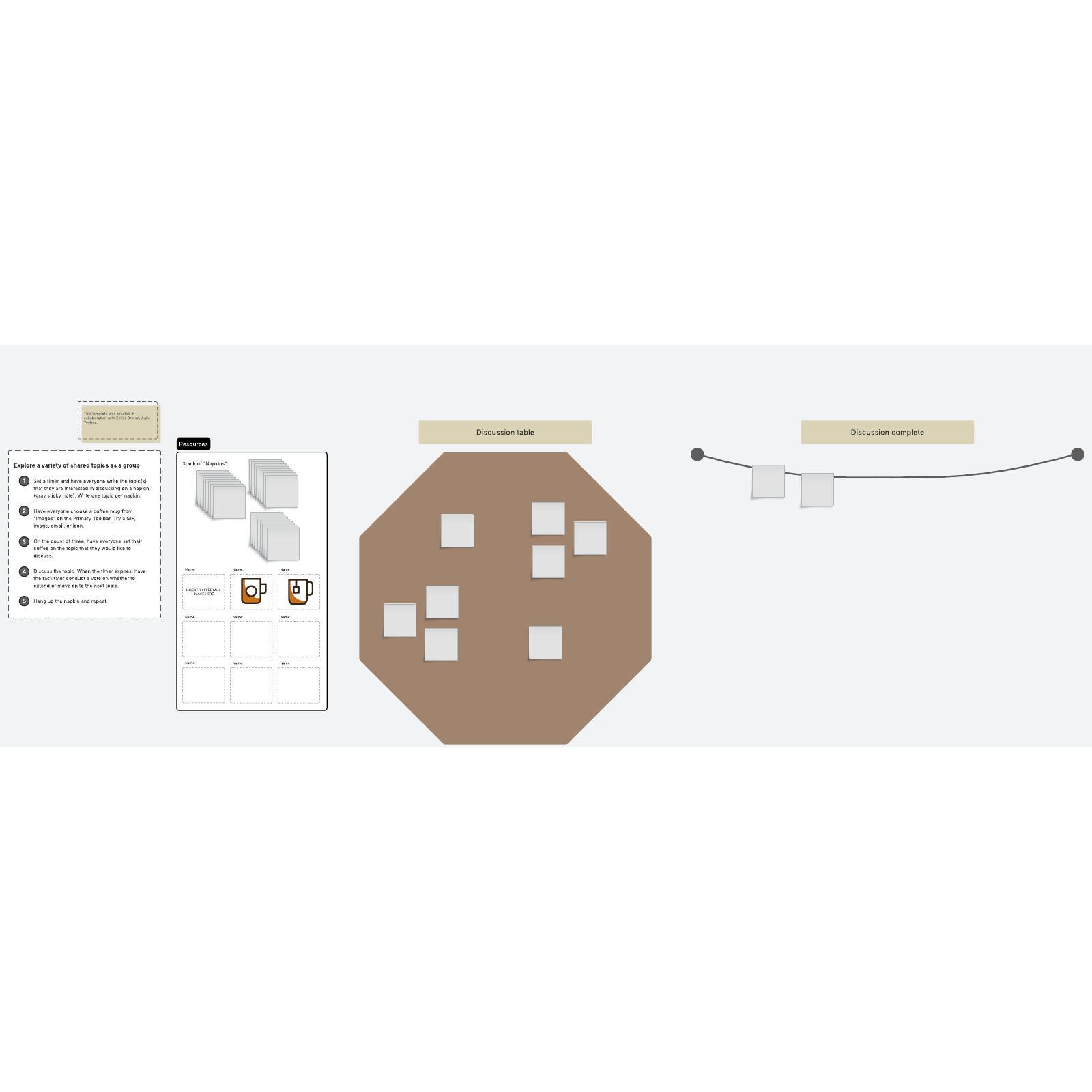 Hold a productive discussion—lean coffee California style
If you want to facilitate a relaxed, welcoming meeting that is also highly productive, lean coffee might be the format for you. This approach to meetings includes a clear structure but allows the meeting's participants to set the agenda, which ensures that the topics of discussion are actually important to the group.
Lean coffee California style includes coffee mugs, napkins, and a table. Attendees write down topics that they'd like to discuss on napkins, which are then placed on the table. Attendees then place their coffee mugs on the topic they'd like to discuss first, and the discussion ensues when there is a majority consensus. As each topic is dealt with, its napkin is placed to the side so that a new topic can be discussed.
Lean coffee is a great way to prioritize the most important discussion topics during your meeting, especially when your team has a lot of topics you could potentially discuss.
How to use the California style lean coffee template in Lucidspark
If your team can't meet in person, doesn't have access to coffee mugs, or simply wants to maximize the convenience of the lean coffee format, you can use Lucidspark's lean coffee California style template. You can easily hold your meeting with Lucidspark's integration with Zoom. Then, simply share the template to your whiteboard and:
Have everyone choose a coffee mug from the Primary Toolbar's collection of images, icons, or GIFs. You can also draw one yourself with freehand drawing. Place the coffee mugs on the space provided in the template and include everyone's name.
Set a timer and have everyone write down at least one topic they'd like to discuss on the "napkins" of gray sticky notes. When the timer runs out, set out the napkins on the "table."
On the facilitator's signal, have everyone set their coffee mug on the topic they'd most like to discuss.
Discuss the topic that has the most coffee mugs. When the topic has been addressed to your group's satisfaction, hang up the napkin on the "Discussion Complete" string and move on to the next most popular topic.
To keep the discussion moving, you can also set timers for the individual discussions. If your group isn't yet ready to move on from one topic, you can extend the time. This way, you'll be able to prioritize the most important topics and give them the time they need. If your team doesn't have the time to discuss all the topics on the table, you can save them for your next lean coffee California style meeting.
Emilia Breton
Agile Toolbox
As a leader in all things Scrum, Emilia Breton is a highly successful agile professional with extensive experience guiding global organizations in defining and implementing processes, models, and standards that align technology investments with overall business goals.