Large project feature brainstorm
Understand the details of the project scope, identify key features, and present to stakeholders with this template.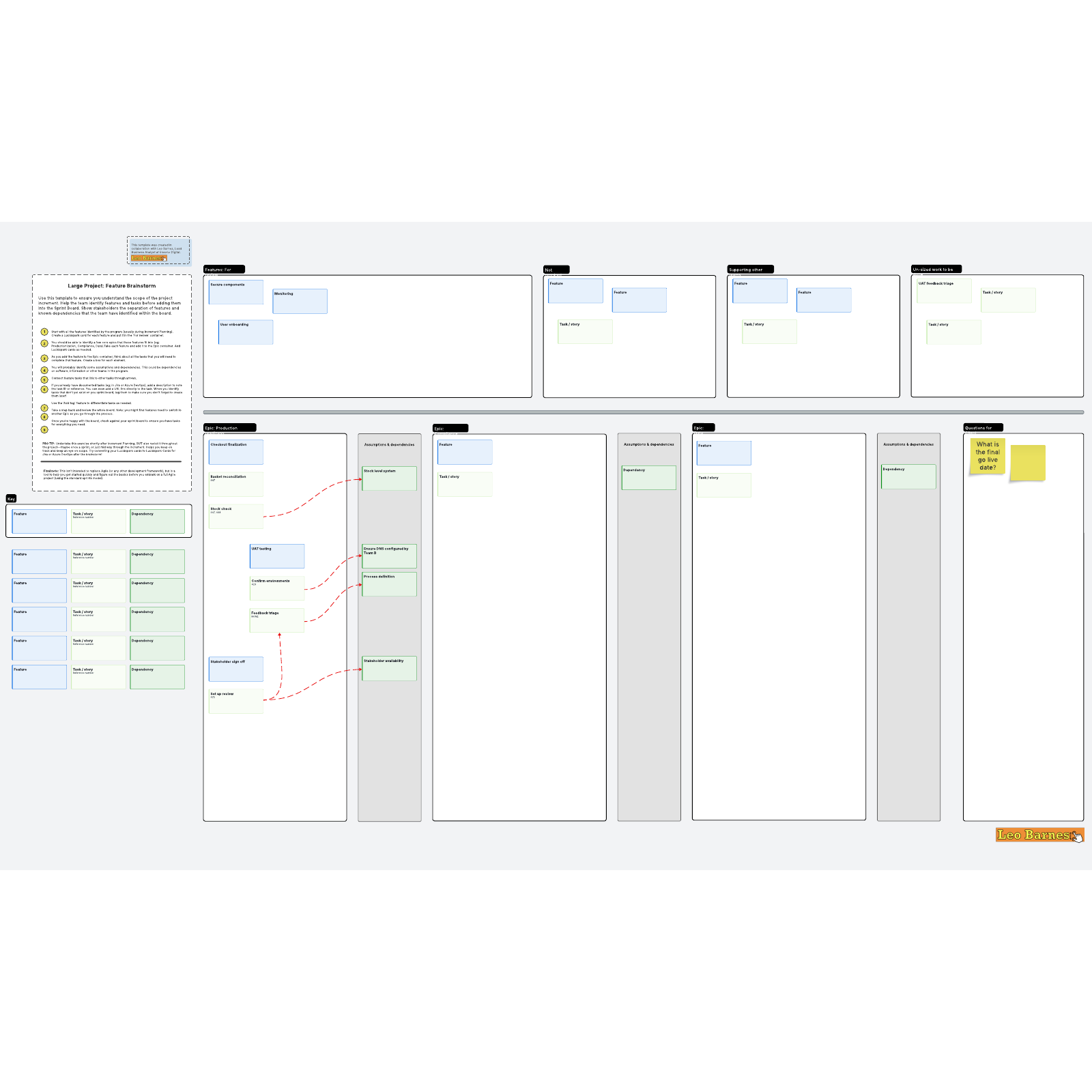 What is the large project feature brainstorm template?
This template is used to help clarify and understand the scope of the program increment (PI). The large project feature brainstorm helps your team identify features and tasks before adding them into the sprint board. It can also show stakeholders the separation of features and known dependencies that the team has identified within the board.
The customizable and collaborative nature of this template helps ensure all team members are engaged and bought-in on program increment scope. It's also great for remote or hybrid teams.
Pro tip: Complete the exercise in the template shortly after Increment Planning, but be sure to also revisit it throughout the project—maybe once a sprint or just midway through the increment. This ensures you stay on track throughout the sprint.
How to use the large project feature brainstorm in Lucidspark
Start by listing all the features identified by the program, usually during PI Planning. Create a Lucidspark Card for each feature and put it in the "For review" container on your board.
Identify a few core epics into which those features fit, such as Product Readiness, Compliance, and Data. Take each feature and add it to the appropriate epic container. Add Lucidspark Cards as needed.
As you add features to the epic container, think about all the tasks that you and your team will need to do to complete each feature, and add those to the board.
As you brainstorm, identify any assumptions and dependencies. These could be dependencies on software, information, or other teams in the program.
Use lines and arrows to connect related feature tasks to better visualize how the tasks work together.
You may want to convert your Lucidspark Cards to Lucidspark Cards for Jira or Azure DevOps after the brainstorm to easily follow-up on action items.
Take a step back and review the whole board. You might find features that need to switch to another epic as you go through the process.
Once you're happy with the board, check against your sprint board to ensure you have tasks for everything you need.
Leo Barnes
Lead Business Analyst, Ensono Digital
Leo Barnes, Lead Business Analyst at Ensono Digital, is an experienced business analyst and product manager, delivering customer-focused products in complex business environments. Leo's analytical approach includes understanding customer needs, user research, analysis, feature definition and user interface design.