Innovation Framework Template
Easily create an innovation framework with our free template. This innovation framework template will add structure to turn your organization's best ideas into reality.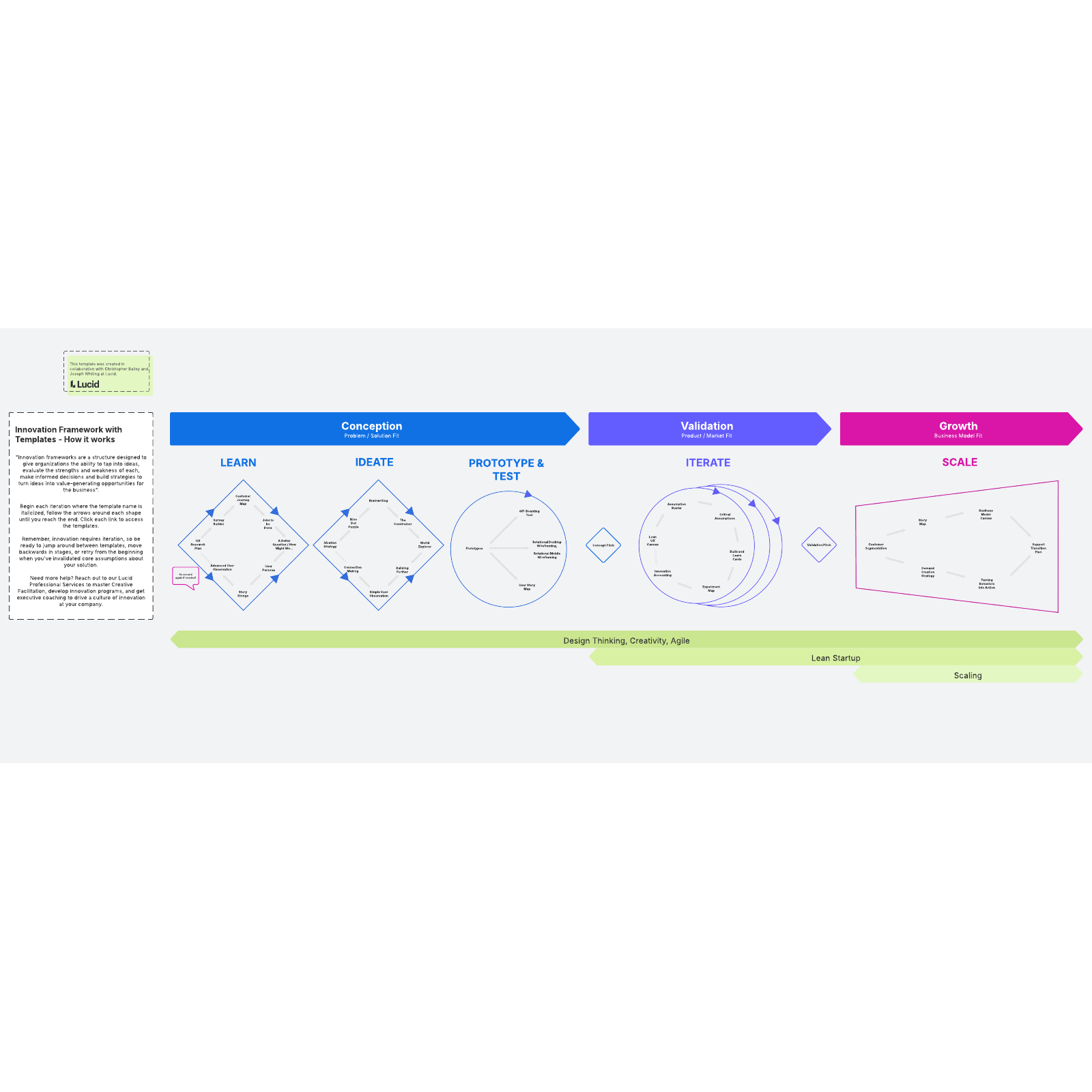 What is the innovation framework template?
Your business needs innovation to thrive. If you remain stagnant, your customers will find products and services that better fit their needs. But that doesn't mean that every new idea is a good idea.
Our innovation framework template not only helps you brainstorm new ideas, but also assists in evaluating them effectively. You'll assess the strengths and weaknesses of each idea to make informed decisions, then build strategies to implement them in a way that generates value for your business.
Benefits of using the innovation framework template
Sometimes total flexibility while brainstorming feels overwhelming. This template offers you a structured framework for innovation. Adding structure to the process can help you brainstorm and evaluate ideas more efficiently.
The structure of the template helps in another way, too: it allows you to visualize your ideas. Once you understand your ideas from a comprehensive perspective, your associated action plan will also become clearer.
Because the framework is visual, it helps your team align. You'll all understand the context of your initiatives, which means you can reach your goals faster.
How to use this framework for innovation template in Lucidspark
The template contains several sections with links to other Lucidspark templates. Begin each section where the text is italicized and click the links to each template. Generally, you'll follow the arrows around the shape until you reach the end, but that's not required — you may need to skip ahead, move backward, or start over depending on what information surfaces during your work.
As your team progresses through the template, you'll create an action plan. Use the Timeline feature to visualize this plan and make assignments.
Our strategic innovation framework is meant to be a group effort, so use the chat and comment features to communicate with your team. This will help you stay on the same page and accomplish more, faster.
Christopher Bailey and Joseph Whiting
Design Thinking Consultants, Lucid
As a design thinking consultants at Lucid, Christopher and Joseph are passionate about enabling the creative and innovative potential in others.