Innovation accounting template
Determine what success looks like to measure your progress toward a goal. Use the innovation accounting template in Lucidspark to help your team with project planning.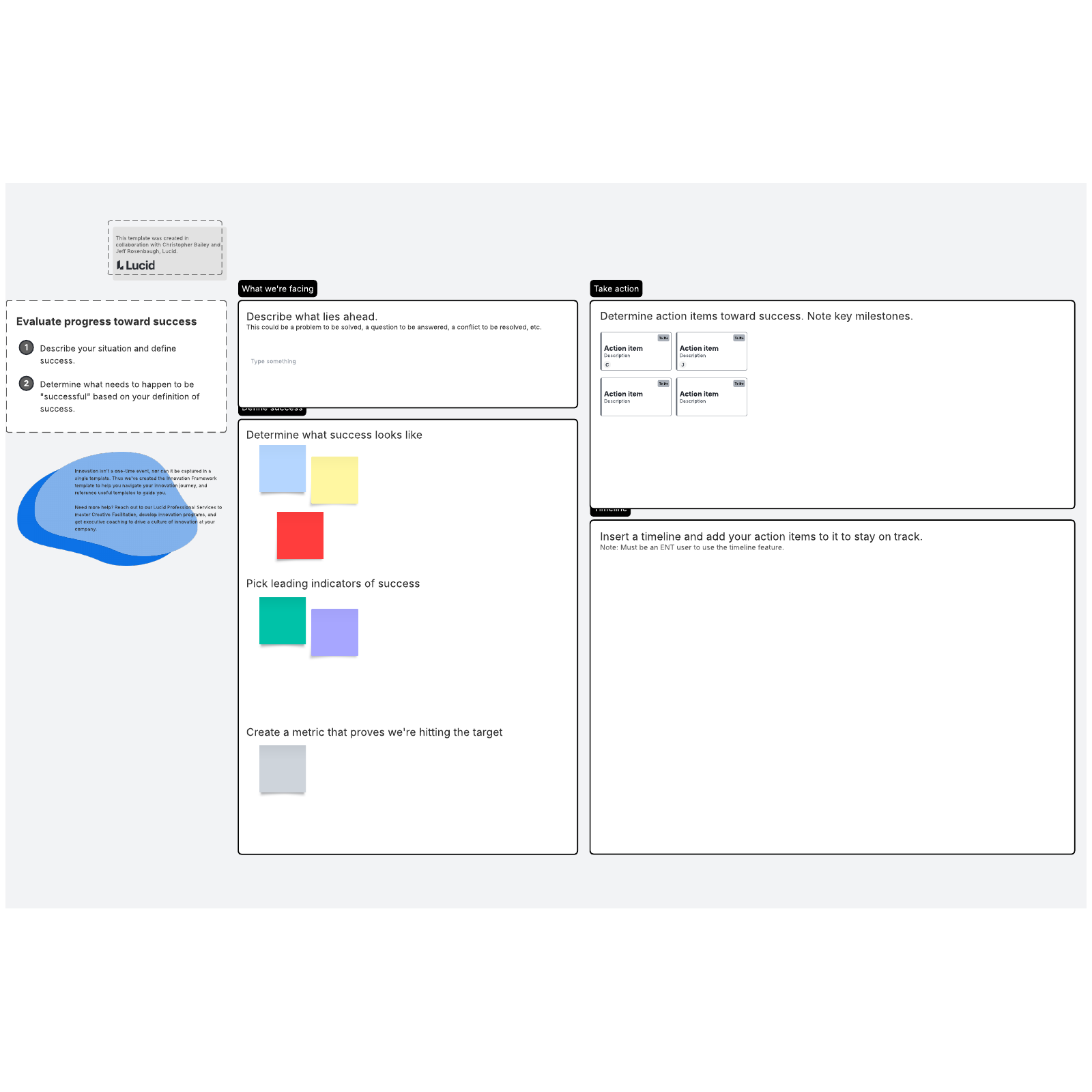 What is innovation accounting and how can it inform decisions?
When utilized properly, innovation accounting can be a method that allows innovators to determine if a project will succeed before they invest resources in it. It can be an important early stage in a project-planning process or a way to determine if a certain project will generate an acceptable ROI.
If used as a project-planning method, innovation accounting can help a team of innovators pay attention to the most important assumptions they've made, focus on clear indicators of success, determine where to spend resources, and understand the precise value of their project.
With the help of Lucidspark's innovation accounting template, teams can harness the principles of innovation accounting to assess and measure the impact of innovation, which can be ambiguous and hard to quantify. Users of the template will be able to organize project tasks and gear their projects toward clear success.
How to use Lucidspark's innovation accounting template
The Lucidspark innovation accounting template offers a clear framework to prioritize action items and provides focus for teams as they strive to innovate. Individuals and teams will be able to use the template to visualize the challenge they face and what a successful outcome will look like, as well as create measurable, actionable steps to achieve this outcome.
To use the template, share it to your Lucidspark whiteboard. The template is customizable and easy to share, whether you plan to collaborate with team members or share your results with relevant stakeholders.
Then, move through each section of the template and:
Describe what lies ahead. Do you have a problem that needs to be solved or a question that needs to be answered?
Determine what success looks like. What would have to happen in order to solve your problem or answer your question?
Pick leading indicators of success. What things will indicate whether or not you've solved your problem?
Create a metric that proves you're hitting the target. Are there items that can be measured that prove you're solving the problem? How will you measure them?
Determine action items toward success. What key milestones should you reach along the journey? You can use Lucidspark Cards to assign different action items as tasks.
Insert a timeline and add your action items to it. Use the Timeline feature to keep track of action items and when they should be completed.
If you plan to complete the innovation accounting template by collaborating with others, be sure to take advantage of Lucidspark's collaborative features, such as comments, chat, emojis, and freehand drawing. This way you'll all be able to stay on the same page as you determine how to make your innovation successful.
Christopher Bailey & Jeff Rosenbaugh
Professional Services, Lucid
Christopher and Jeff have spent the last decade helping organizations develop innovation pipelines and transform to Agile systems of delivery.