How might we...
The "how might we" question is a quintessential design thinking tool. It's meant to create rigorous and meaningful design challenge questions and is usually implemented at the end of the "define" phase. It can also be used as a gatekeeper item before moving into the "ideation" phase. Use this template in Lucidspark.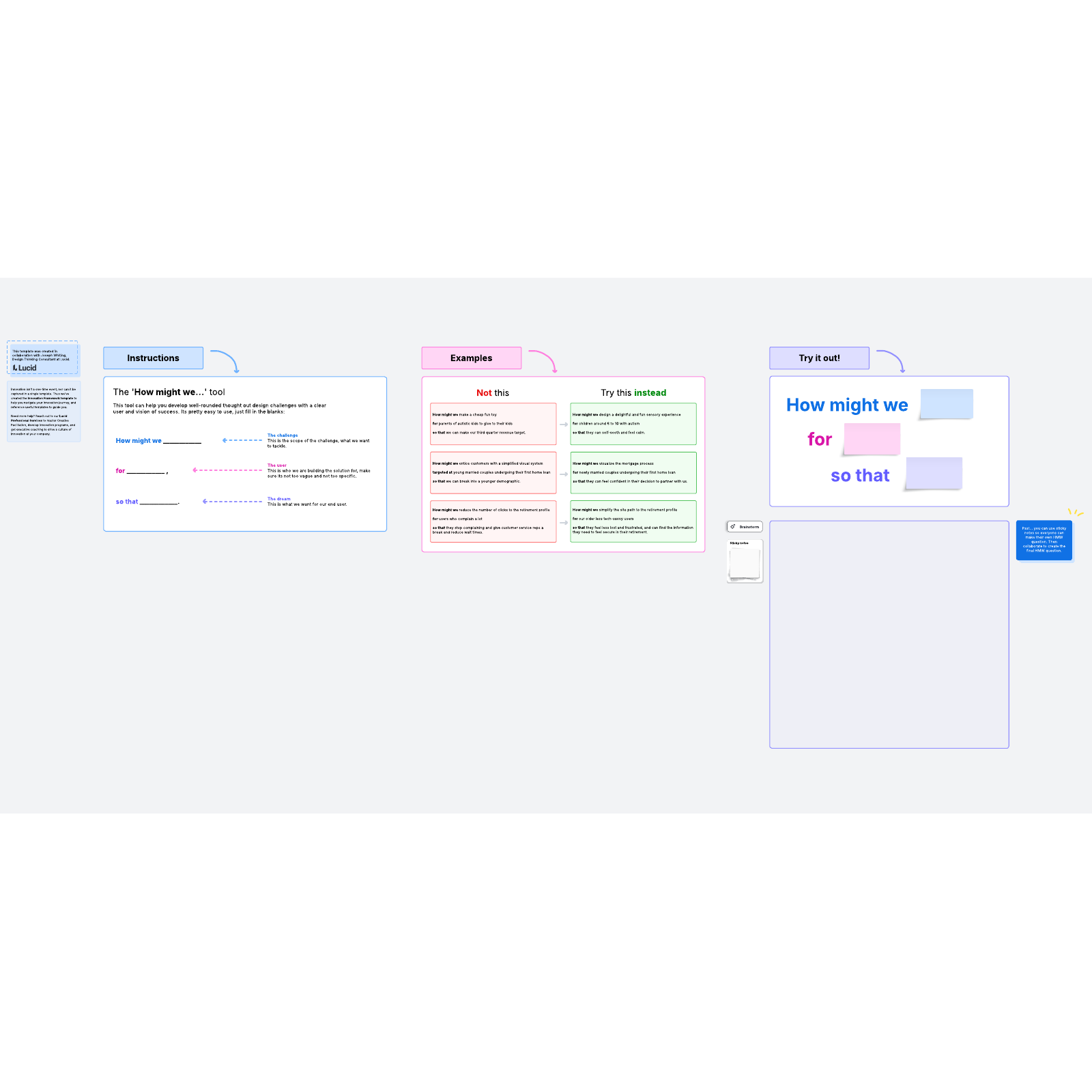 Inspire innovative ideas by crafting a "how might we" statement
To create a successful product design or consumer experience, it pays to be creative. However, you also need to keep the user and your desired end result in mind. One way to brainstorm innovative ideas that solve real problems is to build a "how might we" statement to reframe the problems your team is solving.
What is a "how might we" statement?
The "how might we" statement is one of 80 design thinking tools created to help product design teams harness innovation. It's especially helpful if you and your team are stuck in a design rut and need a fresh approach to problem-solving.
The "how might we" template accomplishes this by providing a framework for your team to develop a "how might we" design challenge question. From there, you can employ other methods of innovative design thinking to find an answer to your "how might we" question.
If you want to develop a well-thought-out design challenge with a clear user and a concrete end goal, the "how might we" template can help.
How to use the "how might we" template in Lucidspark
To use the "how might we" template collaboratively in Lucidspark, first share it to your Lucidspark whiteboard and invite your team to contribute to the template in real time.
As you begin work on the template, first discuss the problem that you are trying to solve so everyone is on the same page. Then, have everyone come up with their own "how might we" question that follows this corresponding three-part format in the template:
"How might we [address the challenge] for [the user] so that [the dream is accomplished]?"
Remember, the more specific the details you use to fill in each blank, the better. Refer to some of the examples included in the template to get a good idea of the level of detail you should include.
As you work on the template with your team, you can assign Collaborator Colors to keep track of individual contributions and use comments, emojis, and the chat feature to engage with everyone's ideas. After everyone has submitted some ideas on a good "how might we" question, you can collaborate and create the final version that will springboard your design process.
Joseph Whiting
Design Thinking Consultant, Lucid
As a Design Thinking Consultant at Lucid, Joseph has a passion for enabling the creative and innovative potential in others.